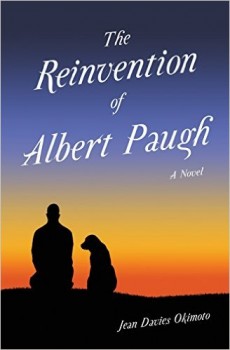 Today I am reviewing The Reinvention of Albert Paugh  by Jean Davies Okimoto for TLC Book Tours. As always, I am provided with a copy of the book in exchange for my honest review.
About the book (from the publisher): Dr. Albert Paugh is flunking retirement. After selling his Vashon Island veterinary practice, he soon finds himself not only lost without his work, but suddenly single. His efforts to carve out a new life, both as a bachelor and a retiree, only leave him feeling like his "golden years" are fast becoming "years of gloom." His regrets pile up until he moves to Baker's Beach where he gets to know a very special neighbor, learns that friends are the family you choose, and finds a new sense of purpose. The Reinvention of Albert Paugh  is a sweet, funny love story about retirees that will delight readers (and dog lovers) of any age.
My review: Charming. Delightful. Heartwarming. This book is a treasure.
The author has created a wonderful character in Albert Paugh, a veterinarian who finds that life has thrown him some curves as he navigates his post-retirement years. Devoted to his practice, even more devoted to animals (especially his dog Bert,) he is now at sixes and sevens.
What do you do when the work that gave you sustenance and peace is now forbidden (due to a non-compete clause in the contract drawn up by the new owner of the veterinary practice)? What do you do when the not-very-exciting or even particularly peaceful marriage you've been in for over 25 years dissolves? That's where we find Albert Paugh at the beginning of this story.
Okimoto has described Vashon Island in great detail, and its beaches and cottages and nooks and crannies are vividly realized. It is a character in itself. The supporting cast of characters are beautifully drawn, with Albert Paugh at their center. He's a well loved citizen of the island, kind, compassionate, and utterly befuddled by this new experience of being on his own.
And what about those single ladies in his age group who have suddenly taken a special interest in him? What to do?
In many ways, he reminds me of Father Tim, the central character in Jan Karon's series of novels. Good, kind, devoted to animals, wryly observant of the eccentricities of those around him, he is trying to find a sense of purpose in his life. Helped by those friends he holds dear and the devotion of Bert, Dr. Paugh's quest for reinvention will have you cheering him on.
I really loved this book.  I loved the cast of characters, the story, and Vashon Island. Like the best books detailing small town life, I found myself wanting to live in its pages. I want to know these dear people. Okimoto is a gifted and wonderful writer.
It's refreshing to read about characters who are in the sixties (and even older) who are real and complex, and just as interesting and compelling as any thirty-year-old. Bravo for that! And the reminder that love and passion can knock on the door when you think you're too old to ever experience it again is life-affirming in the best possible way.
The back of the book says that this is "the third book in Jean Davies Okimoto's Island Trilogy, following The Love Ceiling and Walter's Muse." It's clear that some of the characters are recurring in all three novels. You can bet I'm going to read them.
If you love Jan Karon's novels, if you love dogs (and cats), if you love books about small towns filled with rich and sometimes eccentric characters, I think you'll really enjoy this book. It's absolutely delightful. I didn't want it to end.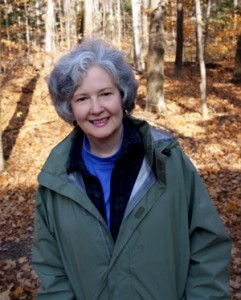 About the author: Jean Davies Okimoto is an author and playwright whose books and short stories have been translated into Japanese, Italian, Chinese, German, Danish, Korean and Hebrew. She is the recipient of numerous awards including Smithsonian Notable Book, the American Library Association Best Book for Young Adults, the Washington Governor's Award, and the International Reading Association Readers Choice Award. Her picture book, Blumpoe the Grumpoe Meets Arnold the Cat was adapted by Shelly Duvall for the HBO and Showtime series "Bedtime Stories." Her debut novel for adults, The Love Ceiling  was a season's pick by the King County Library System, named to the ABA Indie Next Reading Group List and ebook Fiction Winner in the 2009 Indie Next Generation Awards. She has appeared on CNN, Oprah and the Today Show. Jeanie, who is also a retired psychotherapist, began writing for adults when she and her husband Joe retired to Vashon Island in 2004, where they  (and their dogs Bert and Willie) are visited by deer families and their six grandchildren.
Good news! One of you will be the lucky winner of a copy of this book. Leave a comment on this post and I will draw a winner on Saturday evening. Good luck!
Happy Wednesday.