Don: Don't read this post!!
I will be issuing these warnings as I work on the Top Secret Project. I'm trusting that Don will be sleep deprived when he gets back – goodness knows, I certainly am – and won't see this post. But, he is entirely capable of surprising me, so I will have to resort to the occasional warning.
Okay. Time for a piece of humble pie. I have remarked before on this blog about the way my dollhouse was put together, that the seams didn't always meet, that it wasn't assembled as well as I thought it should have been.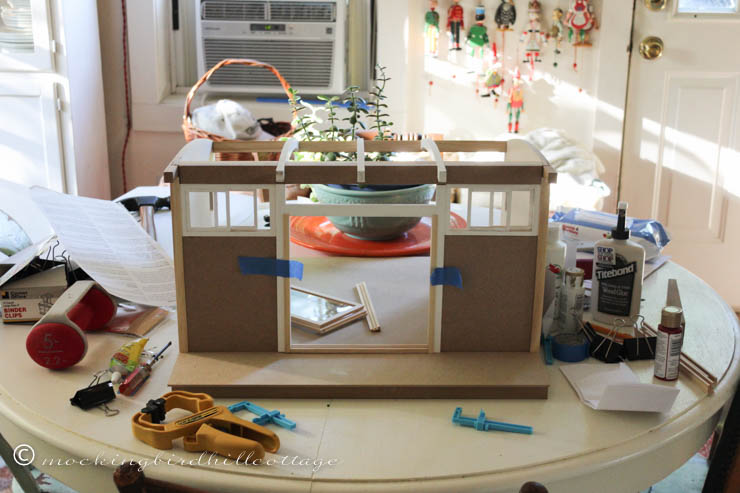 I'm here to tell you that I am now on the other end of this process and it's hard. To the unknown family that put together Hummingbird Cottage: you have my apologies. I have made a couple of bone-headed mistakes in this process. That I've been able to fix them is nothing short of a miracle. Yesterday, my immediate thought upon making one of these mistakes, was "I'll have to order another kit and start over." I was not happy at that prospect. I was frustrated; with myself and with an entirely new-to-me process.
It seems simple and in some ways it is. But one little error can throw everything off. It reminds me of making a quilt – one inaccurate measurement can throw the entire thing out of whack.
Oh, that's happened to me, as well.
Then I get obsessed with trying to fix it. And I did.
Blood, sweat, and tears, Don. Blood, sweat, and tears.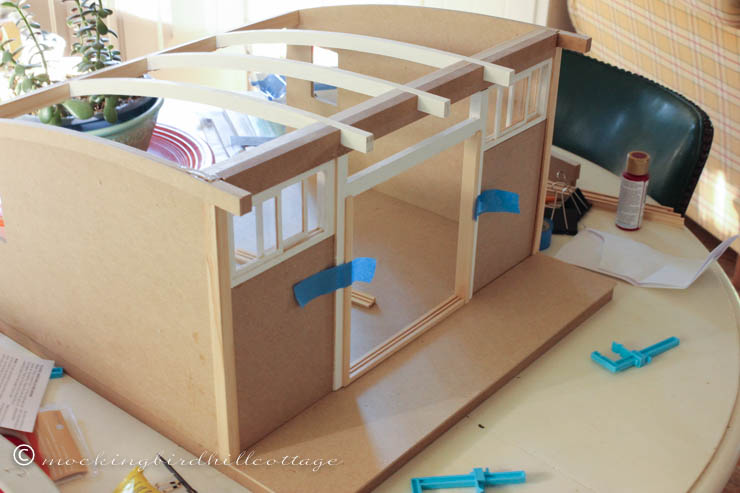 I got the rafters installed, but learned a valuable lesson. The thickness of paint can also throw everything off – we're talking miniatures here and everything  is tiny – even the paint layers. I also painted the windows, very fiddly work for someone like me who does not enjoy painting. But the windows are neat; they slide open.
I added the two front walls and the framework for the sliding door. There's more to be done before the basic construction is finished. Then I have to paint the outside. And the inside.
I have a vision, of course, for what I want to create inside  the studio. I've always envisioned the furniture in a more modern style. In the course of my endless reading of miniature blogs, I saw a couple of references to a Japanese company called Reac. They have a line of miniature 1:12 furniture based on famous furniture designs. They're not easy to find, but they're out there.
Though my personal tastes tend to run toward vintage, comfy, and cottage, I have always loved the furniture designs of Charles and Ray Eames. If I could own a few of those pieces in real life, I'd be thrilled. One in particular, the Lounge Chair, has always been a favorite. I owned a sort of knock-off several years ago when living in Boston – at least, it was inspired by the Eames chair – and it was comfy, but it wasn't nearly as beautiful.
Look what came in the mail yesterday (conveniently while Don was away):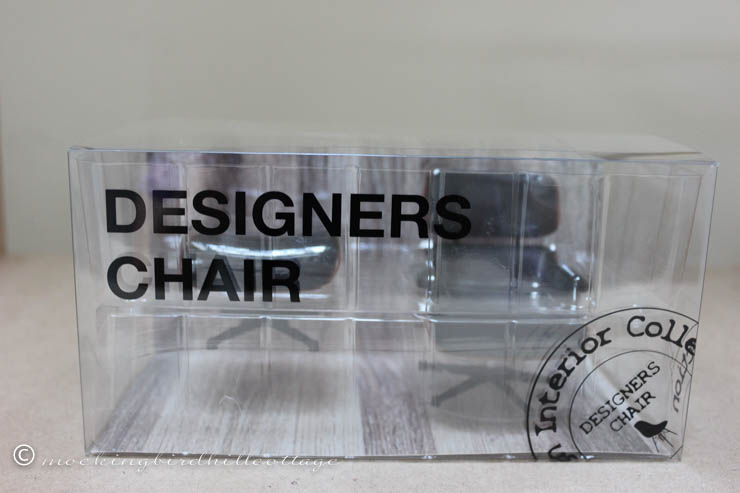 Oooh, let's open up the box.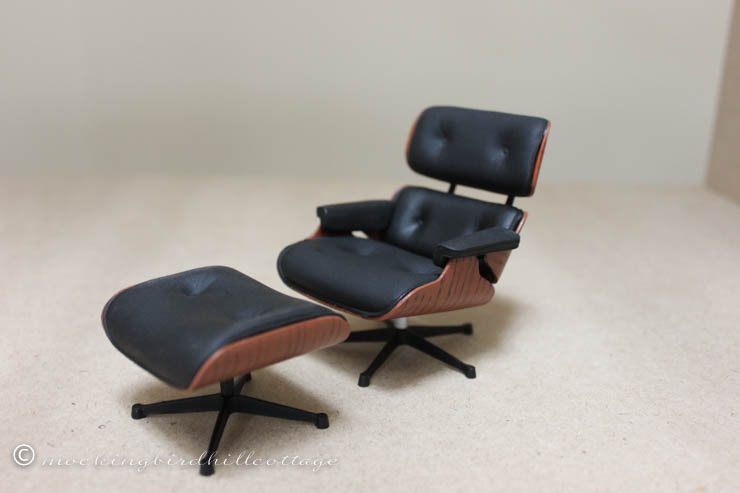 Eeek!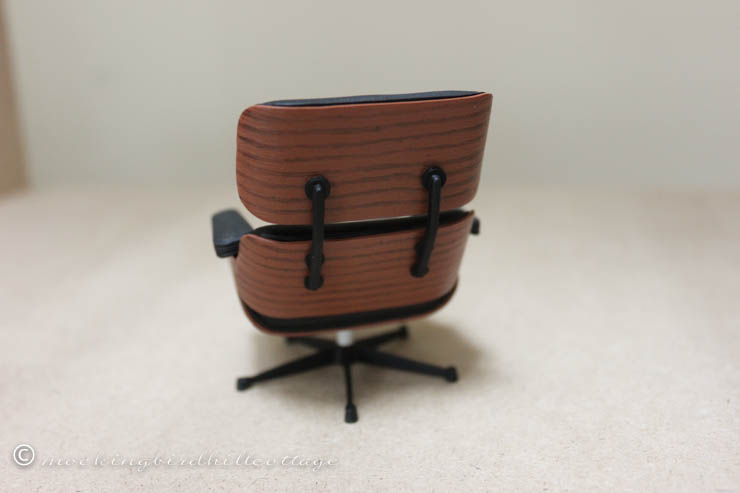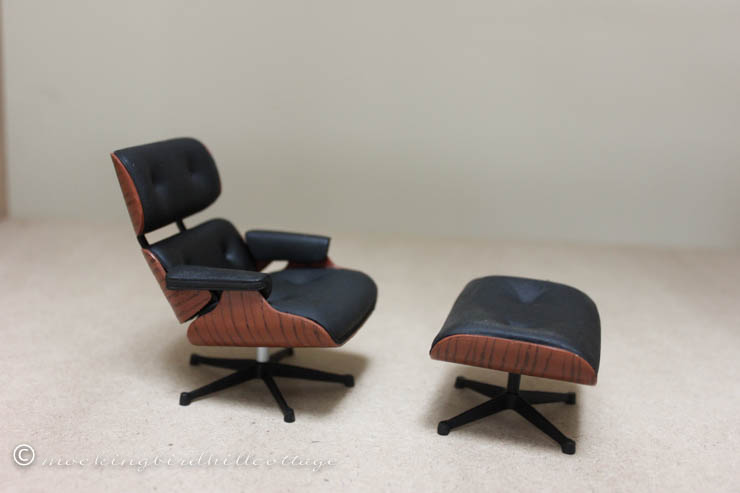 Behold the first piece of furniture for Don's studio.
I am in love. I want to collect all of the mini pieces in this line.
There's another mini manufacturer who makes this chair but after countless comparison shots, I think the base of the chair/ottoman is better in this version. The other version has much thicker legs – they look out of scale. I like the detail on the Reac version better. Both were about the same price, so I went for this one.
Very exciting!
There's a long road ahead on this build and design. And budget constraints, of course. So I'm going to try to make some of the 'recording studio' pieces. Wish me luck. I have no idea how to do any of it.
Oh, yesterday afternoon, I was about to go out on the porch to get the watering can and who did I see? None other than Amber, the cat-in-heat. At that point in my frustrating day, I was not about to deal with her writhing endlessly on my porch, so I called my neighbors and once again, they came over to get her. They didn't know she'd escaped. I have to admit, Amber is quick. And she's in heat. So that makes her even more desperate to take matters into her own hands.
I hope she soon emerges from this state of frenzy. Though she's adorable, she needs to stay home.
Happy Sunday.