When we were cleaning and sorting the guest room in preparation for our friend's visit, Don mentioned that he'd love to find an old, comfy chair to sit in when he's working there. The chair that was currently there was a very old chair that belonged to my grandmother. It's a smallish rocker, definitely designed for a lady. It's heavy and old and every time Don would sit in it up there, I could hear it squeaking and groaning every time he moved. (The guest room is right above the den and my blogging chair.)
No problem," said I. "We'll get rid of it. I've had it long enough. We'll put it out by the street."
When Adrian was still here, Don decided to enlist his help carrying the chair downstairs.
Don: "Are you sure you're okay with this?"
Me: "Yep. I'm sure."
Then I took a moment to explain to Adrian that it was my grandmother's chair, that I'd grown up with it, that there are photos of me sitting in the chair, holding my doll. I sat in it once again and mentioned that all the squeaks and groans were part of my childhood.
Questioning looks.
Don: "Are you sure you're okay with this?"
Me:: "Yes, you can take it."
A pause with both of them looking at me intently.
Adrian: "Are you sure?"
Pause.
"No. I'm not sure."
Adrian then said "I knew  you didn't want to get rid of it!"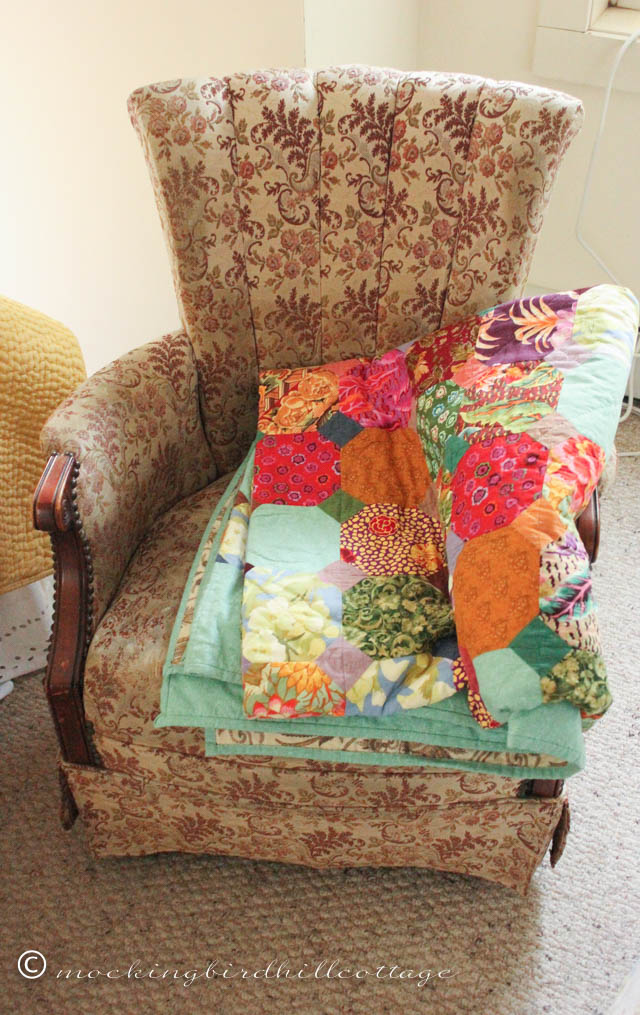 So there it is. It has moved into our bedroom. It's old, it needs to be cleaned – actually, it needs to be reupholstered, but that's not happening.
But you know me. It's all about the story with me. This was my grandmother's. I've either been near it or owned it all of my life. When I moved away to Philadelphia to attend graduate school, I lived in studio apartments where there was a bed, my grandmother's trunk used as a table, a dresser, bookshelves made of cinder blocks, and this chair.
It moved with me to every apartment I lived in after that. It moved with me to Boston. Then to San Diego. Then to the East Coast.
I can't give it up.
Two other chairs re-entered the mix yesterday. Again: chairs that have a story. Chairs that have been stored in the shed for several years. I've missed them. I just didn't know where to put them.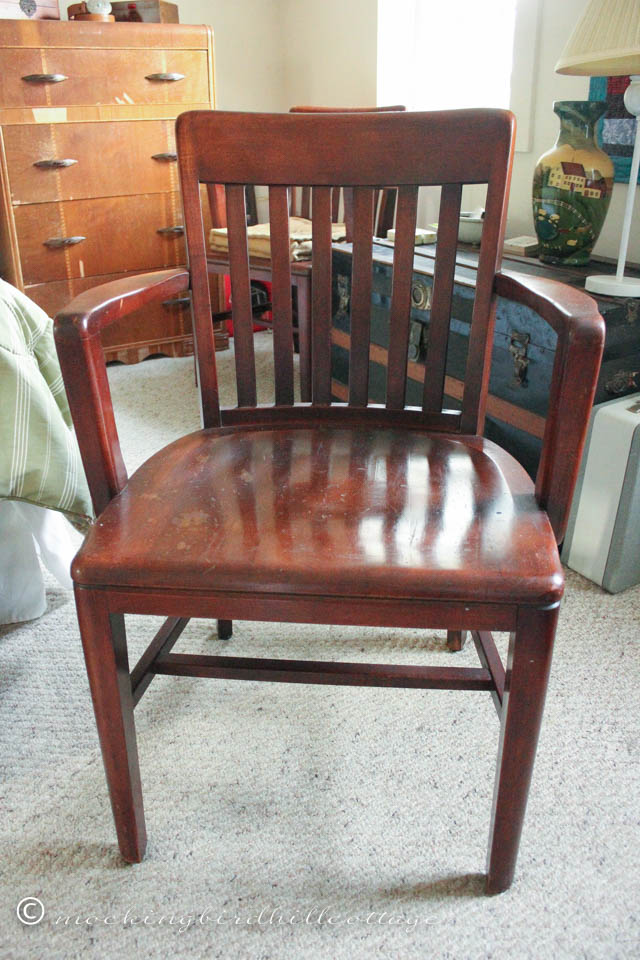 I have two of these old office chairs that were used in the Mass Mutual (Insurance) offices in Boston. I love them. They're big and heavy and gorgeous. (Note aforementioned grandmother's trunk in the photo.)
I bought them when I lived in my apartment in Cambridge, Massachusetts. I had very little money in those days and I found them in this wonderful old used furniture shop in Cambridge. I could only afford two of them. I didn't have a car, so my friend and colleague Judith, who also lived in my building, loaded them into her car.
They went in my kitchen, where there was room for a table and chairs. I had a simple table made of black ash and the two chairs were on either side of the table. On the wall behind them was my collection of vintage Fiesta. I loved the contrast between the rich mahogany stain of the chairs and the black ash of the table and the splash of bright Fiesta colors in the background.
They've stayed with me ever since Cambridge.
I mentioned them again to Don the other day. I missed them, I said, I felt they were going to get ruined in the shed. Since we were moving my grandmother's chair out of the office, maybe we could find a way to use them?
So Don hauled them out of the shed yesterday and I spent a few hours cleaning and polishing them.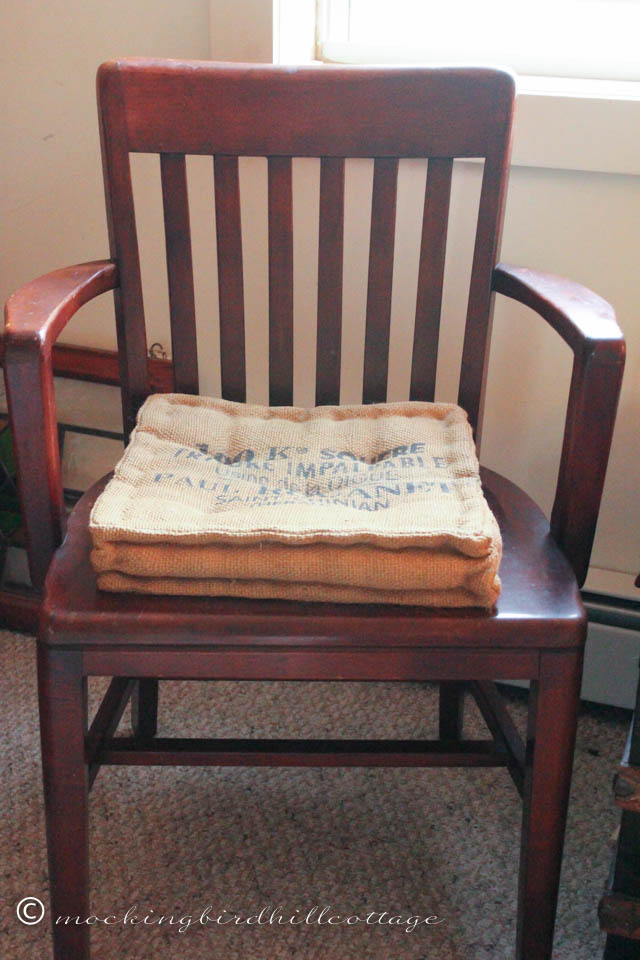 Here's the other chair.
By the way, I don't stage photos very often anymore and I certainly didn't stage these!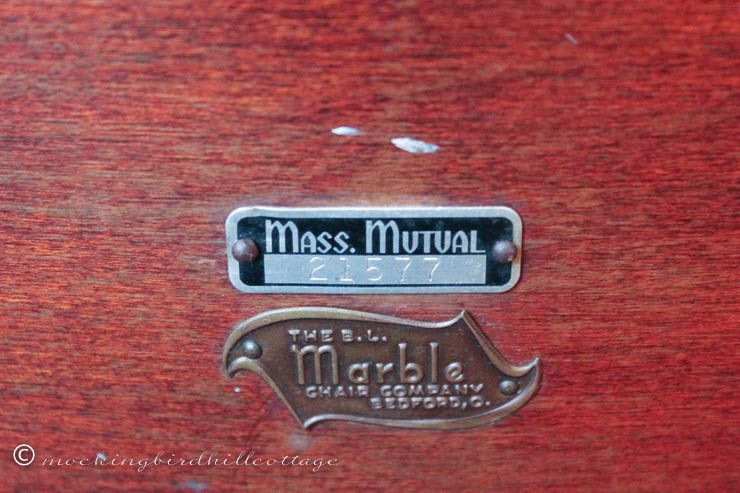 They even have the Mass. Mutual metal inventory tag.
I sat in one of these chairs in my kitchen in Cambridge as I learned the news that my brother had died. I can see myself there; morning light coming in the windows, the sound of cars outside and people walking down the brick sidewalks. Talking to my sister. Talking to other family members. Calling my boss at Boston University, sobbing as I told him I needed to take time off. Hearing him say, "Bless you. Bless you."
It's vividly etched in my memory.
I couldn't hide these chairs away any longer.
I'm glad they're back.
New post on Just Let Me Finish This Page today.
Happy Wednesday.