Every once in a while, I give myself permission to take a quick photo of the house 'As Is.' No straightening up, no 'vignettes' – just real life. If you've been reading this blog for any length of time, you know that Don and I like cozy, relaxed, eclectic and vintage. We read a lot, so there are always books lying around. There's usually a guitar somewhere – right now, there's one in the living room and one in the den. It's early around here and the lights are on.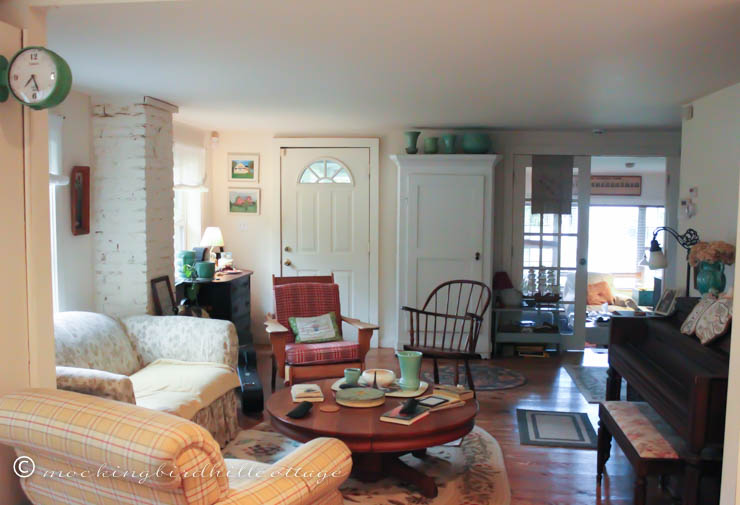 Practical is the watchword lately. You'll notice lots of throw rugs that really don't have any design theme whatsoever. They're for Scout. They help her navigate. There's a quilt on the floor in front of the loveseat – also for Scout. And you can just see the edge of a towel that's on top of the oval rug. You guessed it – for Scout. Don's Kindle, books, and glasses are on the coffee table.
Nothing exciting. Nothing new. I can't see spending money on something we really don't need – just to 'change things up.'
I don't decorate for fall, as you know. We are fortunate to live in the Northeast, where Fall will be on constant display in a very short time. Frankly, nothing I could do would be better than the designs of Mother Nature. And honestly, I have so little available surface area that it isn't practical.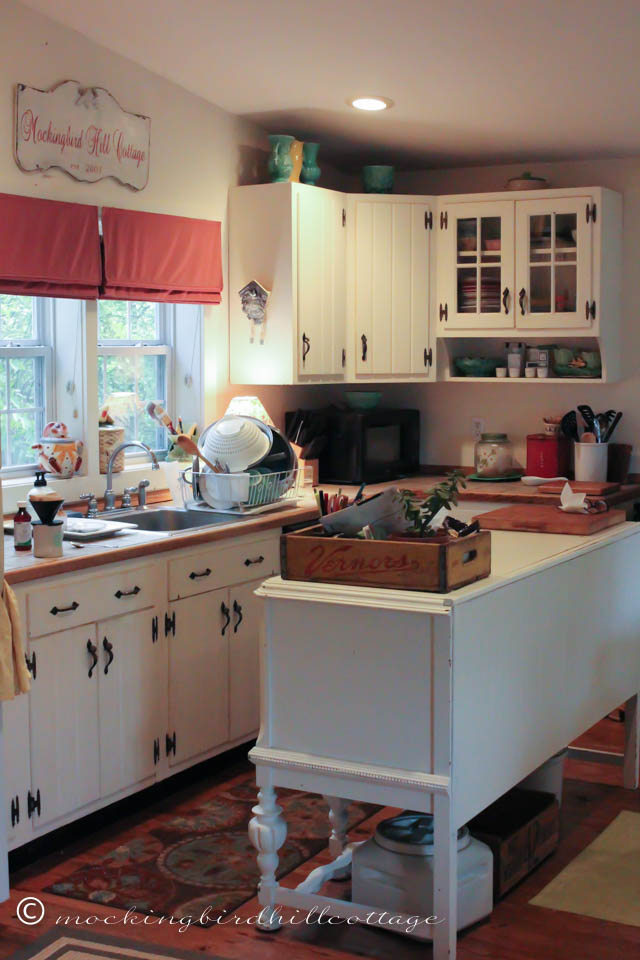 It's a dark and cloudy morning, so these aren't great photos. But sometimes, to be perfectly honest, I don't care!
More throw rugs for Scout. A piece of paper towel on the island (see? no editing.) Dishes in the drainer. Paint brushes used on the dollhouse in a piece of McCoy on the window sill. Cough medicine on the counter. My Peet's French Roast (single cup drip method) awaiting the boiling water from the tea kettle.
I'll spare you the den, where there are piles of used kleenexes, cough drops, and a makeshift bed (I came downstairs around 4 am because I was coughing too much and I didn't want to keep disturbing Don's sleep.) I don't know if it is allergies or sinuses and, frankly, I never  know. I do remember now that I wasn't feeling all that great on Thursday when I was in the city. Lots of sneezing – I mean lots – and congestion. So I think this has been coming on for a few days.
There you go. As Is for Monday, September 14th.
Happy Monday.