When we visited the quilt shop in Florida, I purchased a few fat quarters with a dollhouse-sized print in mind. I have a fairly large fabric stash, but most of the patterns are too out of scale for a 1:12 dollhouse, so I haven't been able to use them.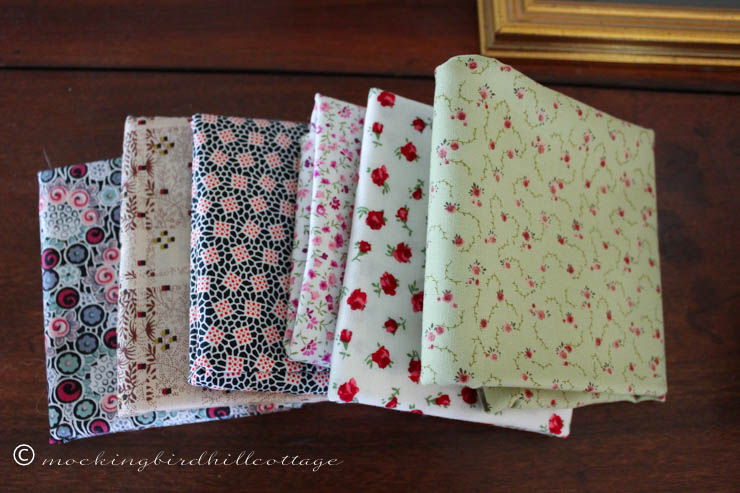 I came home with six different fat quarters. I had one specific project in mind. But I've got others in the offing, hence six different fat quarters. Actually, seven. But the other one is not for minis. I just liked it.
A couple of years ago, Linda, one of my generous readers, sent me a box full of all sorts of mini goodness. Among the items included were several kits from the House of Miniatures. (They are no longer made, but you can usually find some of them on eBay.)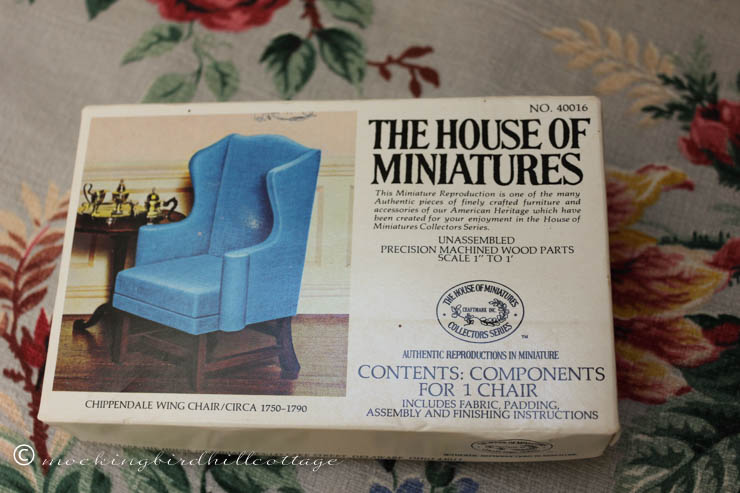 I had my eye on a Chippendale chair kit, but I didn't care for the blue fabric that came with the kit and I didn't have anything on hand that would work. So I shelved the idea for a while. Then I came across an older post on Otterine (Brae's blog, which I've spoken of before) where she chronicled the construction of that same chair, covered in a pretty fabric, for one of her dollhouses.
It was no use. That chair was back in my brain and I was going to have to go for it.
I decided to work on it yesterday while I was waiting for the windshield replacement technician to arrive. I didn't follow Brae's tutorial, though I probably should have! I started not long before the glass guy arrived and I was still working on it long after he left. It is fiddly, painstaking work – as are all miniatures, I suppose – and I made a few mistakes along the way that needed correcting. And, as often seems to happen with me and kits, the kit included two right rear legs  instead of a left and right leg, so I had to try and modify the leg to make it work.
I seem to attract these things. There's a post somewhere on this blog about a bookcase I built for my upstairs studio that came with two left sides. That was a pain in the tush.
Anyway, I managed to make the chair. I think if I had another kit here and could construct a second chair immediately, it would turn out better because I learned a few things along the way. Don't look too closely. There are flaws here and there. Brae seems to do these things effortlessly, though I'm sure she could tell a story or two.
Here it is: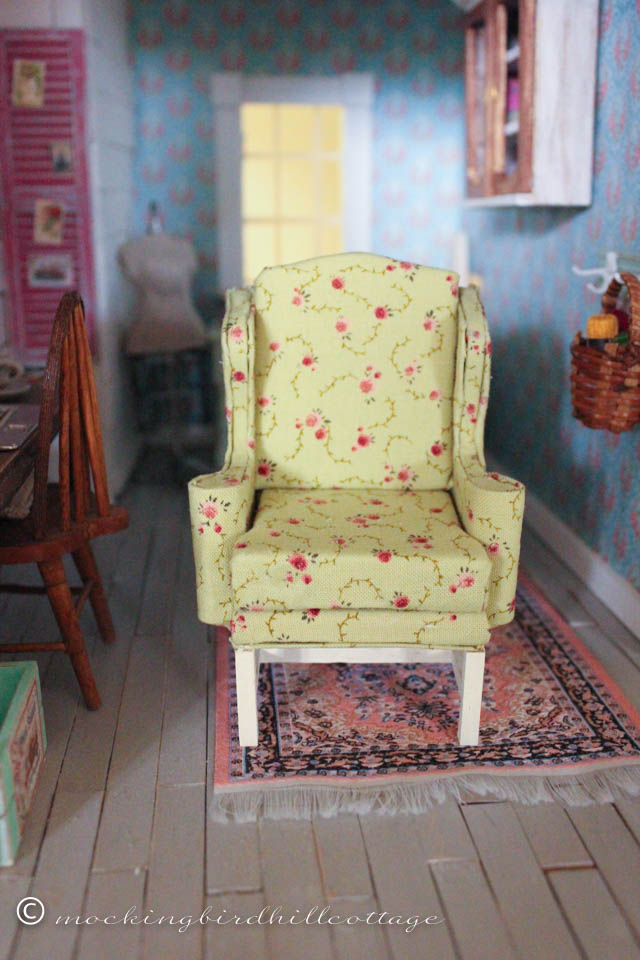 The studio needed something along the wall on the right and I had long thought about a chair or a sofa. Caroline works on projects here. She crafts. She doesn't always want to use the desk chair or the stool.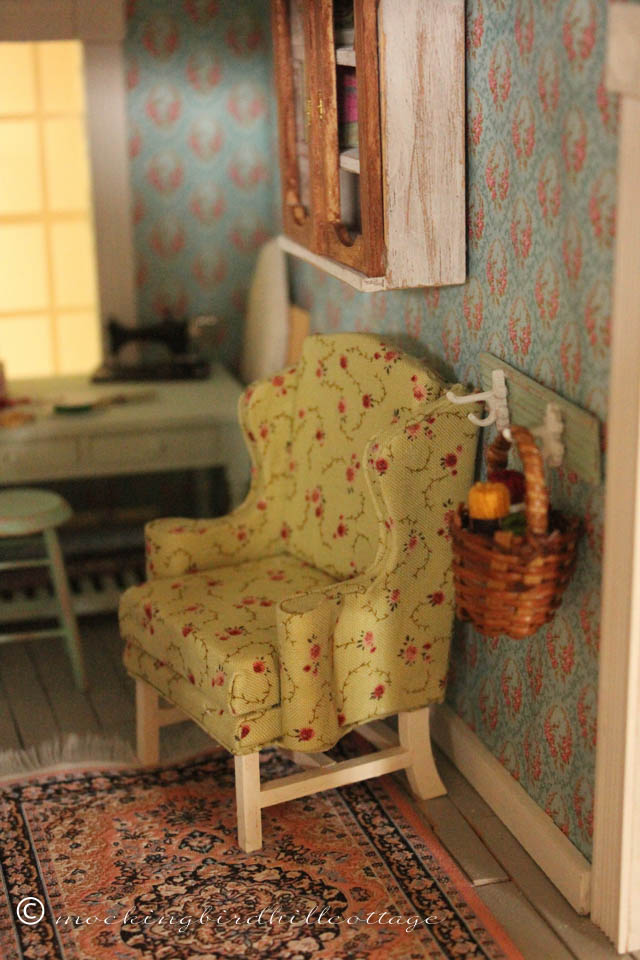 That cabinet on the wall was also made from a House of Miniatures kit, by the way. But, after examining it from my blogging chair, I worried that it might fall on Caroline's head while she was ensconced in the chair.
So I moved it. (If only it was this easy to move things in real life!)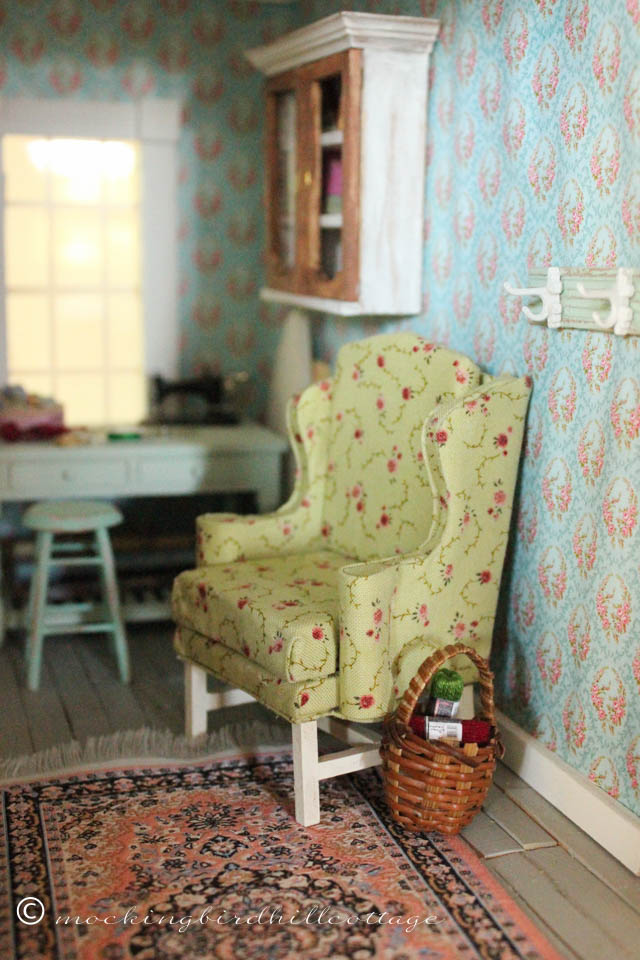 Better. Now I just have to fix that rug.
As frustrating as it often was, I was rather chuffed at the end result. I kept carrying the chair over to Don while he was trying to take care of all the arrangements to master and duplicate his new CD, thrusting it in his face, with a "Look what I made!!"
HoM kit instructions are, for the most part, very clear and easy to follow. When I ran into trouble it was solely because I had misread some instruction or other. When that happened, I cursed loudly and started over again.
I want one for the den here at Mockingbird Hill Cottage. If only I could tweak my nose and make it happen!
It was a good project for me yesterday, on a day where I needed to occupy my mind with something positive and creative.
Happy Saturday.