It's 8:30. I got up at 6:30 only to discover an 'accident' in liquid form from Scoutie. Very  unlike her and it had just happened, so I can only imagine she must have held on as long as she could. Barely awake, I started in on the clean-up.
Then, about an hour later, as I was pouring hot water into my coffee filter, I somehow knocked the filter off the mug and coffee grounds and coffee spewed all over that section of the kitchen.
It's been a challenging morning.
Breathe deeply, Claudia. Breathe deeply.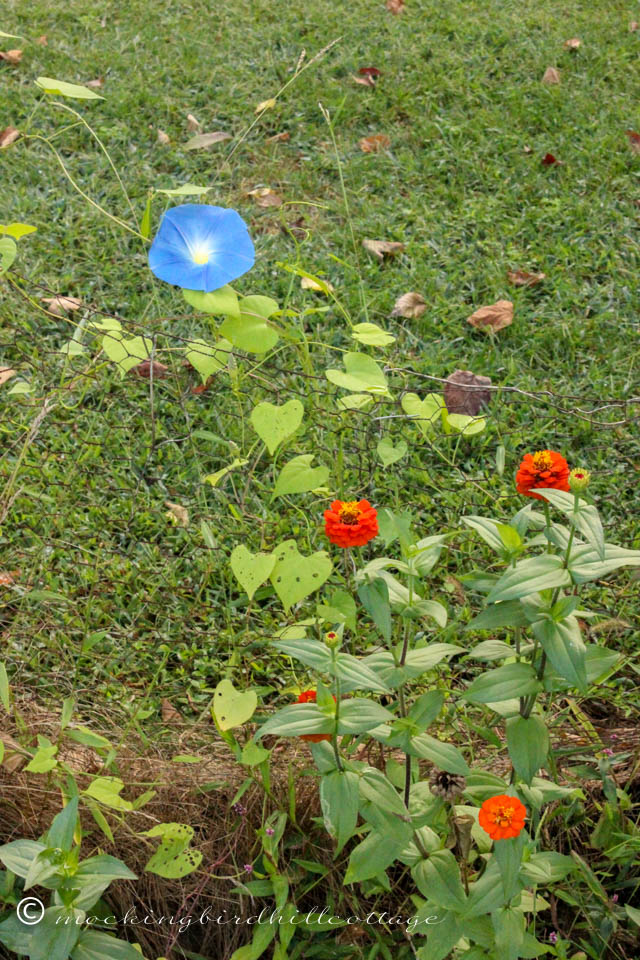 But this greeted me when I stepped outside. (Note leaves on the ground. It's beginning to look like Fall around here.)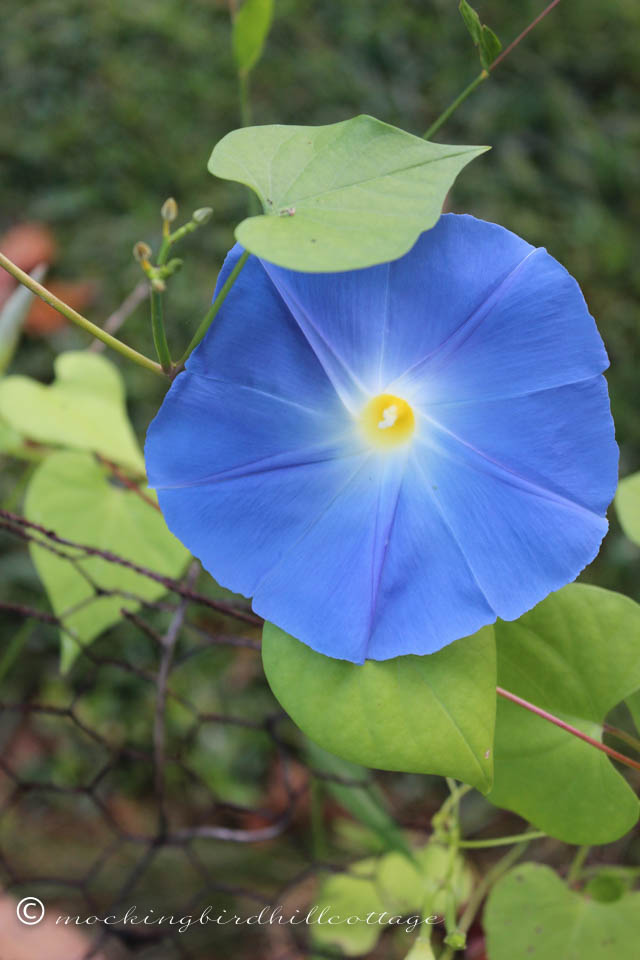 A beautiful new morning glory can certainly help one's outlook.
And last night – when it was still dusky out there – I went into the kitchen to apologize to Don for something I said. Normally, I'm sitting in my chair at that time of day. After apologizing and hugging him, I looked out the kitchen door and there were two mourning doves perched on either side of the birdbath. They were very still. I've seen them do that before, this perching; resting, watching, and gazing at each other. Mourning doves may be my favorite birds. They are gentle and beautiful.
At the same time, I caught sight of a hummingbird, darting from one geranium blossom to another. The geraniums are planted in three barrels that are next to the birdbath. There are a lot of them. This little guy went to every flower, then darted over to what remains of the phlox, then back to the geraniums. This time of year, when there are fewer and fewer flowers, has to be challenging for a hummingbird.
And on one of the fence posts, a catbird awaited his turn at the birdbath.
I thought about how I would have missed all of that if I hadn't got out of my chair to apologize to Don.
I grew up in a house where I never heard the words "I'm sorry" from my parents. I don't know why. But apologies were never given. No responsibility for hurtful words spoken was ever owned or admitted.
Consequently, as a young adult and on into my adult years, it was very, very hard for me to apologize for anything. To admit failure. To admit human frailty. I saw it as a sign of weakness. It wasn't until I met Don that I really learned what it means to apologize, simply because Don taught me by example. He apologizes freely. He always has.
And it wasn't something I came to immediately. It took me a while. I had to watch and observe him and put puzzle pieces together from my past and my present in order to make sense of things. I finally came to the realization that the words "I'm sorry. I was wrong." are not a sign of weakness but a sign of strength. To be willing to open up and admit a mistake, whether angry words spoken or a regrettable action taken, is essential.
I know people who never take responsibility for their actions. It's either always someone else's  fault or somehow that person is able to completely block out the memory of what actually happened and replace it with something else. It's maddening. It's sad.
I have some guilt over apologies not given many years ago. I try to acknowledge that and make amends when I'm able to. It's so freeing, this "I'm sorry" business! It makes everything whole again. It acknowledges our human-ness.
We try to do better the next time.
Anyway, without that little apology, I wouldn't have been given the gift of that vision outside my kitchen window.
Happy Sunday.