Excuse me while I shake off the world of Three Pines and do my best to re-emerge into the world of blogging.
I just finished The Nature of the Beast  and I am stunned by how good it is. Louise Penny is brilliant. I'll write a review tomorrow for Just Let Me Finish This Page, but I need to let it percolate a bit in my brain before I put my feelings into words.
Oh my goodness.
I finished it this morning in the lamplit den. The sun had yet to make its presence known. A shawl around my shoulders, coffee mug in hand, I couldn't do anything but read straight through to the end.
And now, I have to wait a year for another Three Pines mystery. I feel Penny is at her best when the action takes place in and around Three Pines. Last year's book, The Long Way Home, took place elsewhere and, though good, I thought it lost its way.
This has been a week for excellent reads: Jan Karon's Come Rain or Come Shine, and Penny's The Nature of the Beast. How can I keep from smiling at the sheer pleasure of being allowed to read their words?
Don: Do Not Read Any Further!!
I did a little work on the Top Secret Project yesterday. Excuse the darkish photo, but I took it late yesterday afternoon.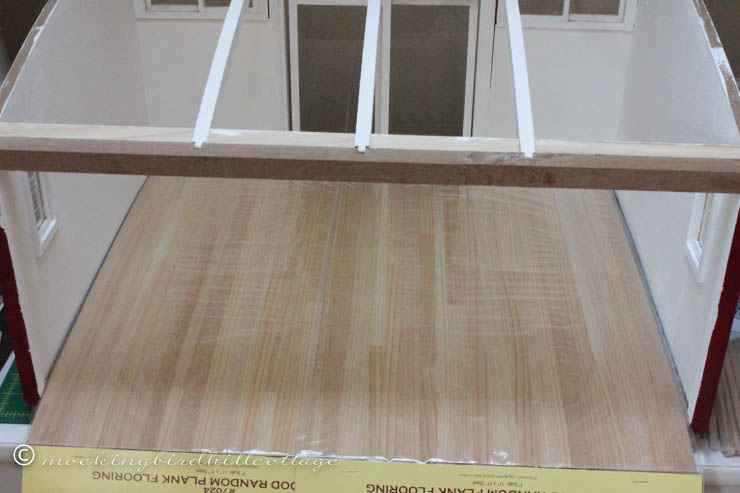 I finished painting the walls. No wallpaper this time. I envision this as a bright, sunny space. So I used Wicker White by Folk Art. After trying a brush for a couple of coats, I bought a foam roller. Much better! I have to do some patching and spackling, but I'll get to that later.
That flooring is Random Plank Flooring made of wood veneer. No popsicle stick flooring this time. Now I'm trying to decide whether I should use it 'as is' in this lighter color, or whether I should stain it a darker color. I have some stain left over from the bookshelves in the den.
Hmmm.
Then I'll add the baseboard. Wish me luck, I'm going to be making some mitered cuts.
This project is going to take longer than I had planned. Budget is a big issue. I can only do so much at a time. Yesterday, I made a list of the items I would like to see in the room. Some of them will have to be handmade. Some of them I will buy.
In either case, it will take time.
Happy Thursday.