Don: It must be obvious, but I'll say it anyway. Don't read this post!!
Finding time to work on the Top Secret Project when Don isn't around makes me feel like I'm a character in one of the mysteries I love to read. It's rather like spying, or watching and waiting like a detective on a stake-out. Waiting until he goes out door, then a spurt of activity: running up the steps, uncovering the house, quickly spiriting it downstairs to the kitchen. Running up and down the steps gathering paint brushes, sandpaper, paints, varnishes. Keeping an eye on the clock.
I've resorted to asking him to call me when he's on his way home. I need a heads up so I can put everything back in place before he pulls in the driveway. The other day I was talking on the phone to Judy while I was working on the house and I somehow sensed that I needed to get it out of the kitchen. Right away. I carried it up the stairs, holding the phone between my head and my shoulder, still talking away to Judy. Suddenly, the phone slipped out and dropped to the floor and I had to shout out "Hang on Judy! I've dropped the phone!" while I put the house back in place and covered it up again.
Yikes. And wouldn't you know it, Don came through on call waiting and said he was on his way home – not only that, he was just down the road! I wouldn't have had time to get everything stashed if I hadn't listened to that little voice in my head.
Needless to say, Don has been informed that 'on my way home' means something a bit different than 'just down the street.'
Anyway, I finished the wood floor.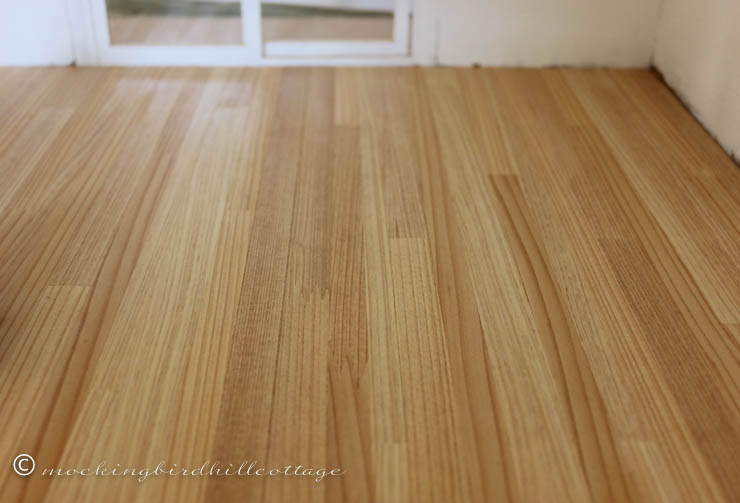 I tested a stain on a scrap piece of the flooring, but it looked too dark for what I was going for. I don't want the floors to look like the floors in Hummingbird Cottage. I want it light and airy and studio-like. Instead of stain, I lightly sanded the floor with extra fine sandpaper and then applied two coats of Delta Ceramcoat Satin Finish Varnish. It really brought out the grain of the wood.
If you remember, it originally looked like this: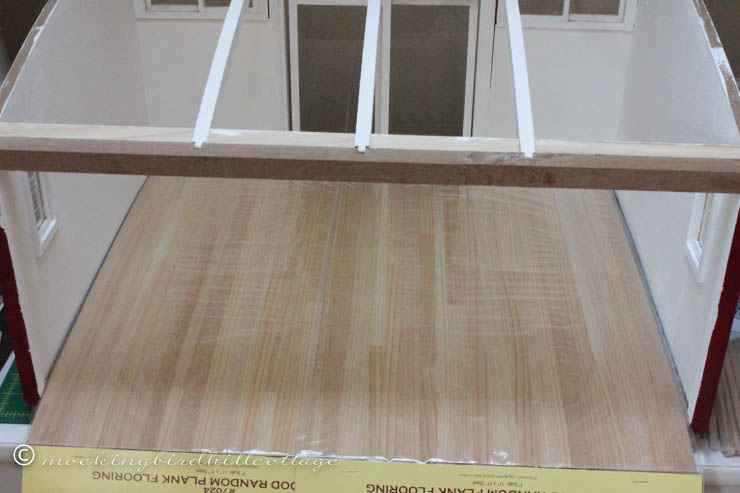 Of course, the lighting at any given moment will change the way the floor looks from photo to photo, but I think you can see that the varnish really made a wonderful difference.
I followed the instructions and used a cement glue, rather than a white glue, to attach it to the floor. Then I pressed and pressed until it was firmly in place. Then I placed several heavy books on top of the floor and left them in place overnight.
That did the trick.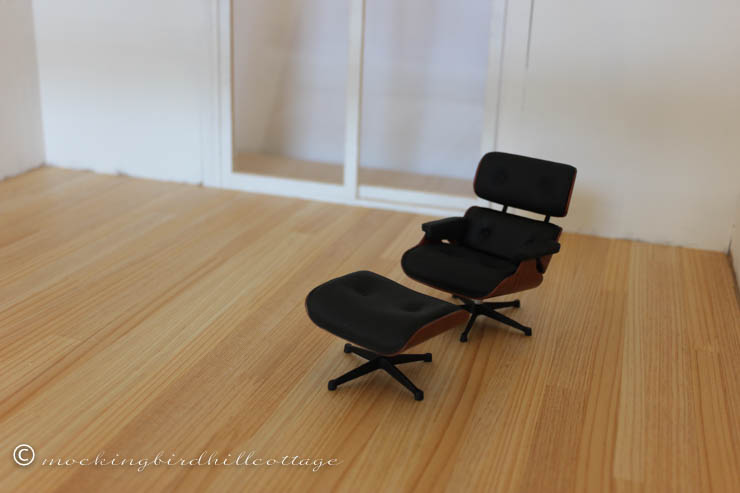 Had to bring in the Eames chair.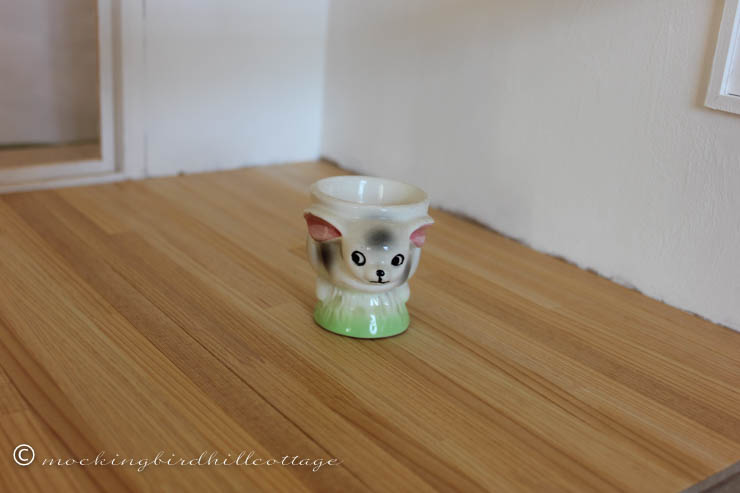 Sometimes the egg cups just want to get in on the action. After all, this one lives on the mantel shelf just above my workspace.
She looks surprised, doesn't she?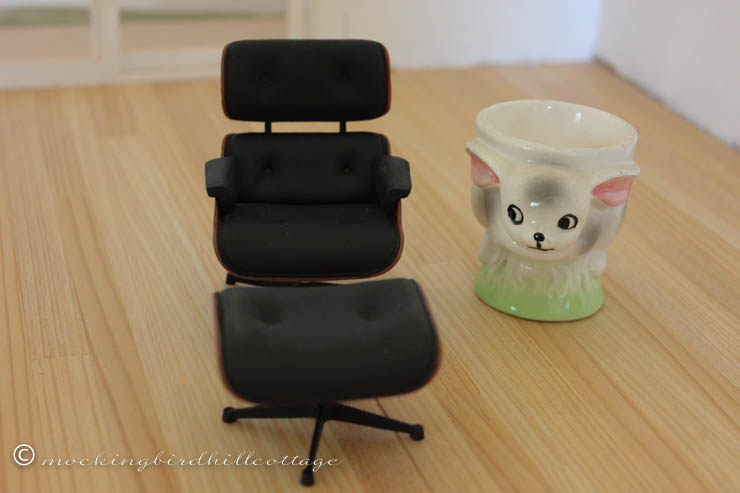 I love that this floor looks different depending on the light.
I'm very happy with it. Now, on to the baseboards.
The flooring I used is by Houseworks and is made of  "genuine wood veneers which have been laminated to a special paper to ensure easy staining, varnishing, and installation." It comes in a 11″ by 17″ sheet. I used two sheets for this project. You can probably buy it at a variety of online sites, but I got mine at HBS/miniatures.com. This was Random Plank, which I chose because I love that look.
Oh, for a lottery win. Money for miniatures and books and the mortgage. That's not too much to ask, right?
Happy Saturday.