• From my walk yesterday: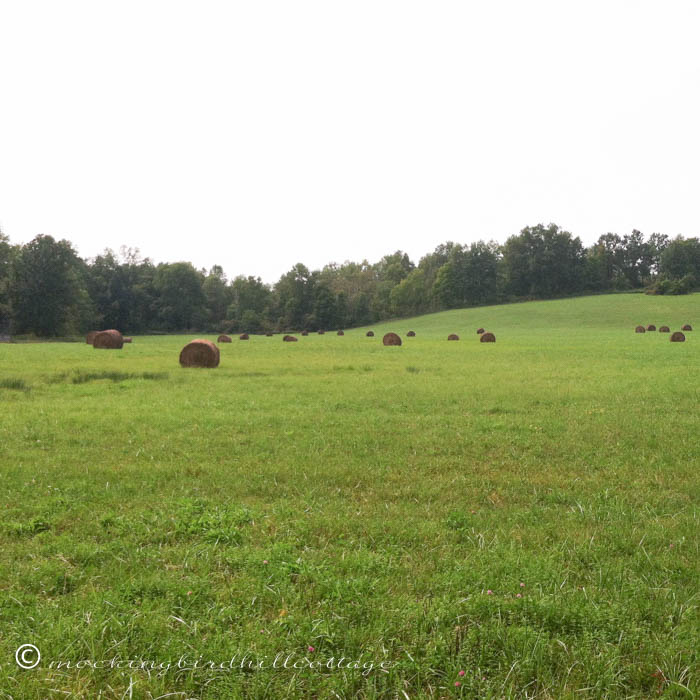 Via the iPhone.
They're like sculptures.
• It's September and, thank goodness, there are still flowers blooming everywhere. Roses, phlox, geraniums, zinnias, rudbeckia, and morning glories.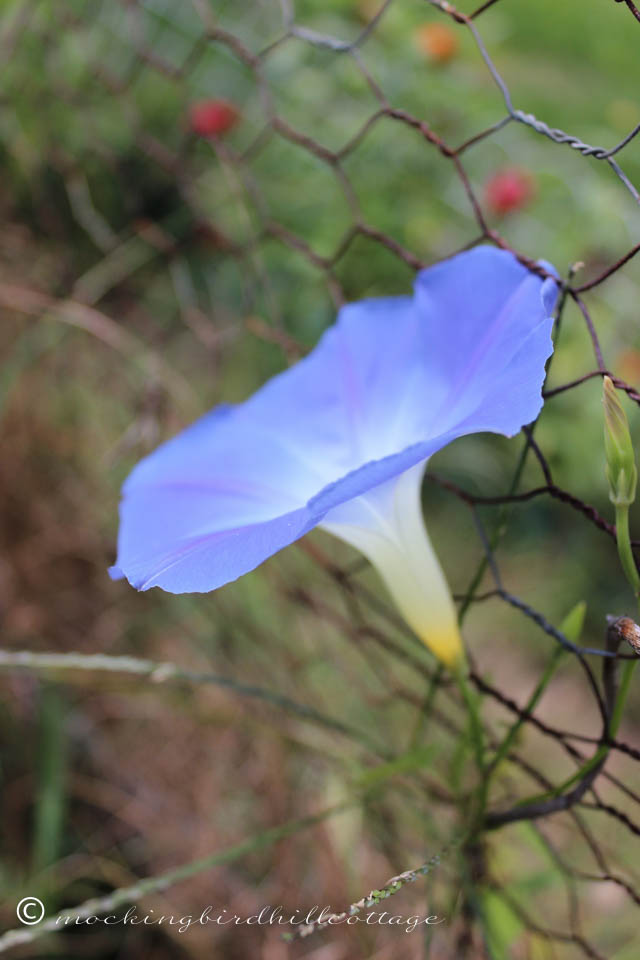 Morning glories grown from seed are unpredictable. We had morning glories growing along two long lengths of a chain link fence when we were living in San Diego. Blooms were everywhere and they emerged like clockwork. They were perennials in that climate.
Here? It's different from year to year. I soak the seeds, plant them in the ground and, very slowly, little vines appear. By about August, the vines are twining around the chicken wire fence. The first year I planted morning glory seeds, I had lush blooms for a month or so. Everywhere.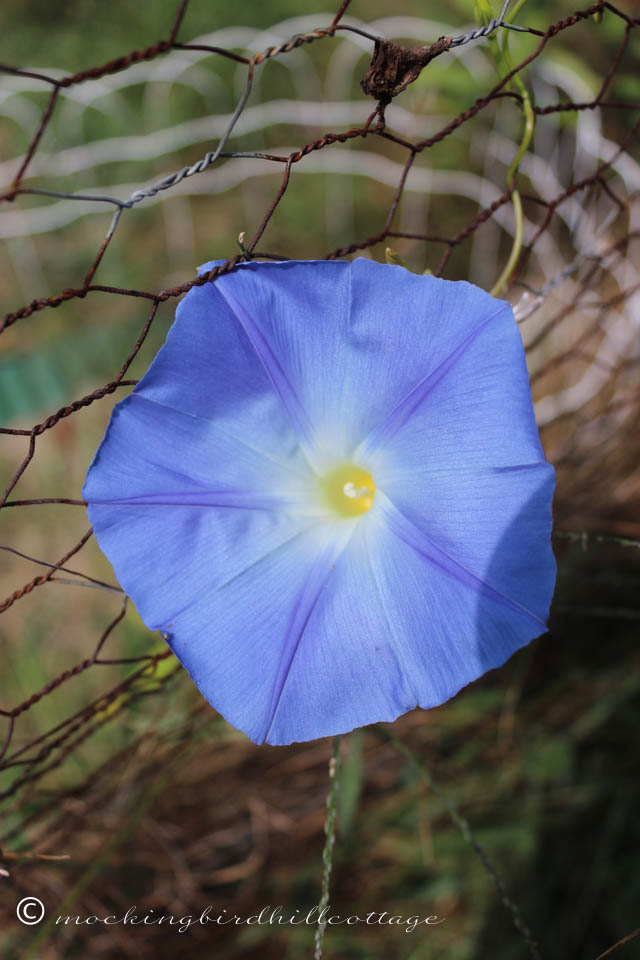 I've come to realize that every year will be different. Case in point: this year, the spindliest vines that look like they could be uprooted in a strong wind are producing the flowers. The lush and long vines that are providing lots of leaves and growth? Not a bloom in sight. I live in hope, however. Every day I examine those vines for signs of a little bud.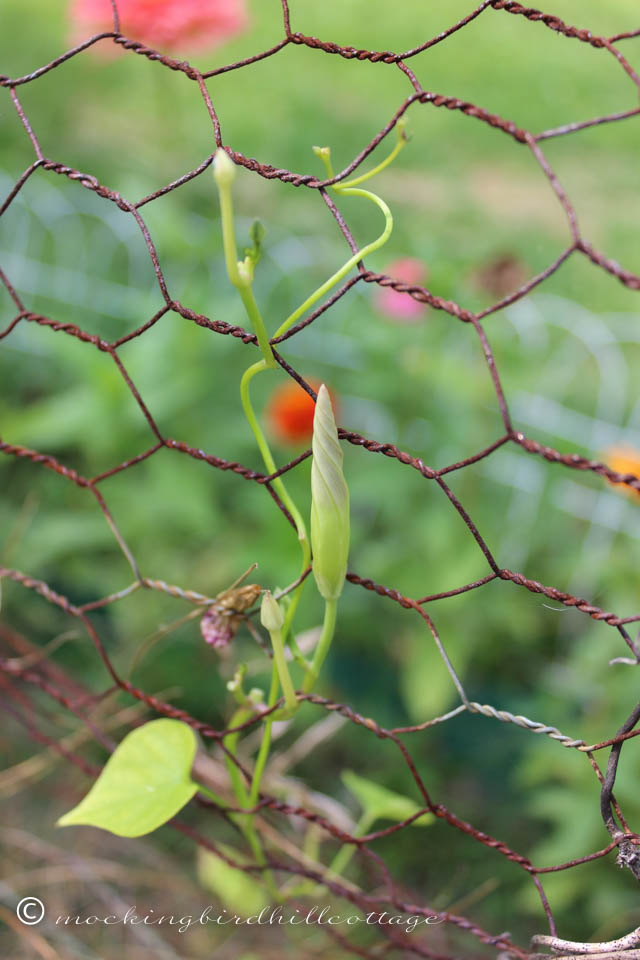 So far – nothing. This one is on one of the smallish vines.
• Every once in a while, I write about language, usually in the form of a pet peeve concerning current usage. At the moment, I've got two of them swirling around in my brain. I'm absolutely sure there are more, but these examples have been especially troublesome lately.
And before you say anything, I'm sure the dictionary has already expanded its original definitions to include these changes, but then again, some dictionaries have now caved as to the meaning of 'literal' to include a definition that is "Used to acknowledge that something is not literally true but is used for emphasis or strong feeling." (See this link.)
Ummm…that isn't the meaning of 'literal.'
Just because a lot of people are misusing a word, i.e., literal, doesn't mean we should change the meaning to accommodate them.
Number One (and I've mentioned this one before): Curate. If I see it one more time I'm going to scream. As in: bloggers 'curating' a collection. In reality? They picked their favorites. It's a rather grandiose way to describe something we all do at some point when looking at items online. A curator is someone who cares for and tends to and chooses a collection, as in someone who works for a museum. That sort of curator has years of training and expertise and knowledge. If some online store asks a blogger to choose their favorite pieces, which is, in effect, an advertising and promotional tool for that store, that's what is being done. Favorites are picked. Curated? No.
Number Two: Gifted. Gift is a noun. If I receive a gift, I am being given  a gift by the giver. If I wrap a present, I am giving  a gift to someone. Give  is a beautiful word. Why cheapen it and the selfless action of giving by saying 'gifted?'
It drives me a wee bit nuts. And I hear it everywhere.
Yes, I know language changes. After all, a great deal of my professional work is about language. But taking a word and making it 'less than' makes no sense at all to me.
You give a gift.
A curator is an expert who devotes him/herself to working with and caring for a collection.
But then again, and I've also talked about this before, suddenly everyone is an 'expert' in this online world.
I know a whole lot about certain subjects, but I'd never call myself an expert. That's not false modesty, it's just the truth.
Sigh.
Happy Tuesday.