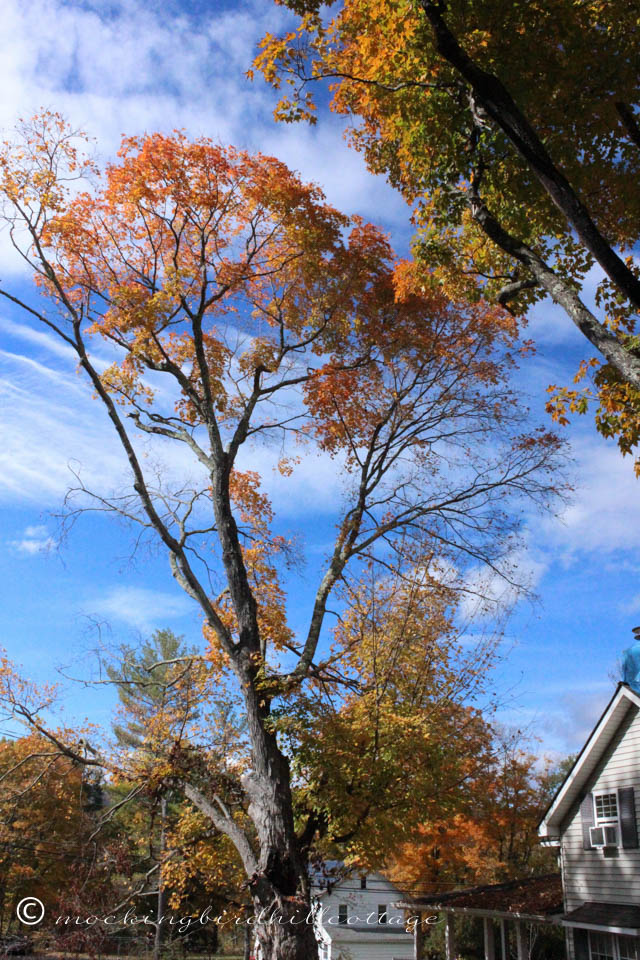 The sugar maple; gangly after losing two huge limbs in the past 4 years, but still beautiful. It's always the first tree to shed all its leaves.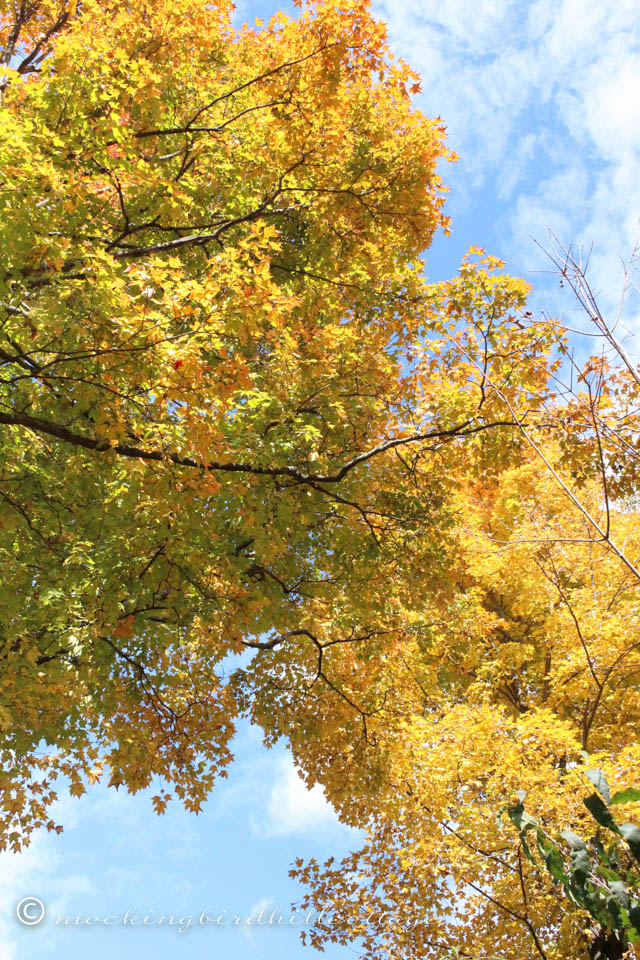 Intersecting maples in the back yard.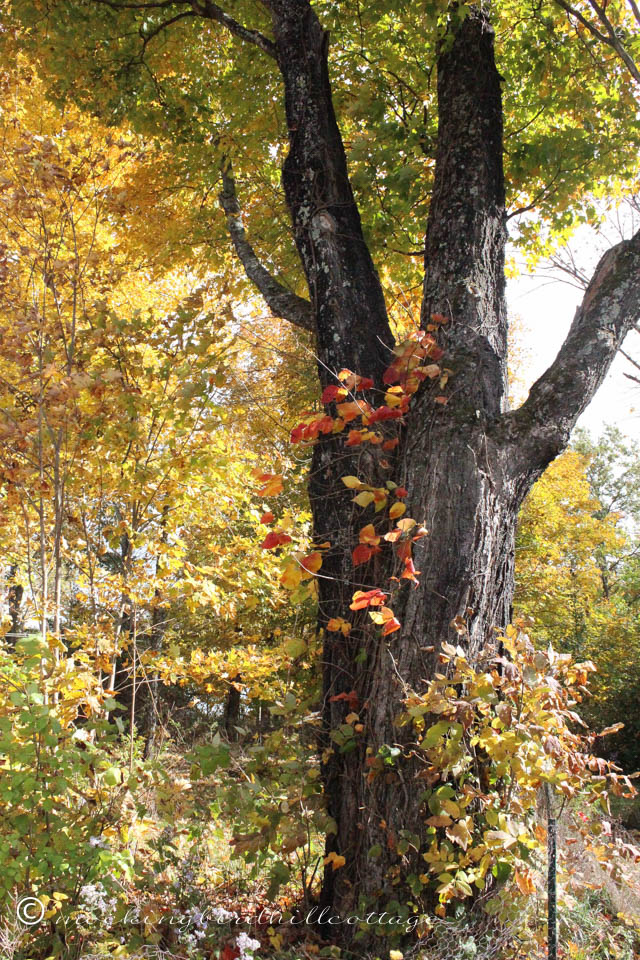 Even the poison ivy looks good.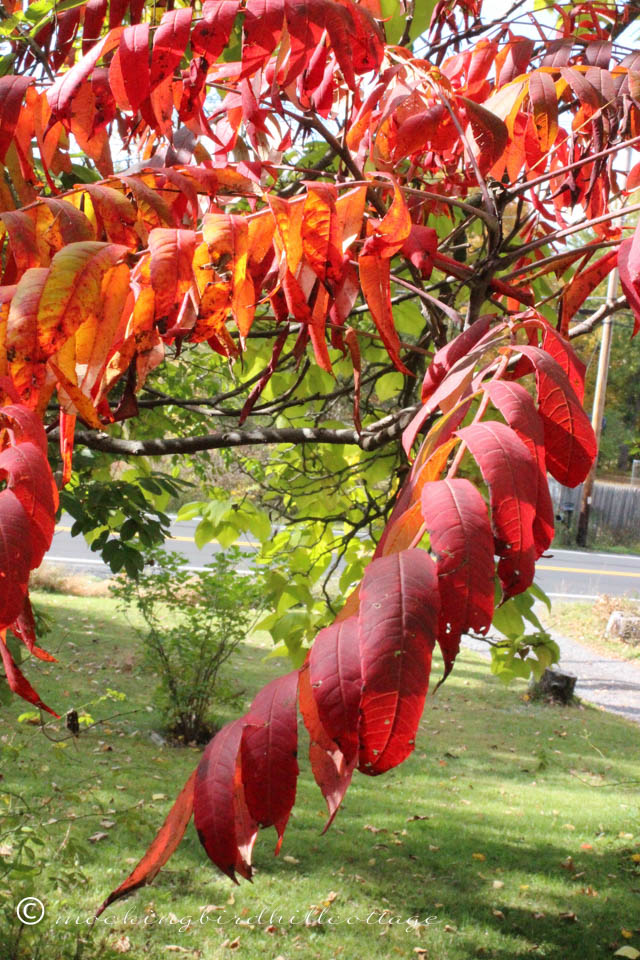 The deep red of the sumac.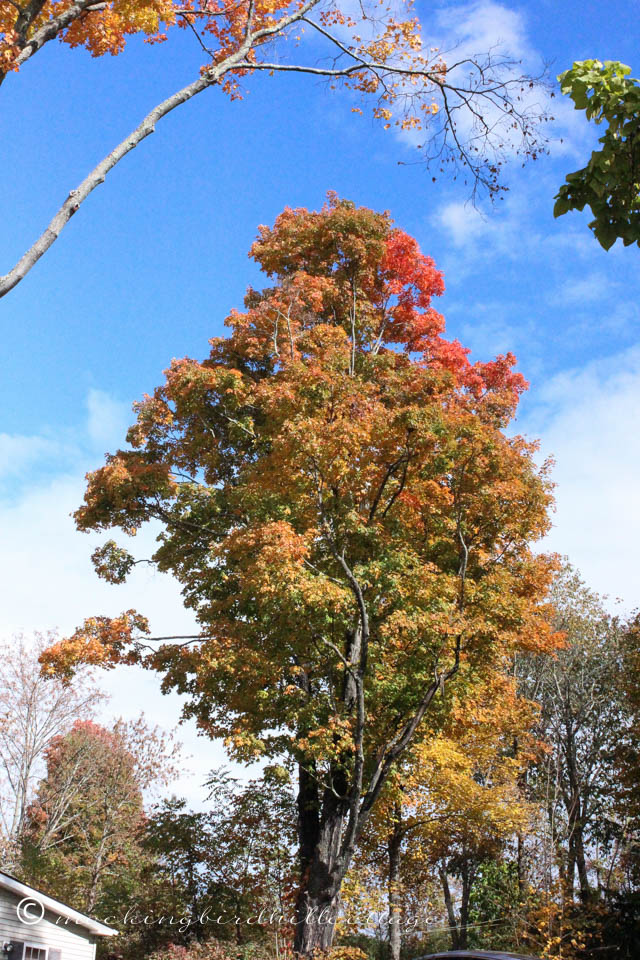 Right outside the kitchen, another glorious maple.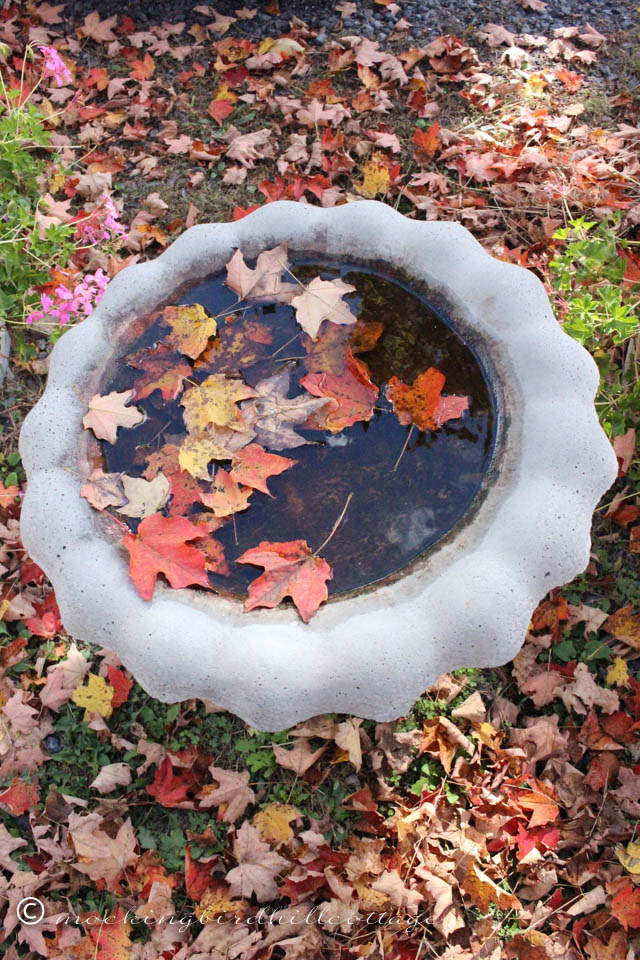 Leaves congregating in the birdbath.
•  Dad update: We found out that the two rehab facilities that were to be options for Dad were, in fact, not  options. Apparently, they are for more extreme cases. That's why Dad wasn't discharged the other day. After many phone calls back and forth between my sister and myself, Meredith called Dad's regular doctor, who called Dad's doctor at the hospital. The fact that Dad hadn't been discharged and transferred was news to him, so he went to the Review Committee at the hospital yesterday morning, explained Dad's case to them and they reviewed it. The end result is that they are keeping Dad in the hospital for three more days as In-Patient. While he's there, he'll get physical therapy. At the end of the three days, they'll review his progress and he'll either be discharged to go home (doubtful) or be transferred, most likely, to the rehab facility we wanted him in the first place.
Mer was working yesterday, so I called my dad and explained everything to him. He had been very stressed by all of the indecision the day before but once he heard the news, he relaxed. As I was finishing the phone call with him, the doctor came in the room and confirmed everything.
So, for now, Dad is hanging in there and is in a much more positive frame of mind, bless his heart.
The key here is coding. He had been coded as Under Observation, even though he had been admitted as a patient. That's what screwed everything up. Now that he's been admitted as In-Patient, he will be able to be transferred to the right facility for his age and condition.
Beware of coding, my friends. When I get her permission, I'm going to quote faithful reader Chris, who worked in the insurance industry for years and knows all about this. I certainly didn't. And it's essential information, especially if you end up in the emergency room.
I had an issue with coding (my emergency blocked bile duct procedure) and had to fight to get the code changed. You have to be vigilant, even in the face of the stress of the emergency room. Or, better yet, someone has to be vigilant for you.
•  Scout is clean and fluffy. That's all I need to say about that.
•  Don and Dan are going to be on a local radio show Saturday morning. They'll be talking about the new CD and playing some of their music. I believe they'll be on from 11-1 EST. The station streams live, so I'm going to get the link for you and I'll post it tomorrow. I'll be listening for sure!
•  There's a link in the sidebar for Don's new CD. He's just sent more stock to CD Baby.
Happy Thursday.