We all need a little unexpected treat now and then, don't we? This, as you know, has been a bit of a worrisome week for us; especially for me, the Chief Worrier at Mockingbird Hill Cottage. So when Don came home from the Post Office on Thursday with a package for me from my friend and fellow miniature enthusiast, Barbara, I started smiling, which I suspect hasn't been happening all that much of late.
Barbara had recently been to a miniature show and had asked if she could send me a little something she found there for me. Of course!
It turns out Barbara had also been setting things aside for me, so when I opened the box I gasped at the treasure trove inside. Actually, I'm sure I gasped more than once.
This is a picture heavy post. I hope you don't mind. But with minis, if you simply group them together in one photo, they become indistinct. Besides, I wanted to play with an idea I've seen on Brae's blog. She often uses scrapbook paper to back a temporary scene in which she displays new minis. Since the Top Secret Project is relatively unencumbered by furniture at the moment, I found a piece of scrapbook paper and tried my hand at photographing things in this new way. Eventually, I want to get a room box that I can use for just that, as well as playing with miniature scenes.
Don: Stop Right Here. Go No Further!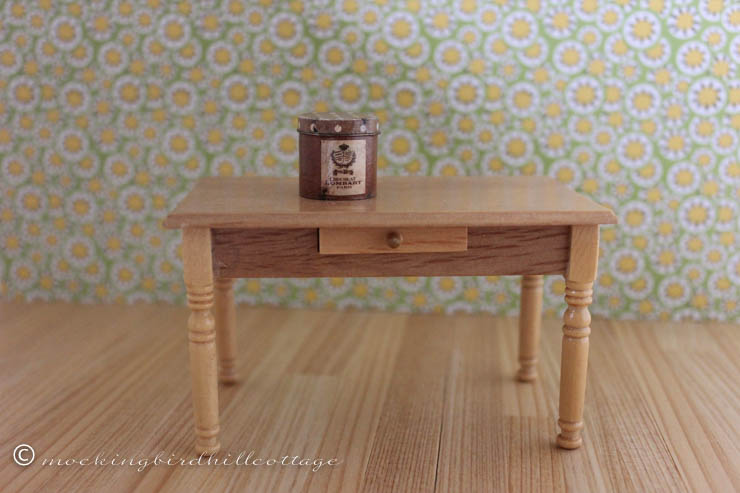 First up, a lovely little tin. (KristinaBears/Etsy)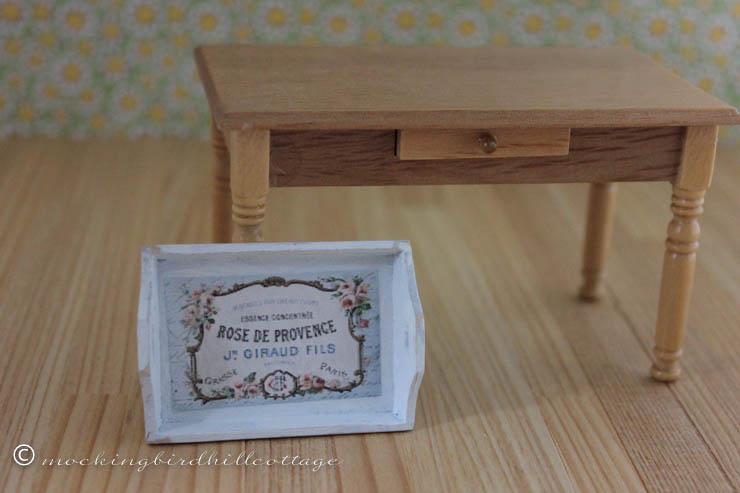 And a tray. (Miniatyrmama/Etsy)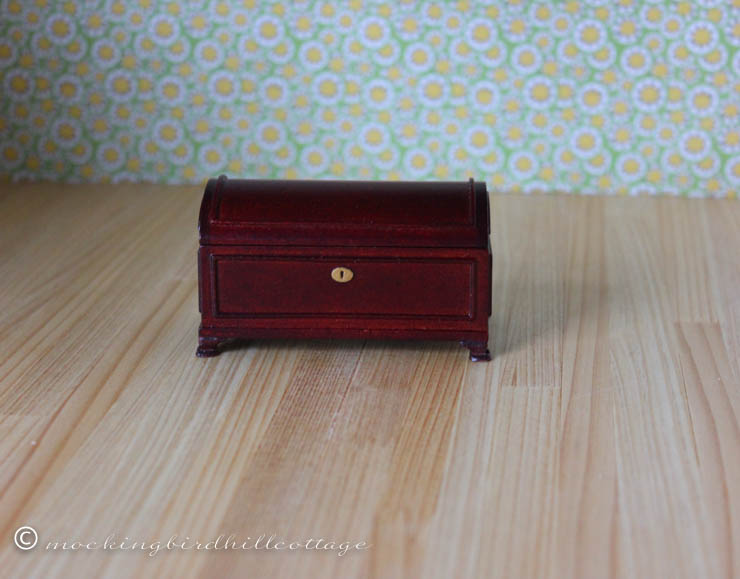 A beautiful wooden trunk, which opens like this: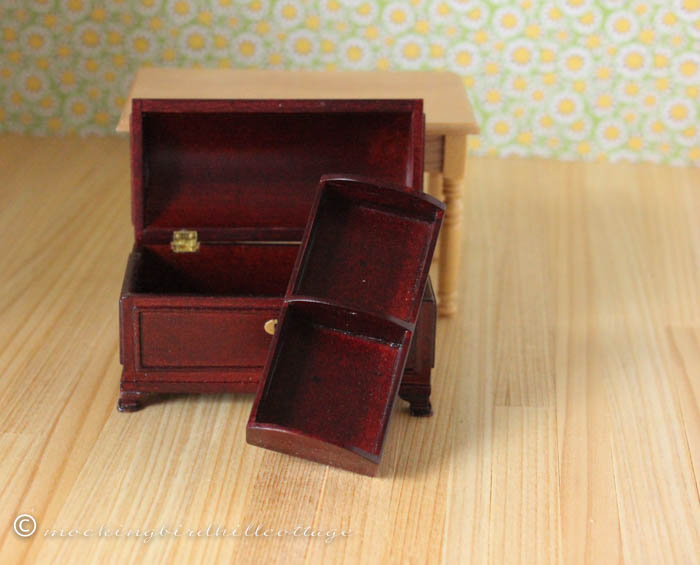 (From VictoriaMiniLand)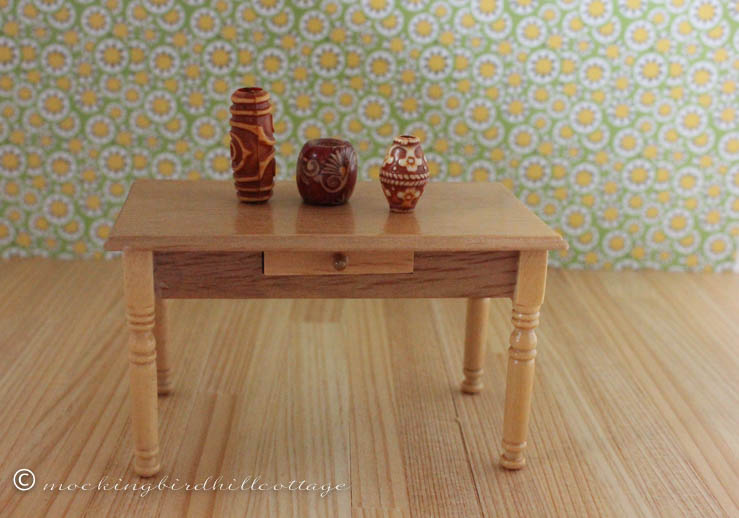 Beautiful beads which can function as mini pottery.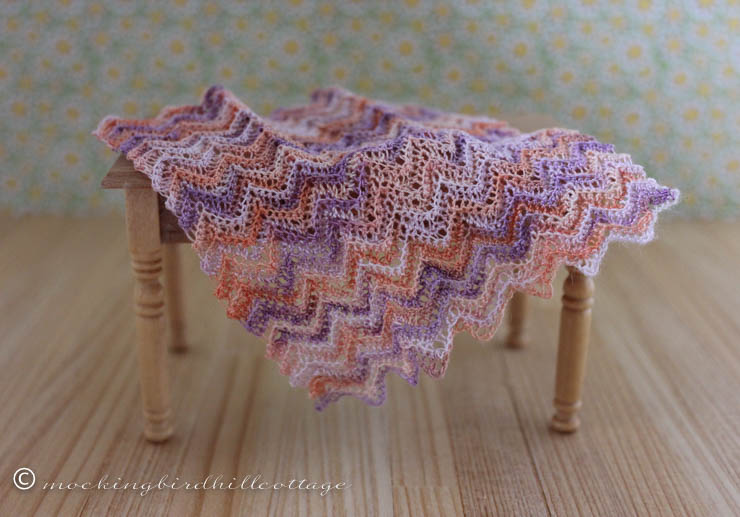 A beautiful crocheted throw.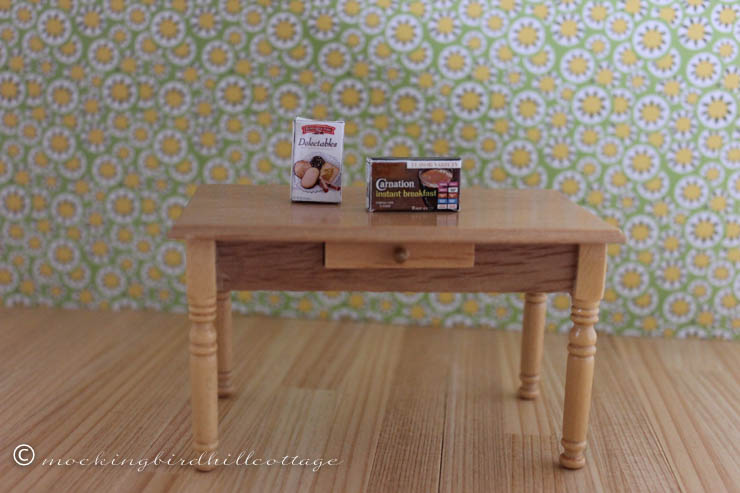 Yummy food.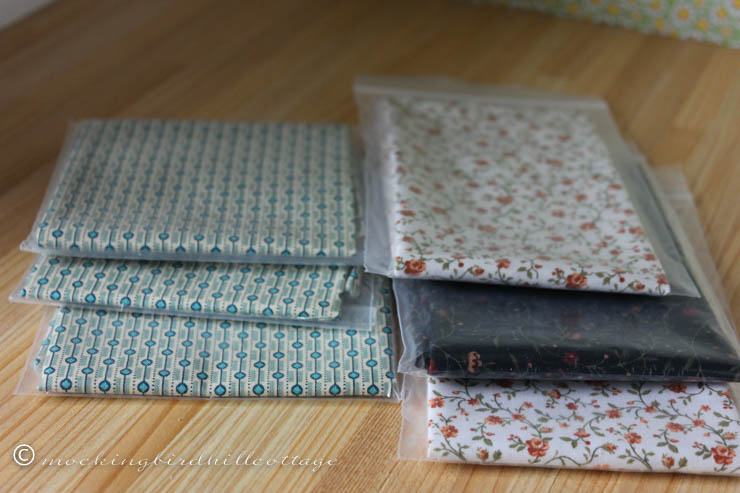 Fabric.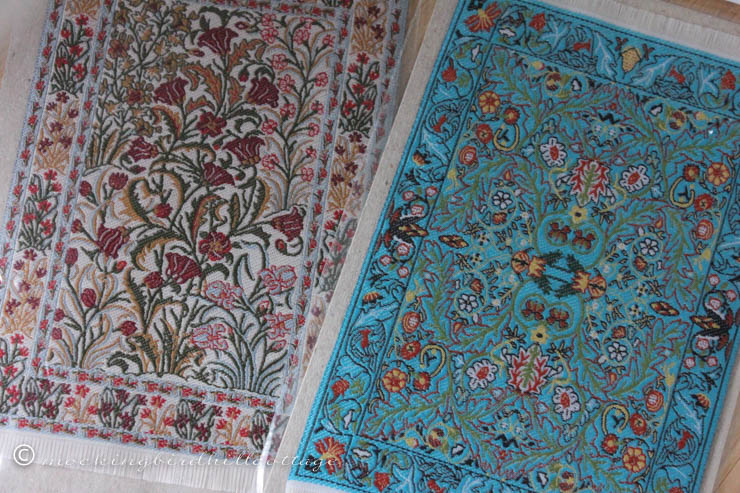 Rugs.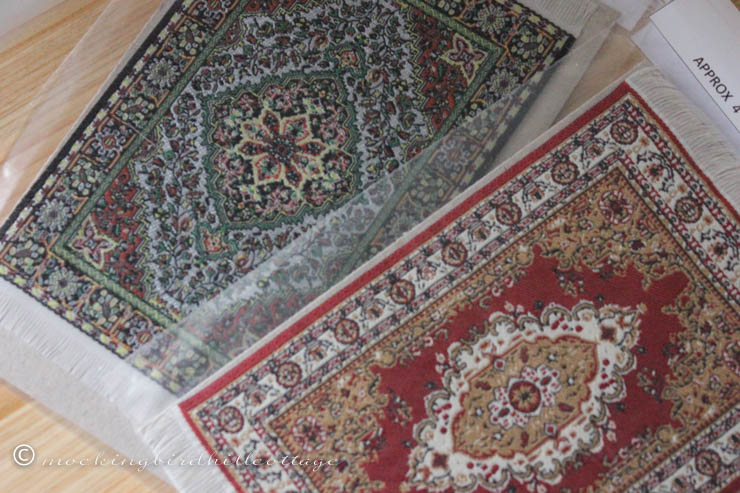 And more rugs.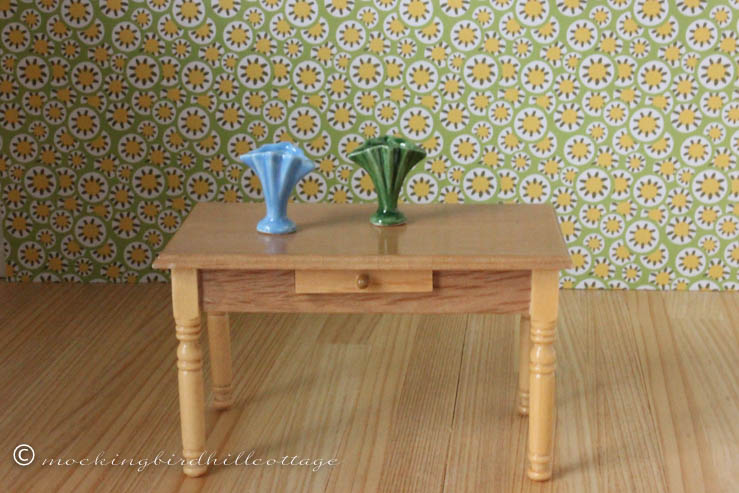 Two beautiful vases.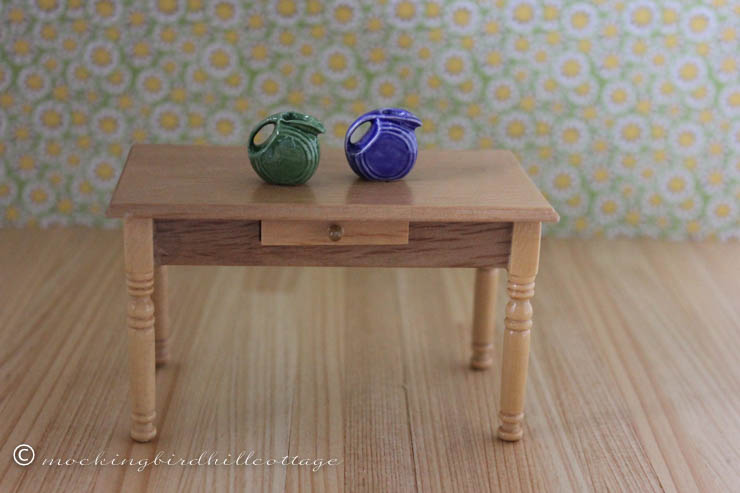 Eeek! Two Fiesta pitchers. (I have some real-sized ones in the cottage.) I used to collect vintage Fiesta and that collection evolved because I initially fell in love with the Art Deco look of the pitchers. The pitchers and vases were made by I.G.M.A Artisan Janice Crawley. Gorgeous.
And for the Top Secret Project: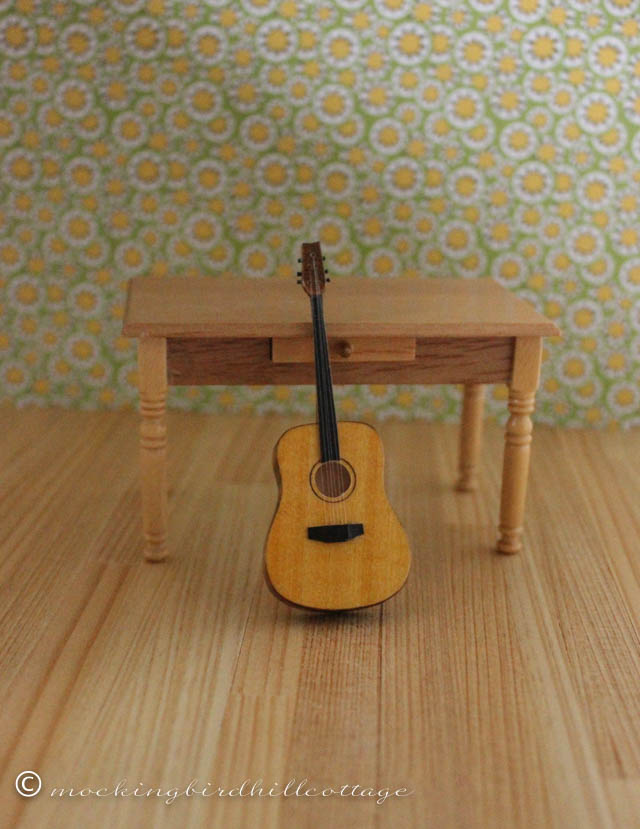 A beautifully made guitar! Oh boy. (Made by LALittleArtist on Etsy.) I think I'll be ordering another one…this is far better than the ones I've been looking at online.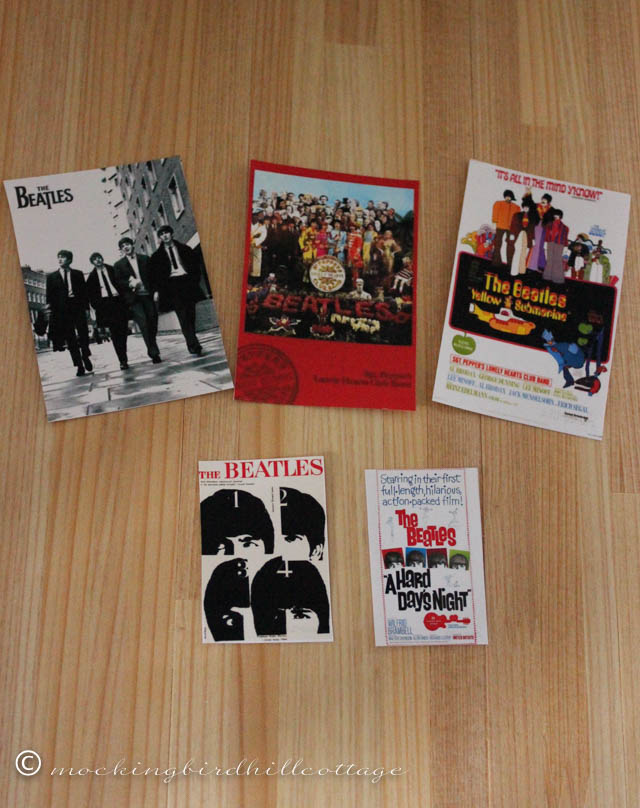 Beatles posters. Don is going to love these!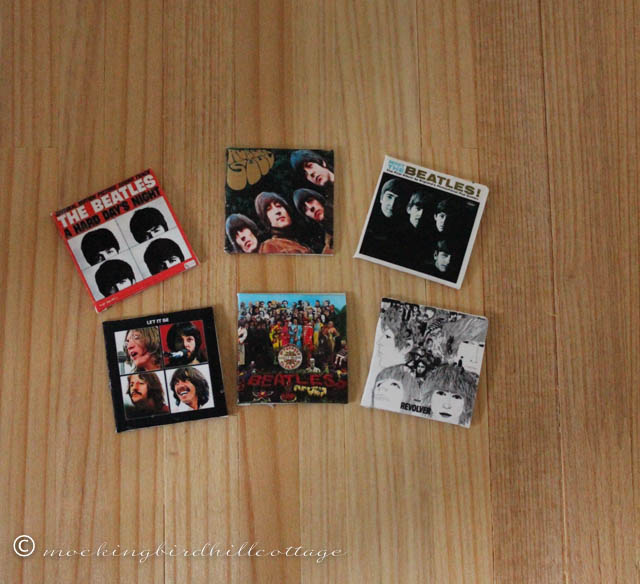 And Beatles albums! (from LCMinatures/Etsy)
Some of these treasures will go in Caroline's house. Some will be saved for a future build. Some, obviously, will go in the Top Secret Project. I will almost certainly use a couple of the rugs there because recording studios often have rugs to help with the sound.
Oh my goodness. Barbara: you have spoiled me. Thank you for your incredible gift. I showed Don a lot of it, though not the items for the TSP. He gasped, too!
I don't deserve it all, but I am thrilled, nonetheless.
As if you haven't seen enough photos, I'll show you where I put some of these pieces in Caroline's house.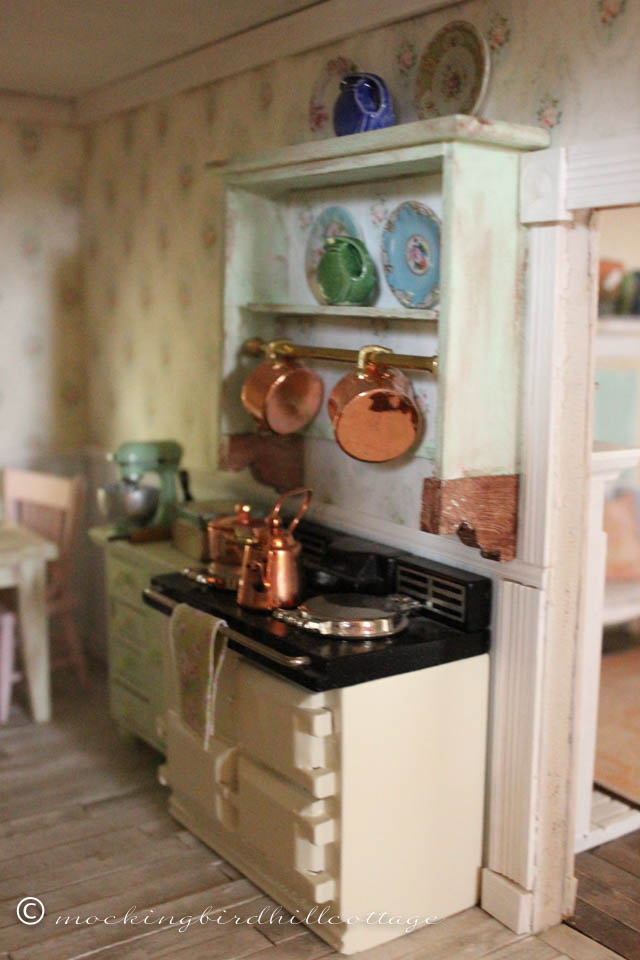 For now, the Fiesta pitchers are on these shelves. That may change.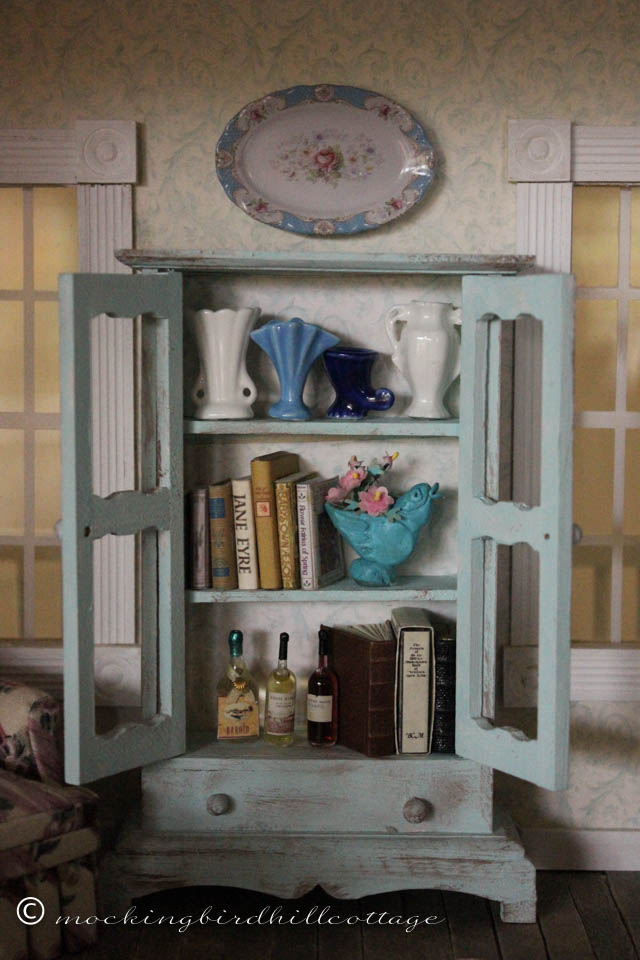 The blue vase is in the cabinet in the den.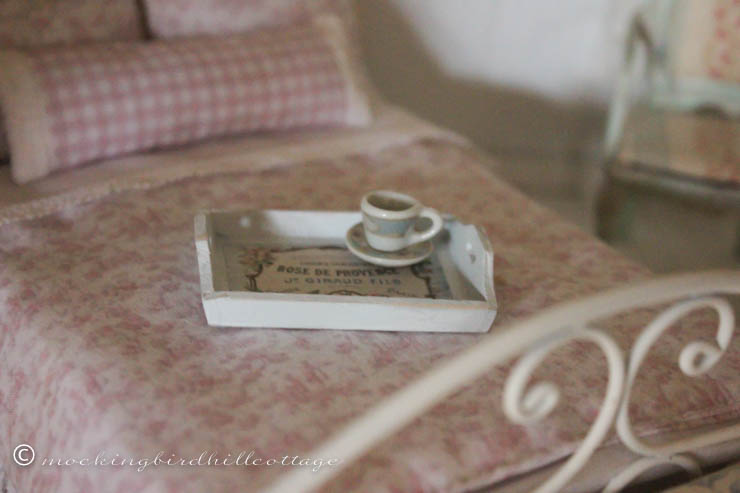 The tray is on the bed.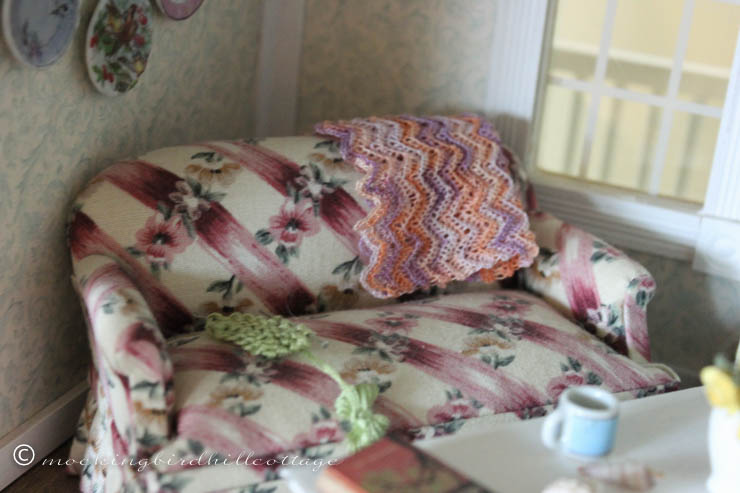 The throw is on the sofa in the den.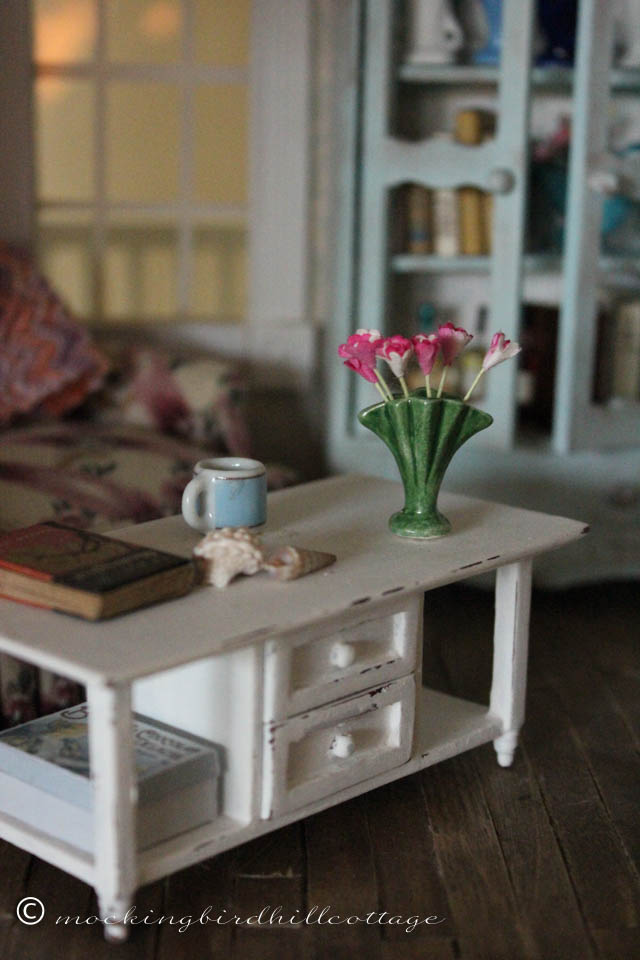 And the green vase is on the coffee table.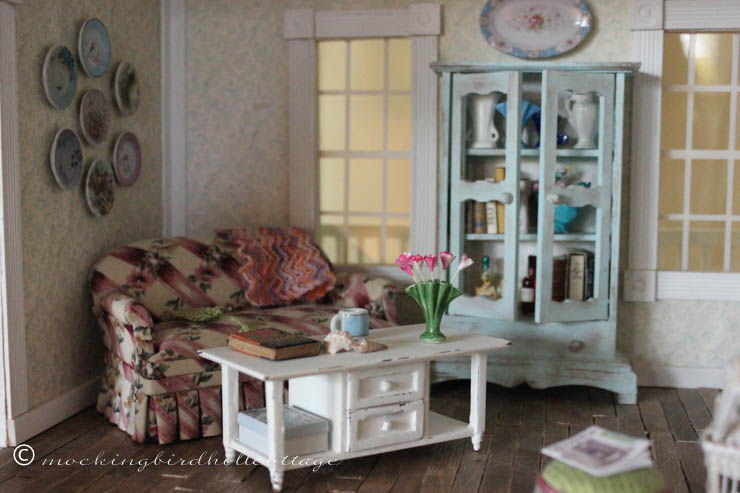 Looks awfully cozy in there, doesn't it?
I had such fun opening each little gift, then photographing them yesterday and finding places for some of them in the dollhouse.
Thank you, Barbara.
Book Review on Just Let Me Finish This Page today: Simon Brett's cozy mystery: Mrs. Pargeter's Principle.
Happy Saturday.