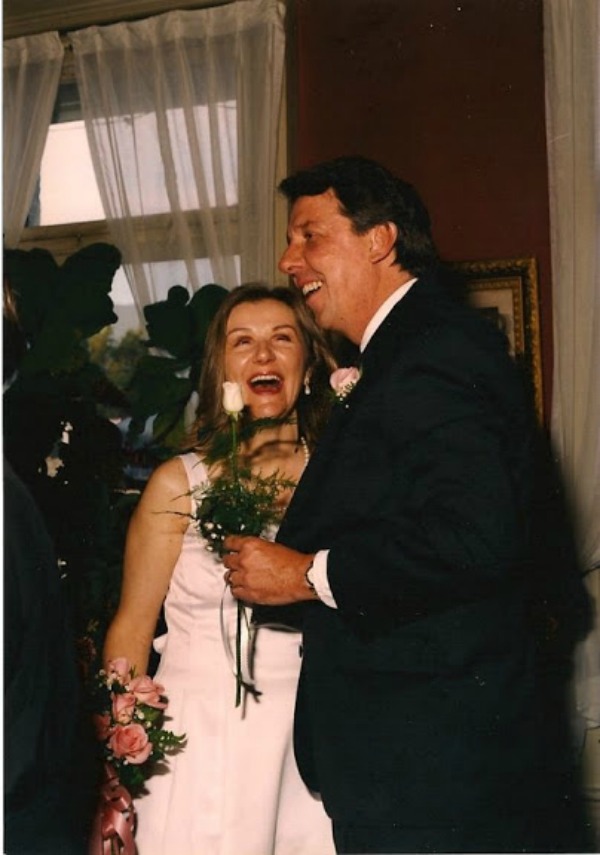 And suddenly, we've reached 17.
It's our seventeenth wedding anniversary today, this October 12th, Columbus Day.
Seventeen years ago, when we married, it was also Columbus Day. And it was Don's day off. He was doing a one-man show, Jeeves Takes Charge, in Nevada City, California. Nevada City is a charming town in the foothills of the Sierra Madre mountains. Since we wanted a small wedding with no hassles, we decided to get married there.
Don did a lot of the footwork since he was already there. He found the site (The National Hotel), the man who officiated, the florist, and the photographer. My sweet sister found my dress for me and gave it to me as a gift.
I didn't want my family to have to deal with the expenses involved in flying to California for a wedding. Whenever Don and I even started to think of the logistics of the whole thing, we got very stressed. So, with the blessing of our respective families, we did it our way. Don's brother and sister-in-law were there. Our friends Phil and Clare were there. Phil ran the the theater where Don was performing. And that's it.
I flew up the day before the wedding, watched a matinee of Don's show, went to a dinner thrown for us by some friends of the theater. The next day, we got married in the parlor of the historic National Hotel.
Oh, there was one complication. I had a walking cast on my left ankle. I had fallen down our back steps in August and, though I held out hope the cast would be off by our wedding, it wasn't. I cried and cried at the thought of going through the wedding with a huge cast on my leg, but Don said, "It will be part of our story."
And it was. Suzie, my sister-in-law, helped me down the long stairway (which functioned like an aisle in a church). I was determined to walk down those stairs! When I saw Don, I started crying. Then Don started crying. Then Suzie, Ron, Phil and Clare joined in.
We were all crying. Through the entire ceremony.
I will say that Don and I were 'present' for every moment of that ceremony. I remember everything. There was none of the stress associated with a 'big' wedding. Afterward, we drove through the streets of Nevada City in a horse-drawn carriage. Since it was a holiday, lots of people were out and about and everybody waved at us. It was a gorgeous fall day.
It was perfect.
We won't mention the stain that appeared on my wedding gown as we were eating dinner, when Don, who was eating spare ribs, used his napkin. It turned out he was actually using my gown. Mortified, he confessed, and after my initial shock, we all laughed. In a way, it was also perfect.
Another part of our story.
That, by the way, is my favorite picture of us from that day. It was taken by my sister-in-law.
Happy Anniversary to us.
By the way, my dad is in the hospital. He was admitted yesterday after suffering from severe back pain. There might be some kidney or bladder issues. We're not sure. He's in good spirits, perhaps because he was eating chocolate cake and ice cream when I called him. I'll keep you posted.
Happy Monday.