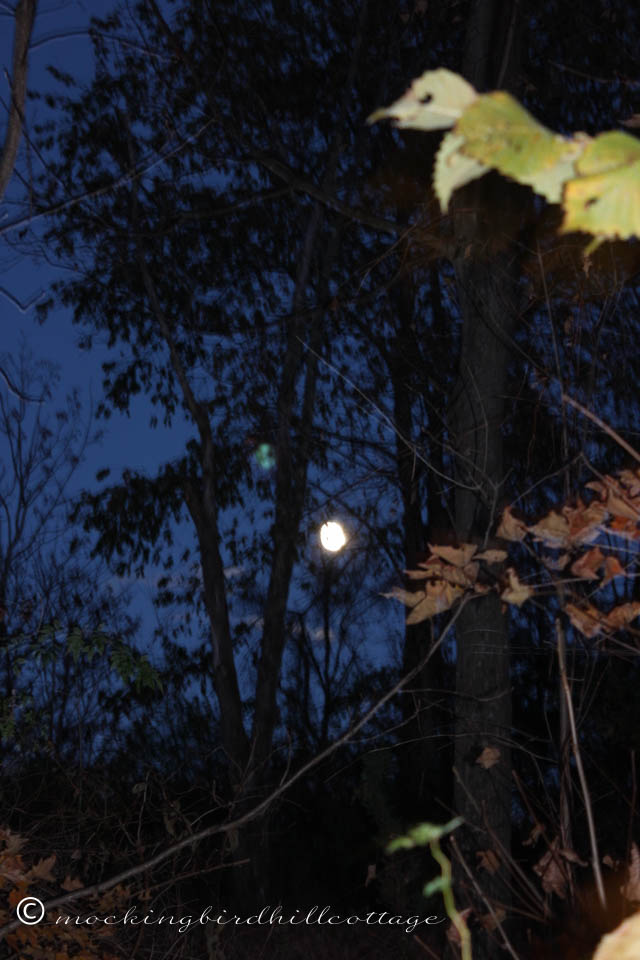 I don't know why, but I can never get a good picture of the moon. I'm sure it's something to do with my settings, and I've never made an effort to figure it out. I think I'll do a little googling today on that subject. But the moon was huge last night, big and fat, and this is a shot of it over the back forty.
As Don said, "It's never as good as what you're actually seeing."
Yep.
Here's the other try: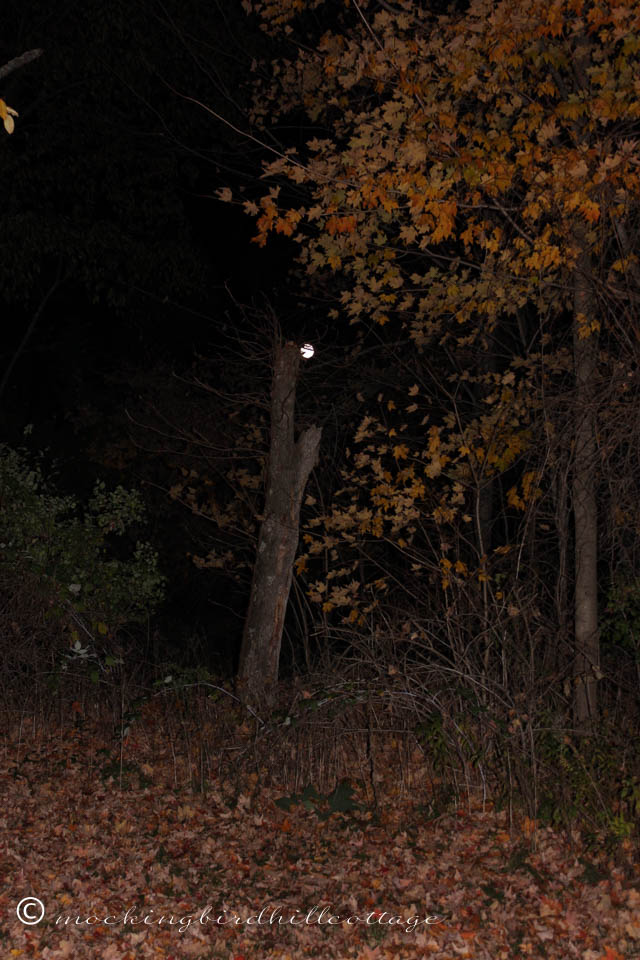 Interesting, but…
I needed to get out of the house yesterday so, while Don was running an errand, I stopped at our local Antique Barn. I had the vague idea that I might find some McCoy for $10 or so. I didn't. There was some McCoy, but nothing I was interested in. I did see something I want very much indeed, but I can't justify buying it when we're trying to make ends meet.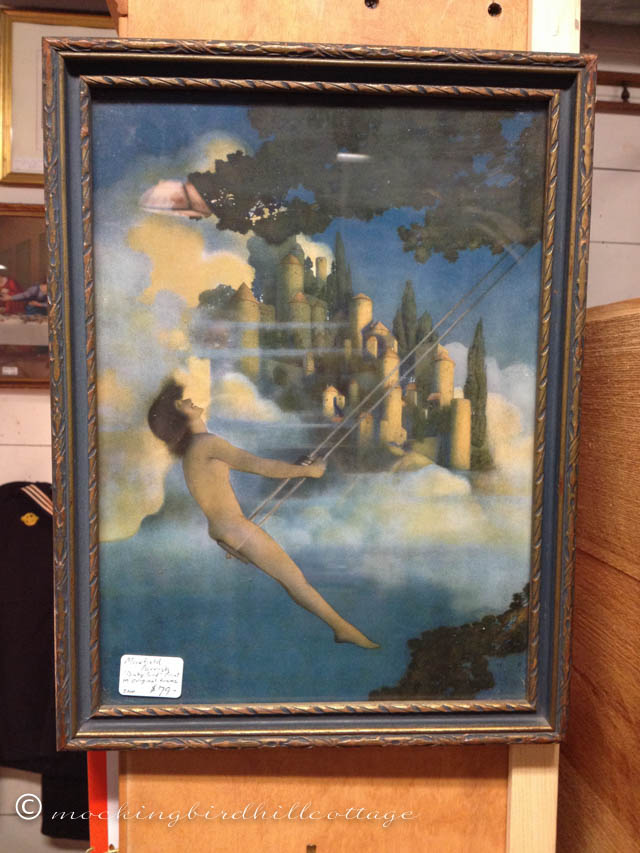 A Maxfield Parrish in its original frame. It's one of his more famous illustrations, Dinky Bird. I suppose I should research that and find out why it's called Dinky (or Dinkey, depending on who's talking about it) Bird. I love it. Look at those blues and those golden tinged clouds! It was priced at $79.00, which is actually a very good deal. Maybe no one will buy it and I can save up my pennies. Or maybe it will still be there in time for my birthday next month.
A girl can dream.
I checked on the title – it's an illustration for a poem by Eugene Field, The Dinkey Bird.
Yes, to all of you who thought you spotted Don on The Good Wife  last night. He was in a scene right at the top with Michael J. Fox. Brief, but fun. And a fancy suit, to boot! I would have alerted you in yesterday's post, but we didn't know about it until around 6:30 or 7:00 pm, so I posted the information on Instagram (a good reason to follow my account)!
Not that I often have important late breaking news. And, unlike CNN, I don't call every little thing "Breaking News."
Don't get me started.
It's a very cold and frosty morning around these parts. In fact, when I saw the frost, which I had not expected, I panicked about the porch plants. But they seem to be okay. Whew!
Dad's doing well at the Rehab facility. He is known by everyone there. He's been a patient there before and, of course, he was a daily visitor (sometimes 3 times a day) when my mom was there during her extended stay at the end of her life. So, people keep stopping in to see him and he basks in the attention. He's still in pain, but is getting physical and occupational therapy.
New post on Just Let Me Finish This Page: The Library Book Due Date Game.
Happy Monday.