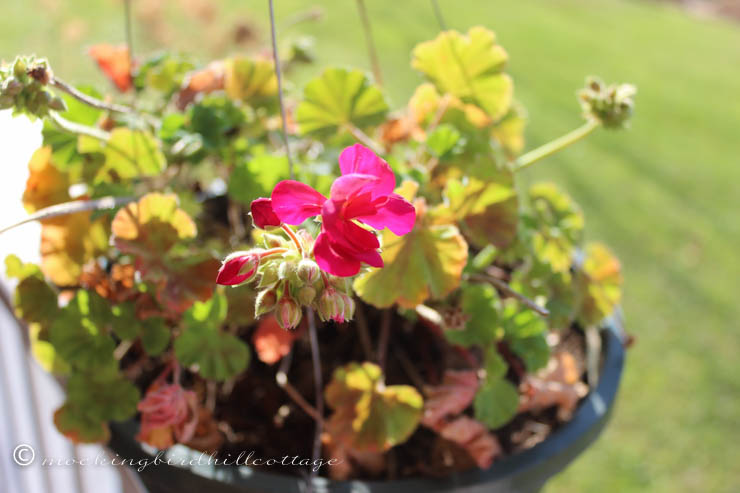 My little geranium is blooming. I thought it was done for the season.
This makes me happy.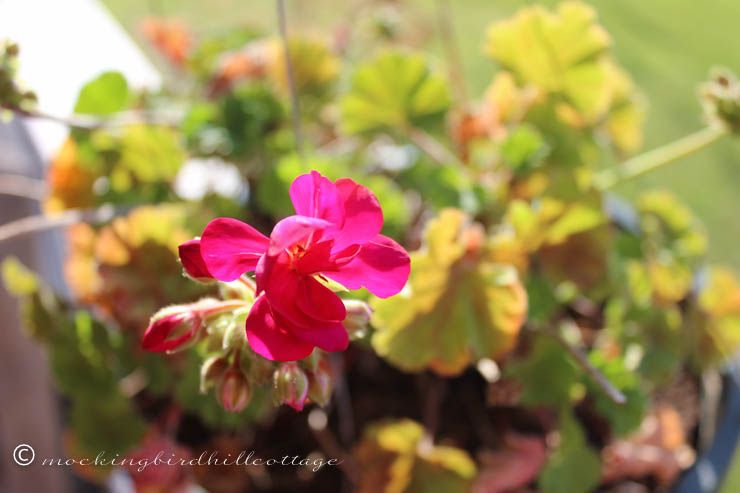 I've been covering up the impatiens with a sheet on the nights the temperature drops below freezing. To tell you the honest truth, I don't know whether I'm up for overwintering all of them again. I've done it for two years running, but there is only so much space in this cottage and I don't know where I would put them. And I have more to overwinter this year than last.
If I had to choose just a few it would be too hard for me, as I'm a sentimental sap about my plants. I almost wish Mother Nature would make the decision for me.
Bad Claudia.
I suppose it's because of a combination of things but mostly because I'm in mourning and I just don't have the energy. We're going to do very little Christmas decorating this year. We're not even getting a big tree. I just don't have it in me. My birthday is Saturday, but the awareness that this is my first birthday without a living parent is overshadowing the day. Last year, Dad forgot my birthday – the first time that has ever happened – and, of course, it was my first birthday without my mother. But right before he was re-admitted to the hospital we had a phone conversation in which he mentioned my birthday, "You have a birthday coming up!" and I remember thinking that he was going to remember it and it would be great to hear from him on that day.
Bittersweet.
Let's change the subject.
Announcement: We gave away the guest room bed. It's gone. I took some pictures of the bed and we each ran posts on Facebook saying we were giving away a good, rarely used, mattress/box spring/frame. And one of Don's musician friends offered to take it, which led to Don and I trying to get the danged mattress and box spring down the stairs. It's a full size, and there's no split box spring, as there is with our newer mattress. It took some creative moves on our part and a lot of cursing. But we got it downstairs. Our friends strapped it to their car and off they went.
Now we can make that room a functioning office/studio space for both of us. Of course, each of us would rather have a room to ourselves, but that ain't happening in a two bedroom cottage. So, we'll play nice and share.
I just have to save up for a desk. I've picked one out (from IKEA) and when I can afford it – hopefully soon, please – we'll get it. In the meantime, we can start rearranging things in that room.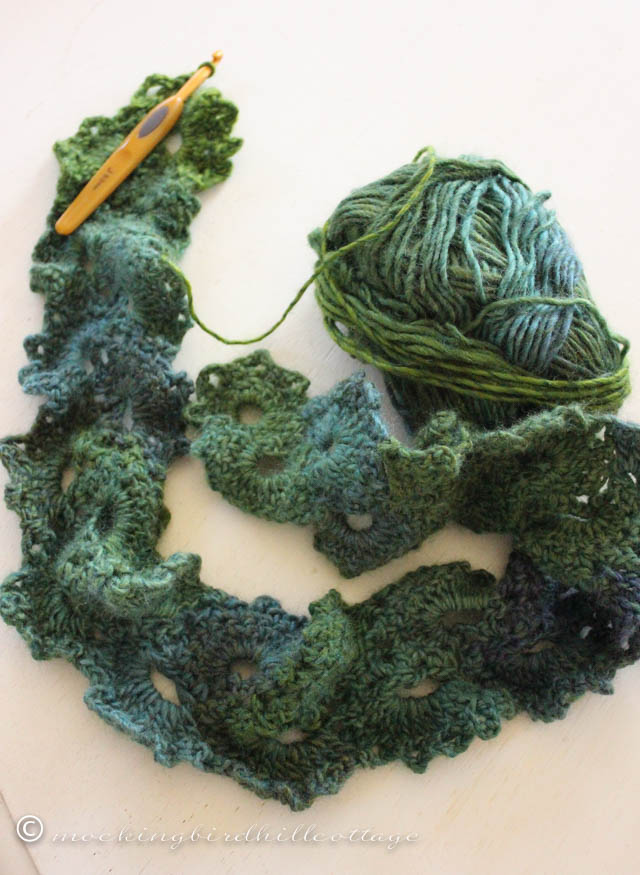 Scarf in progress.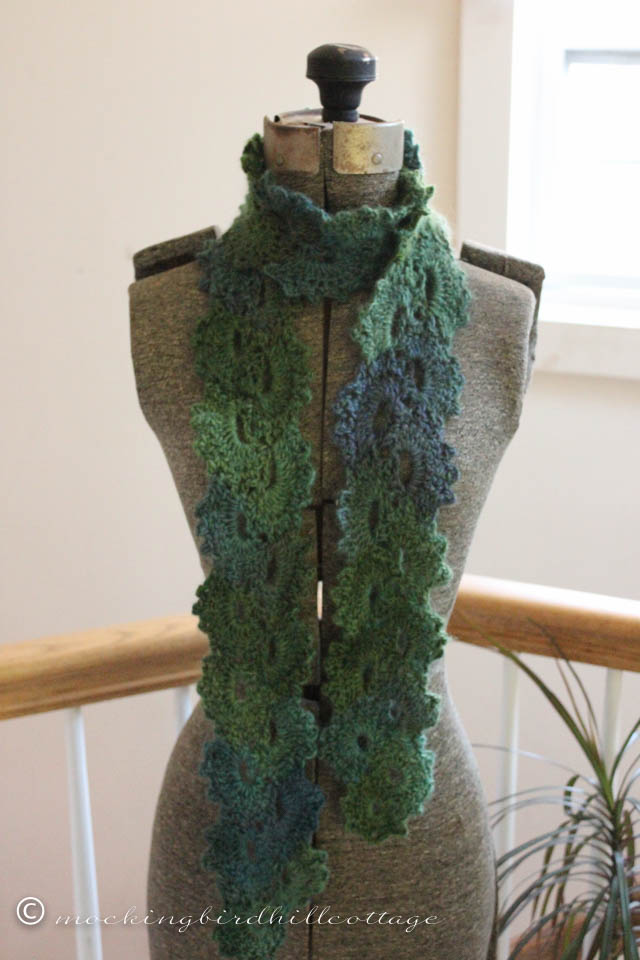 Scarf finished. It's in the Etsy shop. Soft, beautiful yarn in a colorway called Reef. I really love this one.
Edited to add: Sold! Thank you so much! If you see a scarf you like and are thinking about it, my advice is to act quickly!
I've been crocheting like a madwoman. The scarves are fun to make and they give me something repetitive and comforting to do with my hands. And they bring in a little extra money, which is more welcome than I can say.
For those of you who have purchased one in the past, if you get to the point where you want to revive the basic shape, just lay it out on a flat surface, spritz it with water and play with it a bit. That's what I do after I finish each scarf.
Forgot to add that there's a new post at Just Let Me Finish This Page, a mini book review of Broken Monsters  by Lauren Beukes.
Happy Tuesday.