Late in the day yesterday, the boxes we sent from Florida arrived via UPS. It was dark out (so early these days!) and we opened the kitchen door (which has no protective overhang) to see three boxes, stacked one on top of each other, sitting on the door sill. It was raining, so why they weren't put on the porch, I don't know. That happened once before. I fired off an email to UPS because the boxes were already a bit wet and would have become wetter very quickly. To my surprise, they got back to me right away with an apology.
Now that I think about it today, perhaps the driver wanted to leave them up off the ground and the porch floor was already pretty wet. Maybe he thought we'd see them there more quickly than we'd see them on the porch. But I will make sure the drivers know to put the packages on the porch.
Thankfully, Don opened the door to let Scout out and there they were.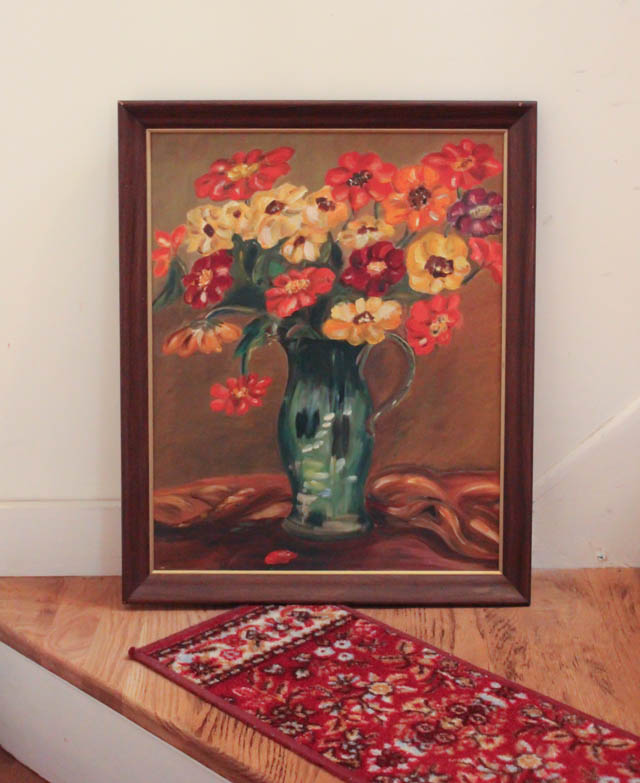 An oil painting by my great-aunt Ruth, my maternal grandmother's sister. Ruth also painted the small oil of the family farm in Orillia, Ontario that hangs by the front door. This painting hung in my grandmother's living room. When she passed away, Mom hung it in her home. And now I have it. I've always loved the colors in this painting and I loved my Aunt Ruth.
We have limited wall space in this cottage. Or, we thought we had limited wall space until we had a little epiphany last night. Since we love collecting art and graphics, we are going to make this large stairway wall a big old gallery wall. We have paintings and prints stored under the beds and in the shed. And we always see things when we're out antiquing that we want to buy but we stop ourselves thinking that we have nowhere to hang them.
Duh. We do.
This will be fun.
This is a quilt I made for my mom. It's a wall hanging. I made it many years ago using the maple leaf pattern in honor of her Canadian roots. It was hanging on the wall in the condo.
As was this: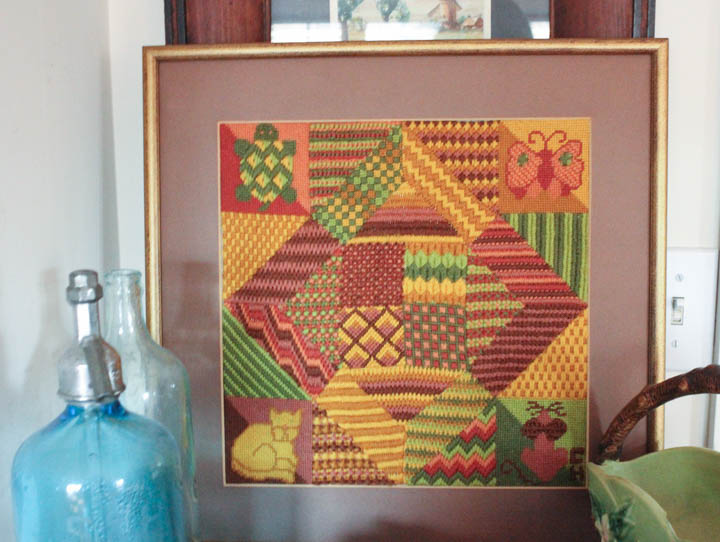 It's a needlepoint stitch sampler that I made for my mom. I was heavily into needlepoint when I was in my twenties. All the nieces and nephews received a needlepoint Christmas stocking from their Aunt Claudia. This piece was special and I had it matted and framed for mom. Can you tell she liked earth tones? I didn't necessarily do it on purpose, but the same colors are in the quilt as well.
This will be a part of our gallery wall.
Meredith also needlepointed a beautiful landscape for mom, which was also framed, and she took that home with her.
The truth is, both Mom and Dad had already given us the precious things they wanted us to have. Mom started doing that many years ago. Dad did the same. So the things I packed up in Florida are mostly little memories of them – some of Dad's tools, wind chimes that hung on their lanai, a cross or two from my mom's collection – things like that. And lots of photos. Lots.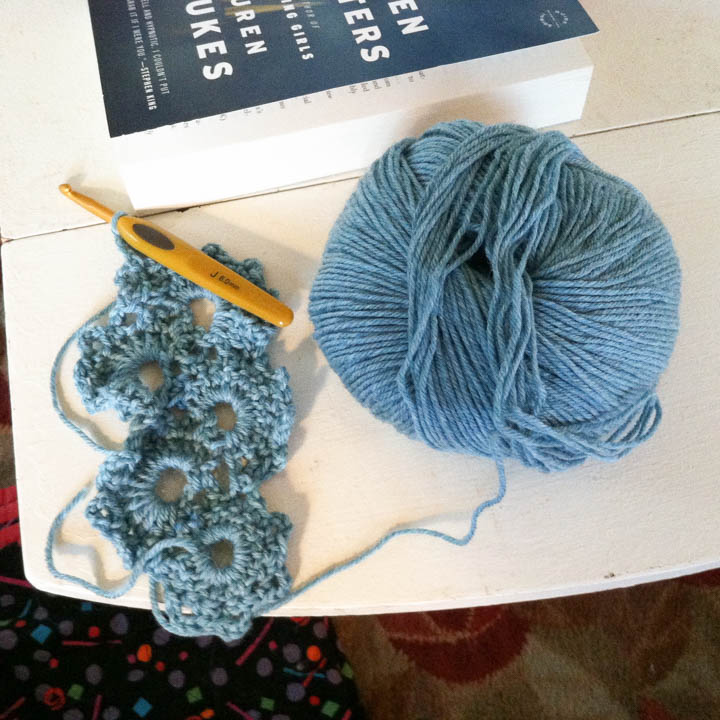 The two scarves that I've listed on Etsy sold right away, which is lovely and gratifying. But, as I sat here yesterday afternoon with no yarn on hand and the new skeins of yarn I ordered still in transit, I became a bit panicked. Crocheting has become a sort of lifeline for me and I absolutely had  to be making another scarf. That minute. So I grabbed the keys to my car and drove up the road a mile or so to our local yarn shop. It's a lovely little shop located in a renovated barn. Most of the yarn is too expensive for me, but I had to have something. I ended up choosing Cascade 220 Superwash in lovely shade of blue.
Ah, that's better.
At some point, this will be in the Etsy Shop.
Trying to hang in there.
Happy Friday.