I've been so exhausted at night that I fall asleep by 10 pm at the latest and wake up around 5:30. Much of that is emotional exhaustion, but I'm sure some of it is due to the time change. Going through all of Mom and Dad's things, sorting and making piles of photos and memories – this goes to the grandchildren, this goes to my cousin, this goes to the daughters…all of it is necessary but hard. And I'm determined to do as much as I can while I'm here.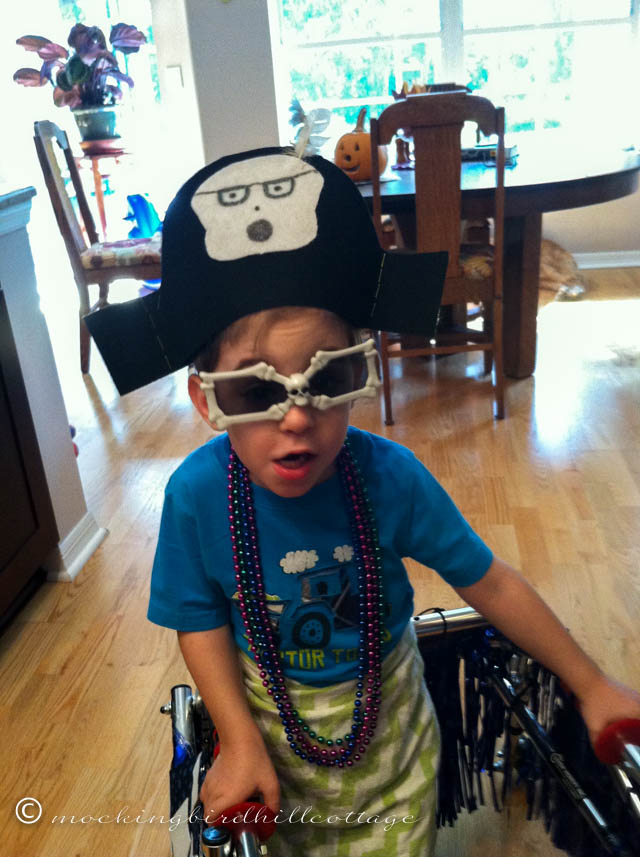 Princess Pirate, complete with skull and crossbones sunglasses – part of his treat bag from school. I think he looks like a British rock star. Quite a bit of swagger, don't you think?
That's my furry nephew, Max, in the background. I love all my nephews.
Reading for any length of time is still difficult – it's hard to lose myself in the pages of a book, though I long to. I have my library book with me – Career of Evil  by Robert Galbraith (J.K. Rowling) and I read about 5 or 10 pages at a time, but then, my mind wanders. And that's not due to the book, which is excellent. And no, I'm not worried about bedbugs in my library books. I read that recently on some blog – can't remember where. For heaven's sake, passing along that twaddle is ridiculous. It's not that it never happens, but that it hardly ever  happens. I remember when all sorts of articles were being written about this supposed outbreak a few years back. It has, in fact, been shown that it's more likely to find them in furniture at the library than in books. Or furniture in a motel. Or furniture in a waiting room. Or displays in stores. And even then? Rarely. I never worry about that and I stay in a fair amount of motels and hotels and, like everyone, shop in stores. They're simply scare tactics. And then, inevitably, they're used to try to sell a product. Don't let that kind of fear-inciting keep you from your local library. Books are to be checked out and used and touched and enjoyed. Libraries are there for all of us and are an essential part of our culture. They need our support.
There's so much of that kind of fear mongering that goes on, whether it's through pharmaceutical commercials, political campaign tactics, advertising, or irresponsible news and media coverage and it's even more prevalent with the 24 hour news cycle and the internet. I find it very troubling and I find it even more troubling that a segment of our population automatically believes anything they're told.
Hey, I'm tiptoeing onto my soapbox. That's a good sign, given what the last week has been like.
No, you're not seeing things. For the first time in about two years, I've started an Obsession Scarf. I got this yarn last time I was down here but I didn't do anything with it. When I was packing, I grabbed some hooks, thinking that it might provide some meditative comfort. But I didn't get a chance to start it until yesterday. It took a little bit of time for it all to come back, but it's like riding a bike; the rhythm and moves are still there.
I need to find a new pattern, though. I'm making two of these scarves. Maybe I'll put them in the long-on-hiatus Etsy shop; who knows?
Don's CD is back in stock, by the way.
I have a list of things to do today. Calls to make, financial accounts to check, the sort of things that need to be done. So, I'm off.
Happy Wednesday.