I hope my American readers had a lovely Thanksgiving. I know we did. We had a very quiet day. I did a lot of crocheting – new scarf in the shop and another one will be listed tomorrow – and Don took a trail walk. We did have a lovely dinner. We don't do meat on Thanksgiving, or any other day for that matter, because I'm a longtime vegetarian. Don found a new recipe for Stuffed Portobello Mushrooms in the New York Times and he made it for our dinner.
Oh my heavens.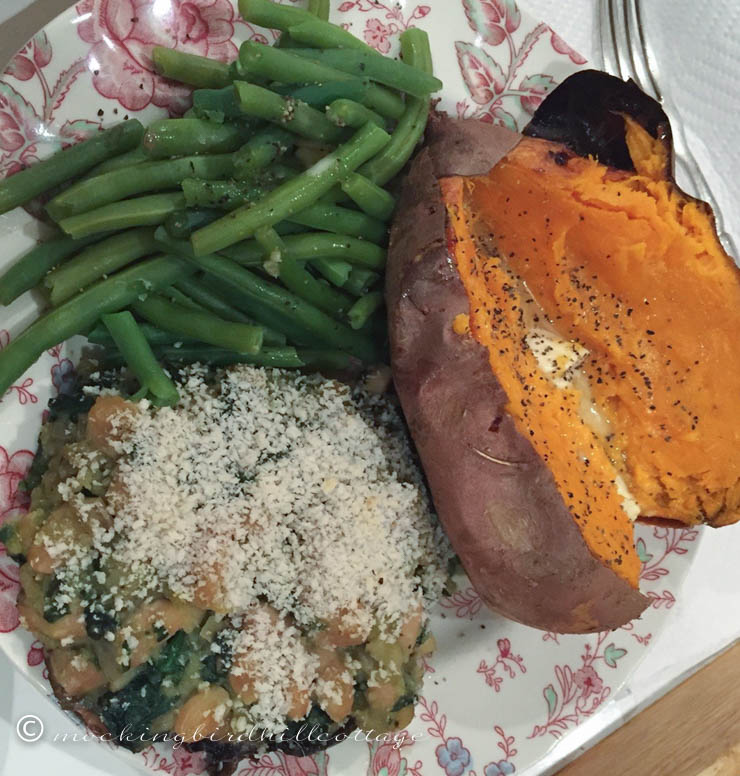 Unbelievably  good. Mouthwateringly good. And, may I say, much more tasty than any meat I can think of.
And I, of course, made my grandmother's Cloud Biscuits.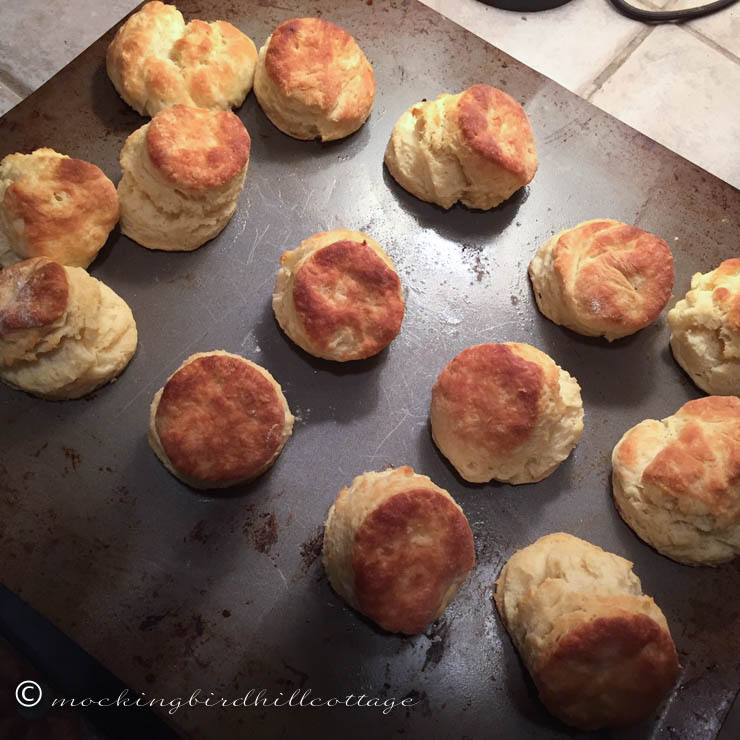 Fresh from the oven. These biscuits are one of my favorite things ever. Grandma made them, Mom made them, my niece makes them, I make them. Don drools over them, as do I.
I have a feeling they're very close to traditional baking powder biscuits, but in my family they are Cloud Biscuits.
Pumpkin Pie for dessert. We were stuffed.
My main birthday present arrived on Wednesday. I found it on Etsy and Don thought it should be my birthday present. I, of course, agreed.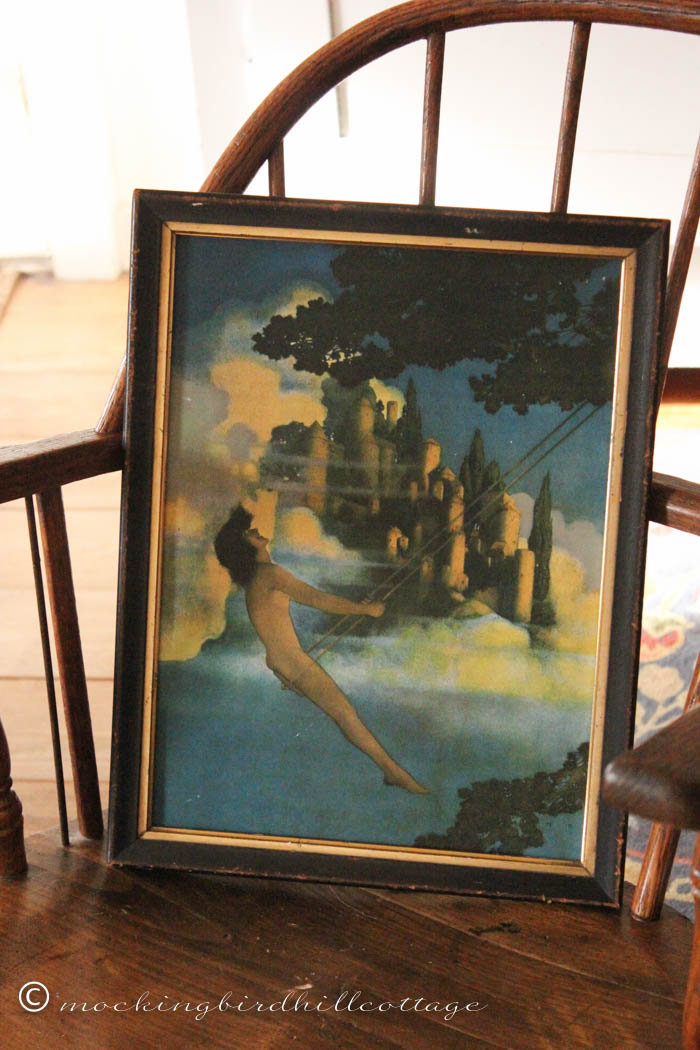 I had to have it.
The frame isn't as beautiful as the one I saw locally, but I think the print itself is bigger.
There was only one problem. It arrived with the glass broken.
I was very unhappy.
The nice lady who is selling part of her Parrish collection did not do a good job of packing it. No bubble wrap. Just protective cardboard corners on the frame. And nothing between that and the top of the box. I wrote her immediately and she's going to send me money to replace the glass, but come on! I now have to find someone to cut the glass and carefully pry off the vintage backing – probably from around 1910.
I'm sure you won't be shocked when I say I'm pissed off.  So is Don.
She felt very badly about it and said she uses the same company all the time and this has never happened. They were supposed to mark it as Fragile.
Not one indication on the box that the package was fragile.
I had to take it out on the porch, put it on a towel, and carefully take the broken glass out of the frame.
The seller is a sweet lady and has the same passion for Parrish that I have, but I told her she has to pack things more securely in the future, or this will happen again.
Sigh.
In spite of all the drama, I'm thrilled to have my own original print of Dinkey Bird. It's stunningly beautiful.
But it has no protection at the moment, so I've put it somewhere out of the way.
New in the Etsy shop: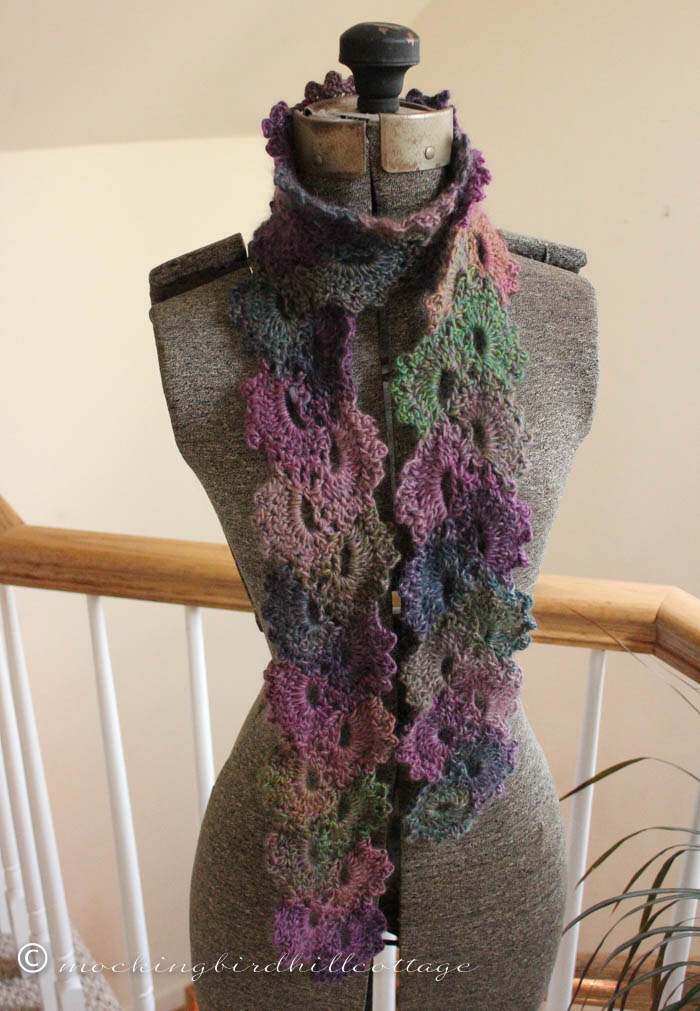 Obsession Scarf in Grapevine. I really, really love this one. The colors are so lovely. It's available here.
Update: It sold almost immediately! Another one tomorrow, I promise. Keep watching for updates.
I'll be listing another scarf tomorrow. I'm also crocheting some special orders, so these hands are busy.
Happy Friday.