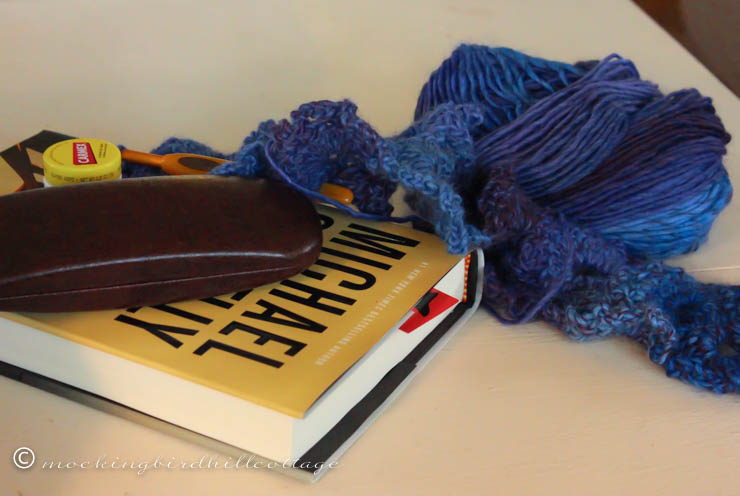 Life at the moment.
Chapped lips need Carmex.
Reading glasses.
Michael Connelly's newest, The Crossing, which I've just started.
The newest scarf in its very beginning stages.
In a rare reversal, Don was up and about much earlier than I. I slept in, partly because I had trouble getting to sleep last night. I rarely sleep in and when I do, I find I'm groggy for a good while. Still groggy and it's 9:40 am.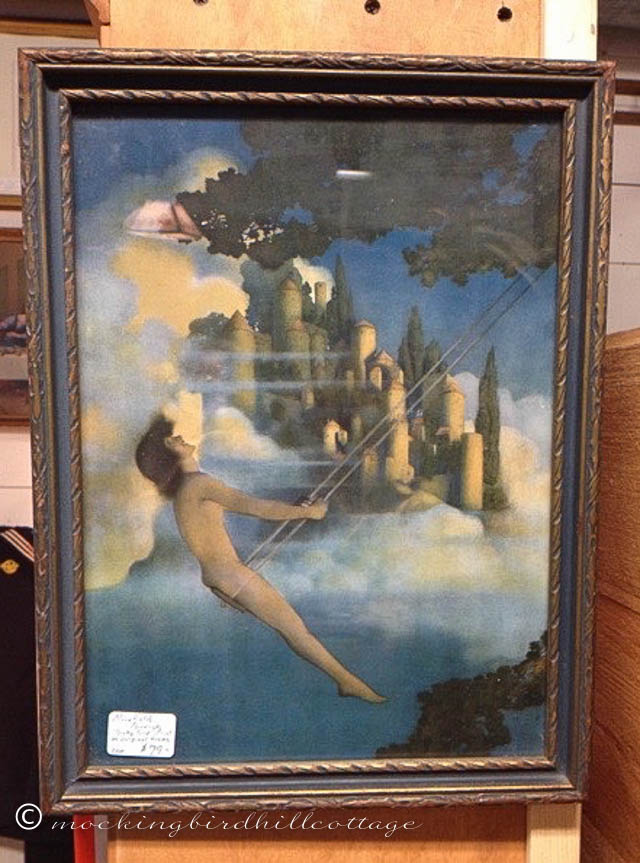 Oh, yesterday. Yesterday, I decided to go to the antique barn and see if that Maxfield Parrish was still there. It was about three weeks ago that I first saw it. It was gorgeous and a good price. But I couldn't afford it at the time, so I passed, thinking I might buy it in a week or so.
Well, of course, I left for Florida suddenly and was gone ten days and then I came back and it wasn't until yesterday that I roused myself enough to go back to the antique barn. I was thinking that it would make a good birthday present – either from me to me, or from Don to me.
If you follow me on Instagram, you already know what happened.
It was gone.
I searched every inch of that barn. Twice.
Someone wiser than me snapped it up.
I can't explain the sadness I felt, except to say I cried. And then I cried again when I told Don about it. I had been thinking about it all this time, and though I knew the chances of it still being there were slim, I held a secret little hope that it would be. I could see it hanging above my desk in the new office/studio space that is yet-to-be.
I'm still sad. You know that feeling when you are absolutely sure something was meant just for you? That's how I felt. Silly, but real, nonetheless.
As I said on Instagram, it's a lesson learned, or rather re-learned. If you see something you want at an antique store or a flea market, grab it. We all know this, don't we? I certainly do. But I didn't follow my own advice. At the time, several of you suggested trying to put it on layaway. I didn't follow through, but to be fair to myself, I flew off to Florida a few days later.
Still….
If you see it and want it and can afford it, get it.
This is one I'll regret for a long, long time.
By the way, do you do Instagram? I reluctantly got on board a while ago, and I really love it. I don't post all the time, but I post fairly regularly. I've found lots of interesting accounts to follow – everything from animal rescue organizations to farmers with gorgeous sheep to McCoy collectors to fellow bloggers to readers and friends of this blog. It's visually stimulating and fun. I often pull out my phone when I'm waiting somewhere and scroll through my feed.
A lot of people seem to be using Instagram as a blog nowadays and sometimes the captions under the photos are rather long. If they're too long, I usually move on to the next one. I like short and sweet. Longer is for blogs, in my humble opinion. But I'm getting used to reading longer captions (yes, even I can change) and do my best to comment when I can. I tend to use my iPhone for my photos instead of anything shot by my big girl camera, though lots of Instagrammers use professional, styled photos.
It's a wonderful way to connect with all sorts of people who don't blog and who are incredibly creative and interesting and with bloggers who share moments of their day that might not necessarily be covered in a blog post. If you want to follow me, you can click here or you can click on the camera icon at the top of my sidebar.
I like it a lot.
Happy Wednesday.