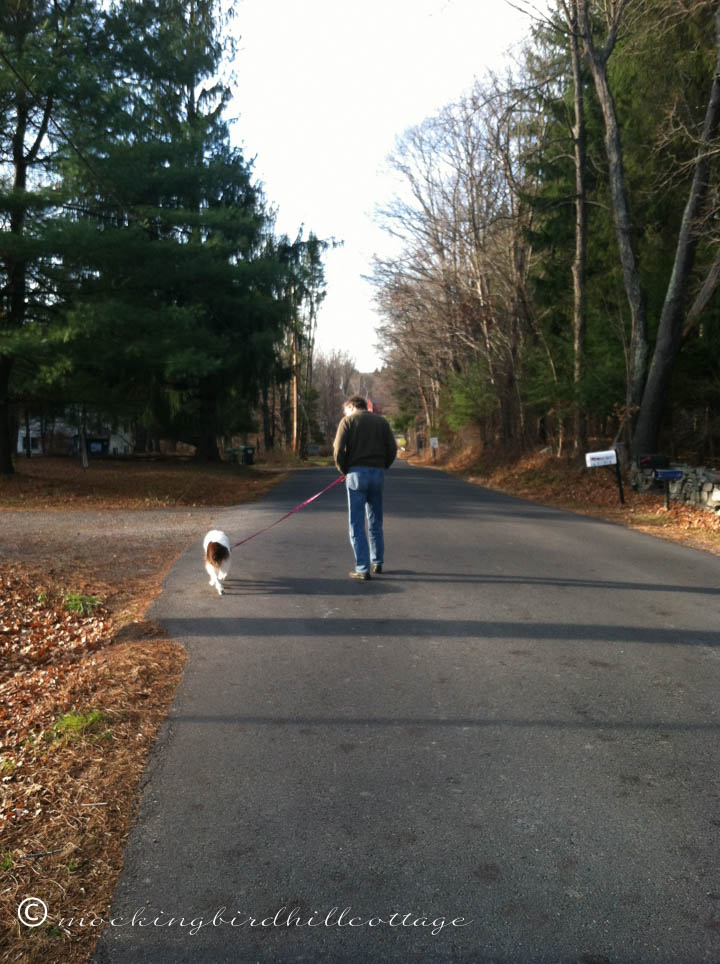 I took this a couple of weeks ago and posted it on Instagram. It occurred to me that you might like to see it.  Do I even need a caption?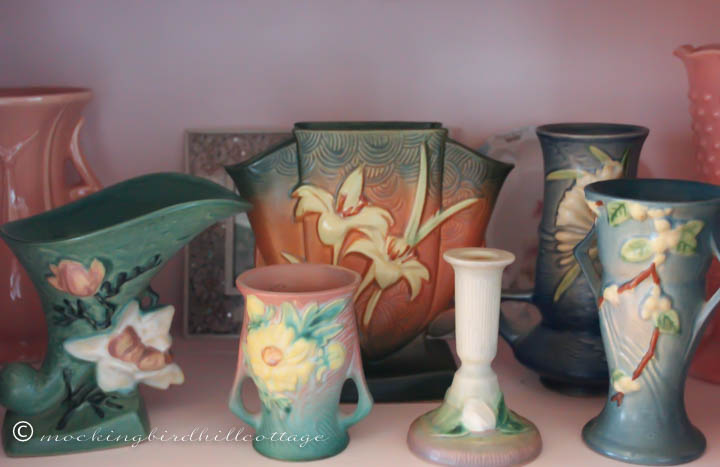 Since I've been obsessing and researching and doing a wee bit of bidding, I thought I'd begin to share the Roseville Pottery I have with you. It's scattered around the house. We'll begin with the interior of the china cabinet in the den.
The green cornucopia is in the Magnolia pattern. It was a gift from Sonja, a reader of this blog.
Next to it is the small vase in the Peony pattern. I won this for a great price at auction, along with the candlestick next to it, which is in the Gardenia pattern.
At the end of the first row is a vase in Snowberry.
In the back, a pillow vase in Zephyr Lily, also a gift from Sonja.
And next to it, a blue vase in the Freesia pattern.
I love this stuff. Can you tell I've been looking at a lot of it on eBay and Etsy? The pieces on Etsy tend to be listed at a higher price. eBay pieces are sometimes outrageously priced, but many start low and the opportunity for a steal is there. It depends on the timing, whether the auction ends during the work week or on the weekend, and, of course, the desirability of the pattern itself. The harder-to-find patterns go for much more.
I was on an informational site the other day where all the patterns were listed. Among the points covered were current availability and popularity. I got a kick out of discovering that my favorite patterns weren't that popular at the moment. Good! That leaves me with a slight edge…maybe.
Some blog housekeeping:
• A reader watched one of the videos of Don and Dan playing their music and wondered how she could download the music. Right over there on my sidebar is a widget that says Where to Buy Don's New CD. Click on it and you'll be taken to the website and you can download to your heart's content. Thanks for liking his music!
• I've rethought the categories in my navigation bar: Cottage Living  now includes Cottage Home Tour, Garden, Studio, and Small House Living; Craftiness  includes all my DIY posts and Feeling Stitchy. I've started a new category called Collecting, which, so far, includes McCoy Pottery and Egg Cups. And there's a category called On the Road, where I've provided instructions on how to find all my On the Road posts.
I like this arrangement, which reflects my life and passions rather nicely.
• The winner of a copy of Dig Two Graves  is Linda! Linda, I'm sending you an email. Congratulations!
• Don't forget to visit my post Sharing a Sweet Moment, where I rhapsodize about Marie Callender's Frozen Desserts. If you leave a comment, you might just win a $100 Visa Gift Card!
And there you have it.
Happy Monday.