I blame it all on spotting those Roseville Pottery bookends in that antique shop. Remember? That little encounter got me thinking about how much I loved Roseville and its lush, flowery patterns. And, as is my wont, I started obsessing. Just a wee bit.
Last week, my steal of a deal arrived in the mail: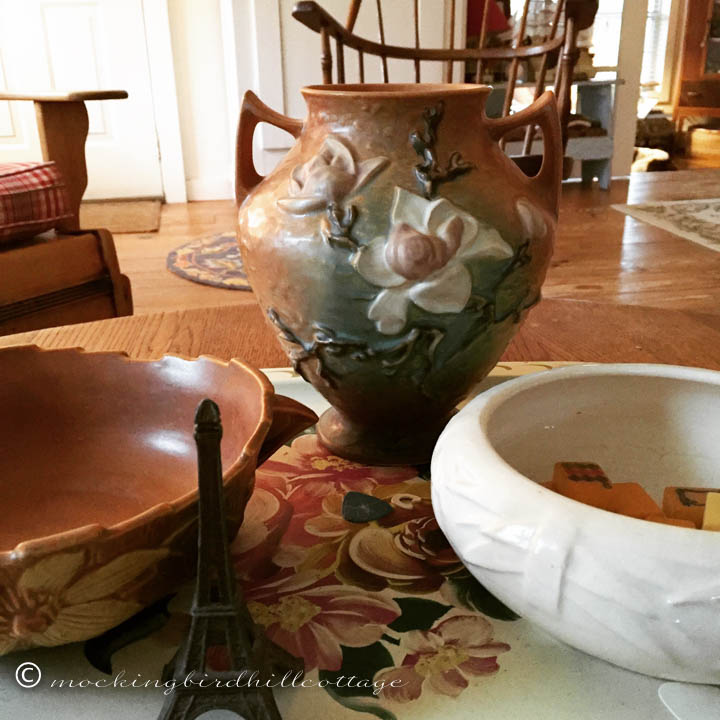 This gorgeous vase in the Magnolia pattern.
Yesterday, a vase that I knew I shouldn't bid on but could not get out of mind because it was, to me, so beautiful, arrived here at the cottage. It was late in the afternoon, so this isn't the best photo, bear with me: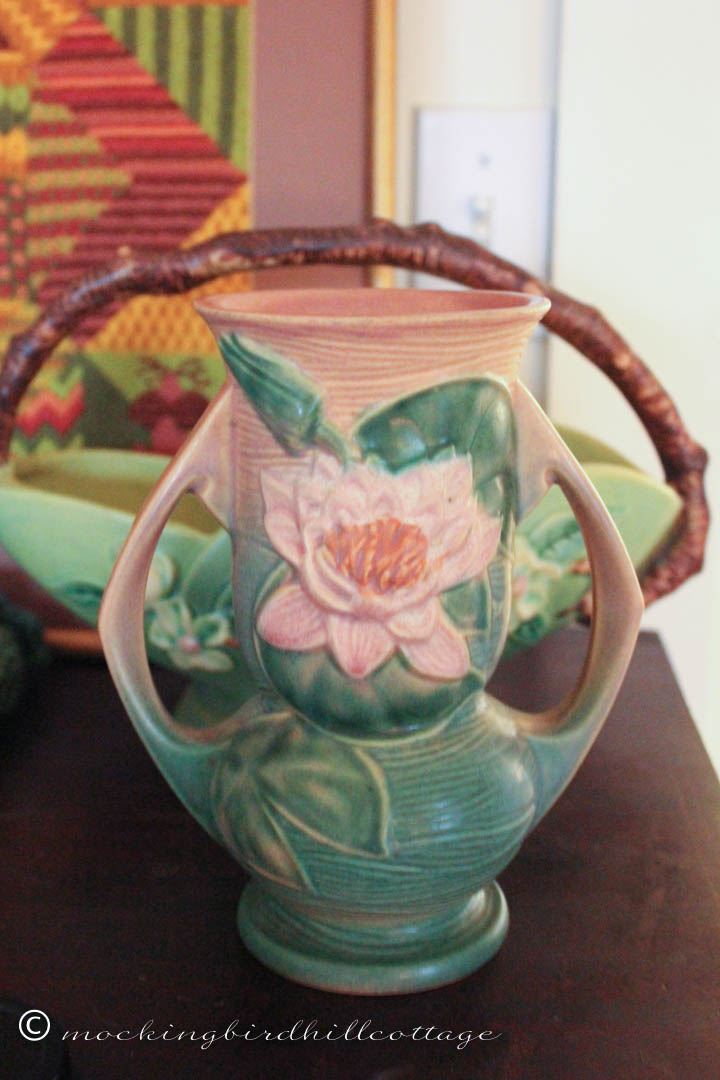 It's flawless. A pattern I am inordinately fond of – the Water Lily pattern. The vase is 8 inches tall. I couldn't help it. I tried to stop myself, but I was powerless. Isn't it beautiful?
Must stop. But I'm a firm believer in surrounding myself with the things that I love. Roseville is making me very happy at the moment. And I've needed something pretty that makes me smile. So be it.
You'll be thrilled to know that we finally took the window air conditioners out of the windows yesterday. We've never left it this late. Don then took two non-working air conditioners to our recycling center. I also cleaned off the porch and stored the glider cushions, and dumped all the dead potted plants on the mulch pile. Don fired up the snow blower to make sure it's working.
All this just might have happened because I read the forecast, which predicts 5-8 inches of snow for Monday night. Then ice. Then it warms up for a few days.
Crap, crap, crap.
We also spent some time in the soon-to-be-office-space, moving some of the things from my studio into the space and moving some other pieces out and into their new home in the hallway.
I also assembled one of my IKEA purchases. A sneak peek:
It's full of the paints and tools I use when working with miniatures. Today, we just might assemble the desk. There's much to be done in this space, including finding a place for five guitars. And a mike and speakers and…
One other thing – if you like pine-scented candles, Target is carrying a seasonal group of Mrs. Meyers Clean Day soy candles in Iowa Pine.
I bought three of them earlier this week. Hopefully, Target is still carrying them. They also had a cranberry scent and one other that I can't remember. But I'm a pine girl, so whenever I find some, I snap them up. I've used Mrs. Meyers products for a long time, so I knew the candles would be good quality.
Ads on blogs differ according to the reader's browsing history, but my ads keep showing Doc McStuffins  on Hulu. Did you know that the creator of Doc McStuffins, Chris Nee, is a former student of mine from my Boston University days? She was and is a terrific person. So proud of her!
Okay. I've yammered on quite enough for the day.
Happy Sunday.