The latest: a sprained ankle.
Crap.
It went out from under me when I was standing on the front steps, causing me to tumble to the floor of the porch. Scraped knee, sore hand and the aforementioned ankle.
Fortunately, I can walk on it – carefully – and I've been keeping it elevated and wrapped in an ace bandage. I also iced it.
Don has been a prince.
I'm going nuts, however. I don't do 'resting' very well.
And we won't be able to take that trip to IKEA until next week.
I've been reading, spending too much time online, watching the news and wondering what we've come to, sickened and appalled by yet another tragedy. I have no answers but the obvious ones, which are never passed, never implemented. I won't go on because in my current state of mind I don't trust myself to be measured and careful with my words. I trust you can read between the lines on this one.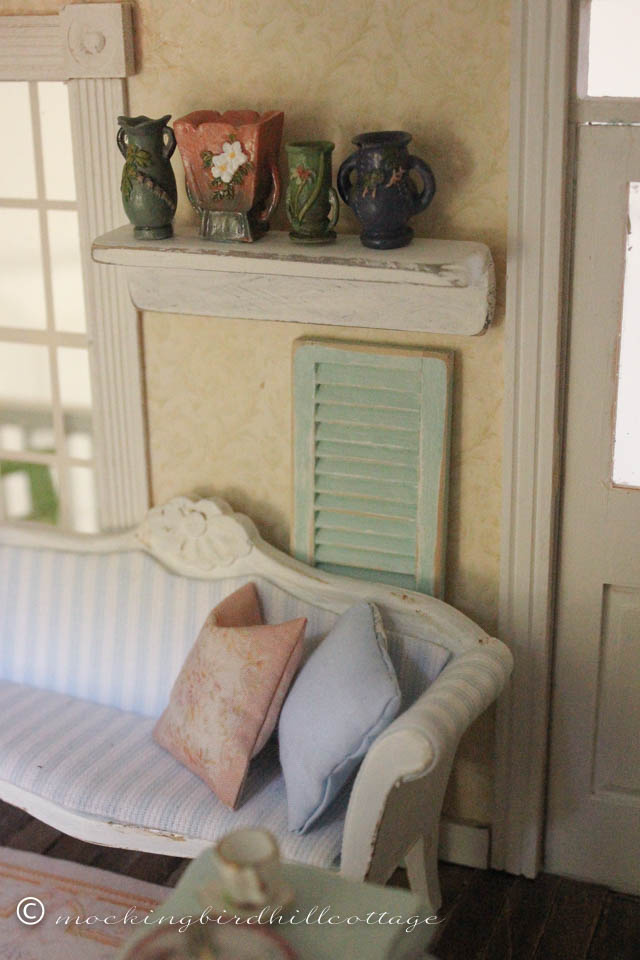 I've been scrolling through the listings on eBay, which is something I like to do occasionally. First up was McCoy Pottery. There were surprisingly few items in the thousands listed that I was interested in, perhaps because I have so much of it and I'm pretty particular when contemplating adding anything new to the collection. Then on to Roseville. Since my little Roseville collection only consists of about 10 -12 pieces, I saw lots and lots of pieces that tempted me. Do you 'watch' items like I do? Instead of bookmarking the item like I used to, I click on 'watch' and that way I can keep tabs on the piece and see what amounts are being bid.
I clicked on 'watch' a lot yesterday afternoon. And then I found myself looking through my Roseville reference books to familiarize myself with some patterns that were new to me.
So far in my Roseville journey, my favorite pattern is Bushberry. It was made in brown, green and blue. And this is my favorite piece in my collection: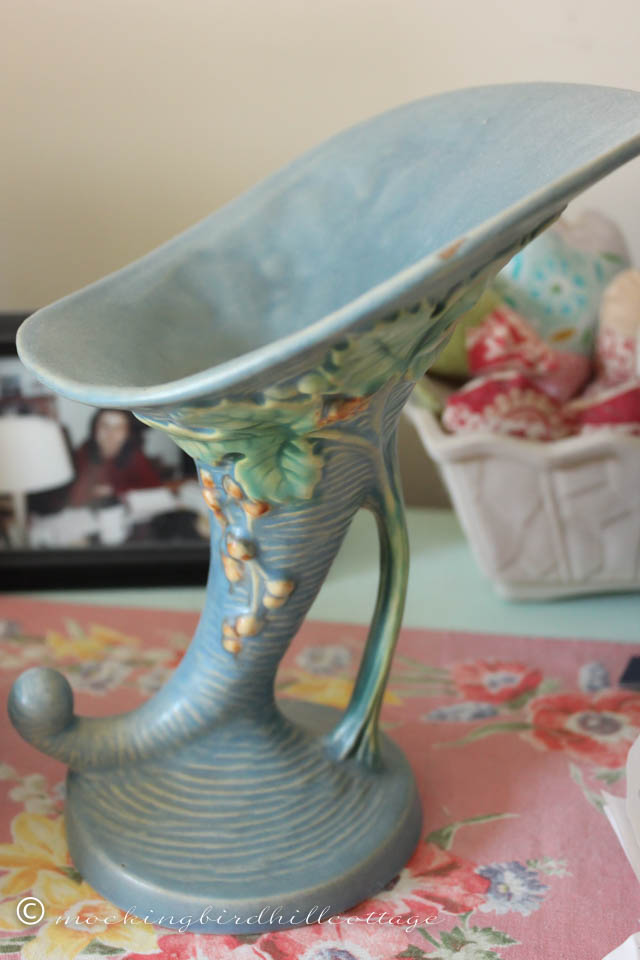 A cornucopia in Bushberry blue. Isn't this beautiful? I find I'm drawn to the Roseville pieces that have a textured background as this one does. This is about 9 inches tall and it's in beautiful shape. I also have a small bowl in the brown, which lives in the kitchen hutch.
I'm going to concentrate on expanding the Roseville collection bit by bit. It's more affordable nowadays than it was when I first started to notice it in antique shops. I remember when I lived in San Diego – where I bought that first piece, which happened to be the small brown Bushberry bowl – I had the chance to speak to a dealer about Roseville prices. It was clear that prices were off the charts at the time and buying anything except that small bowl was an impossibility for me. Since then, prices have come down and, since I'm also willing to buy pieces with minor imperfections, I've been able to acquire more Roseville. I found some at auction for an incredibly low price. A reader of this blog generously sent me a few pieces. I've purchased a few in shops and online. And so it goes. Slowly but surely.
I'm a collector. I can't help it. It's one of the great pleasures of my life. Hunting, searching, researching, finding a hidden treasure, always keeping a list of what I already have in the back of my mind, getting a great deal, saving my pennies for a special piece – what fun it is!
My name is Claudia and I'm a collector. And I love it.
Well, friends, it's time for a bit more coffee (brought to me by my husband) and perhaps another look at eBay. (I'd show you a picture of my ankle, but I'll spare you. It ain't pretty.)
Happy Friday.