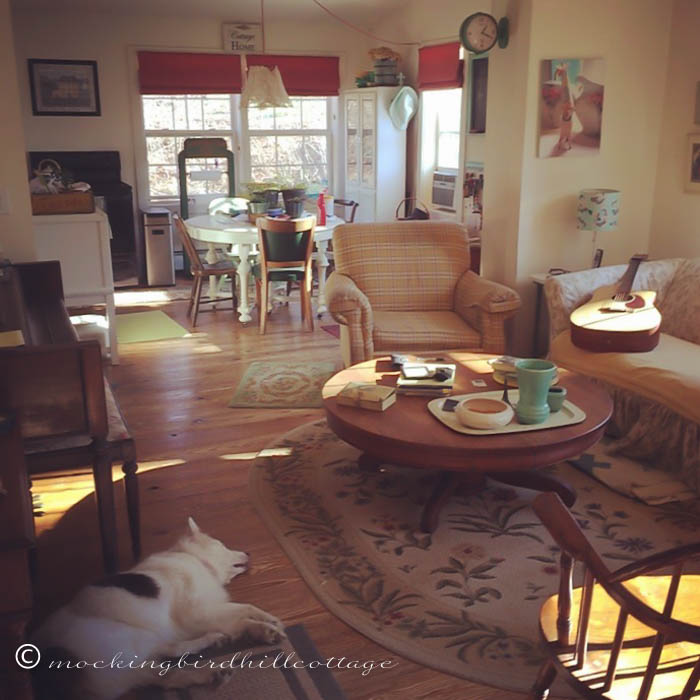 This is another Instagram photo that I'd also like to share here in this space. Real Life, my friends. Lots of little rugs for Scout, Don's guitar on the loveseat, Scout snoozing, air conditioner still  in the window, assorted clutter on the kitchen table.
But I love the golden light. When the sun pours in the windows here, it's truly lovely.
And look at this!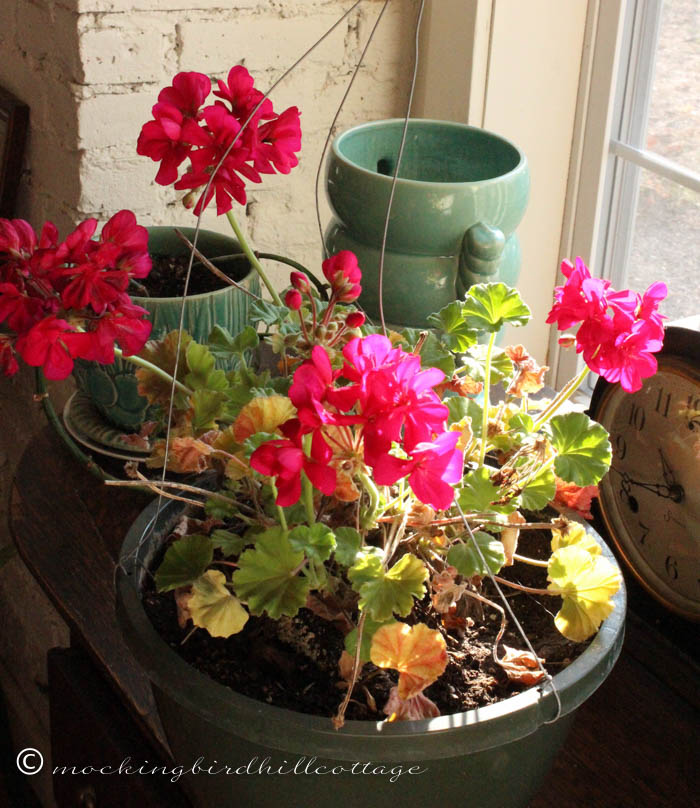 The geranium plant that was hanging on the porch is still blooming! I brought it indoors and it's gorgeous red blossoms are really adding some cheer around here.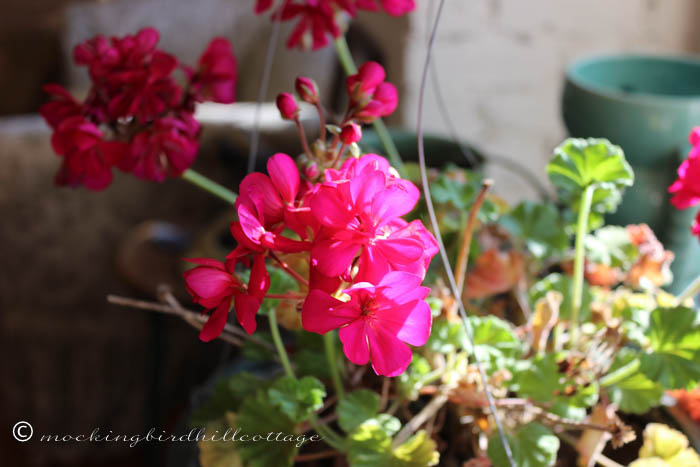 This is the time of year when I can no longer garden, when I can't take a quick picture of whatever is blooming at the moment, so I hunker down and concentrate on the inside of the cottage. I start to nest  in earnest; gathering, collecting, rearranging. I think we all do – at least those of us who live in wintery areas of the country.
But I haven't done one bit of Christmas decorating yet. Not one. We've barely talked about presents. It's the way it is this year.
Speaking of presents, Don has a great friend who is a fellow musician. His name is Fran. I also know Fran and he's a great guy. Remember those donuts I love so much that are made fresh every day in our neighboring town? Well, Don and Fran often meet at the donut shop for coffee and donuts and talk. I benefit from these meetings because Don brings me a chocolate glazed donut. Heaven.
Anyway, yesterday Don came home with a donut and little bag and said that Fran had sent me something – something that was on his mantel that he thought I would like. (Don told me that Fran occasionally reads my blog, which surprised and delighted me.) Fran knows I love pottery, and this was what was wrapped up inside of that bag:
This beautiful little piece of cobalt blue pottery. It looks like it might be a cruet of sorts. Isn't it lovely? There's no mark on the bottom. I love the graceful curves and the elegance of the design.
I was so taken by this wonderful surprise. Thank you, Fran, for thinking of me and sharing this little treasure. I will think of you every time I look at it.
Aren't people wonderful?
Book Review of two books by M. J. Arlidge on Just Let Me Finish This Page.
Happy Friday.