First of all, this arrived yesterday: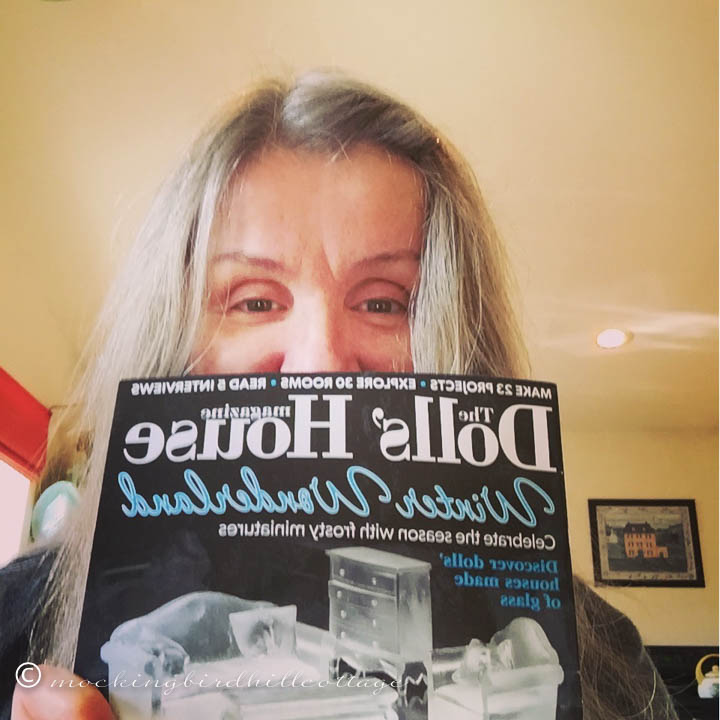 Since this is a selfie, the writing is reversed, but you get the idea, right?
I'll try to take some photos of the article for you. I'm thrilled that Hummingbird Cottage is the lead feature and a photo of the fireplace gets a full page at the beginning of the article. Don hadn't seen the article yet, so he read the whole thing and was quite chuffed! As am I.
Again, on a tough day, something lovely lightened my mood. Very grateful.
My ankle is much, much better. I still wear an ace bandage for some mild support and, more importantly, to remind myself that I have to be careful. The bruising has faded a great deal and, as I'm at the two week mark, I'm very pleased.
I hung the lights on the porch railing yesterday. They were modified by necessity as one of the strings wasn't working and I wasn't about to go in the shed and look through bins for some more. It's just fine as is.
No little white tree yet, but maybe today. Or maybe not.
Barbara sent me a package that arrived earlier this week. It was full of lots of goodies. I didn't take a picture of the lovely Christmas napkins and mints that come in a guitar-shaped tin and winter gloves meant to be used with an iPhone (huzzah!) but I did manage some pictures of the other treasures inside that box.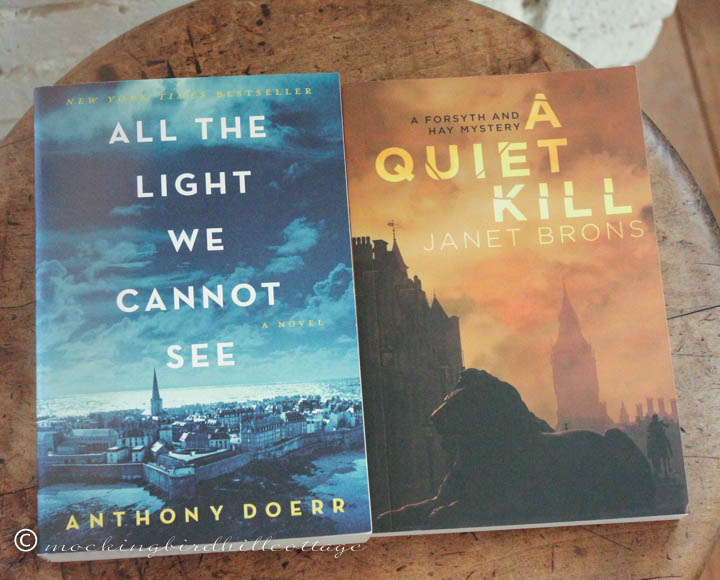 Yay! I finally have my own copy of All the Light We Cannot See! If you remember, I had it on reserve at my library and didn't get a chance to read it before it's due date. The second book is mystery that takes place in Canada (Barbara is from Canada) and I'm excited to read a new-to-me author.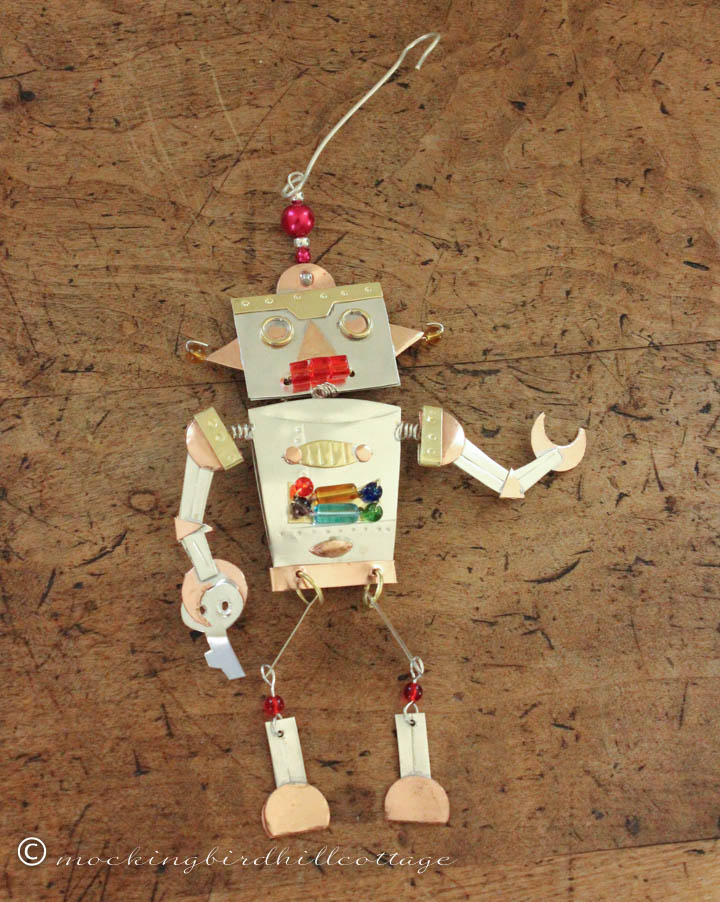 An incredible robot ornament – isn't it neat? We're calling it Mr. Robot, in honor of Don's appearances on that series.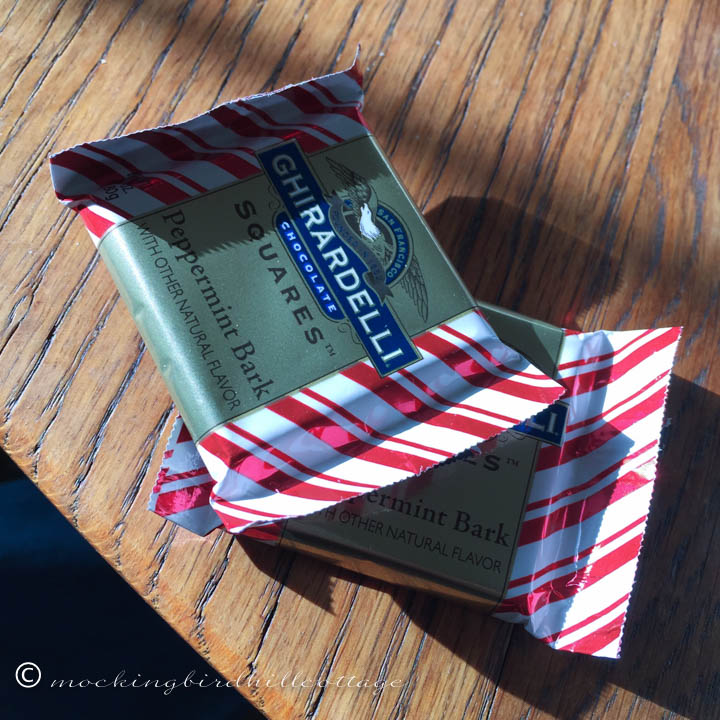 A bag full of Peppermint Bark from Ghirardelli. Oh. my. goodness. As you might imagine, we've already had several. I love peppermint bark.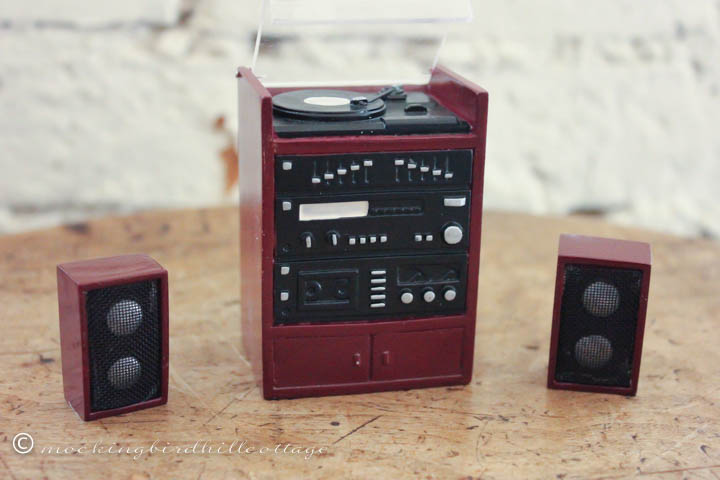 Eeek! For the Top Secret Project! This is perfect, Barbara! I haven't done any work on the TSP since Dad's death. I haven't been in the right frame of mind. I am thinking about it, however, and I plan on getting back in gear when I have my little office/studio space set up.
By the way, the house that I'm using for the TSP was designed for the HBS Creatin' Contest. I never had any plans on entering that contest, but many incredible miniaturists have entered their projects and I am blown away by their creativity. The deadline to enter was just the other day. I'm going to try to gather some links to their finished projects so that you can see them for yourselves. You won't believe what they have created!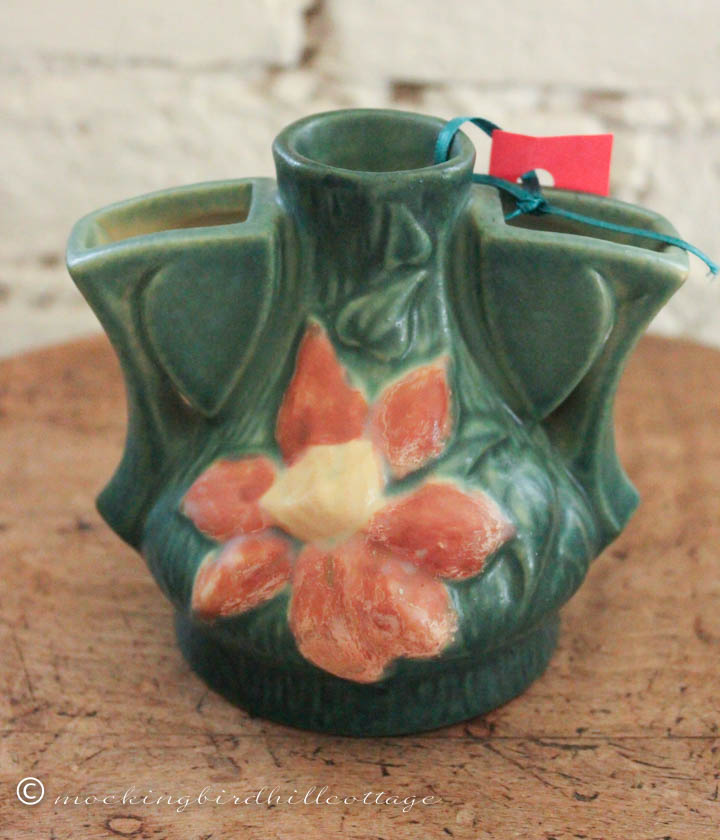 And this was in the package. Roseville Pottery in the Clematis pattern. Barbara wasn't exactly sure what it was, but I knew because I'd been watching one of these on eBay. It's a flower frog. It was designed to sit in a matching console bowl, like the one I showed you the other day.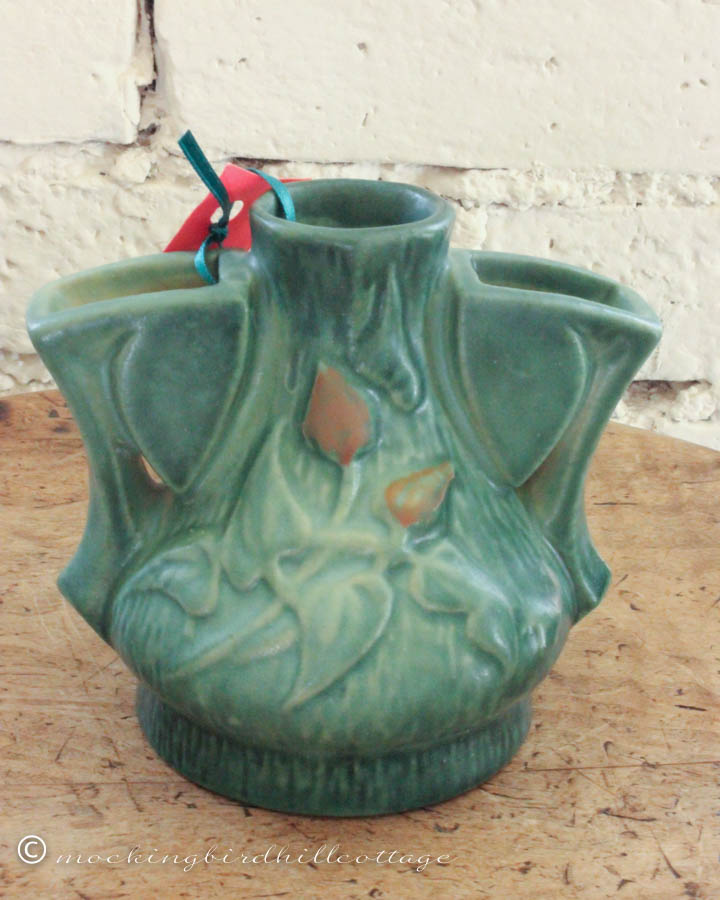 The rear view.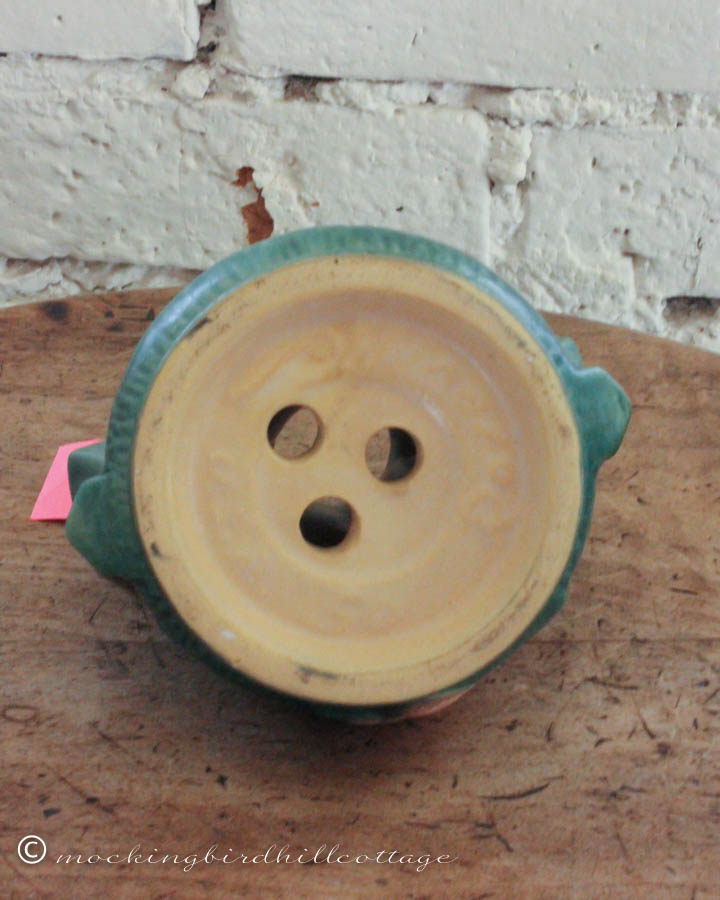 See? There are holes in the bottom.
It's gorgeous. Thank you, Barbara. I am blessed by your generous spirit.
I am blessed by every one of you who read this blog. Thank you.
I'm clearly celebrating Christmas a bit early this year.
Happy Thursday.