Yesterday I spoke of a surprise gift and today I'm sharing some more gifts.
My goodness, I am blessed by sweet and generous people in my life. And I'm very, very grateful.
Cathy, a longtime friend of this blog, wrote me to ask if she could send me a few pieces of pottery that had belonged to her mother. She and her sister have many pieces from their mother – all of them with a story that is meaningful to the sisters – but these three pieces didn't have any particular sentiment attached to them, so Cathy generously sent them to me.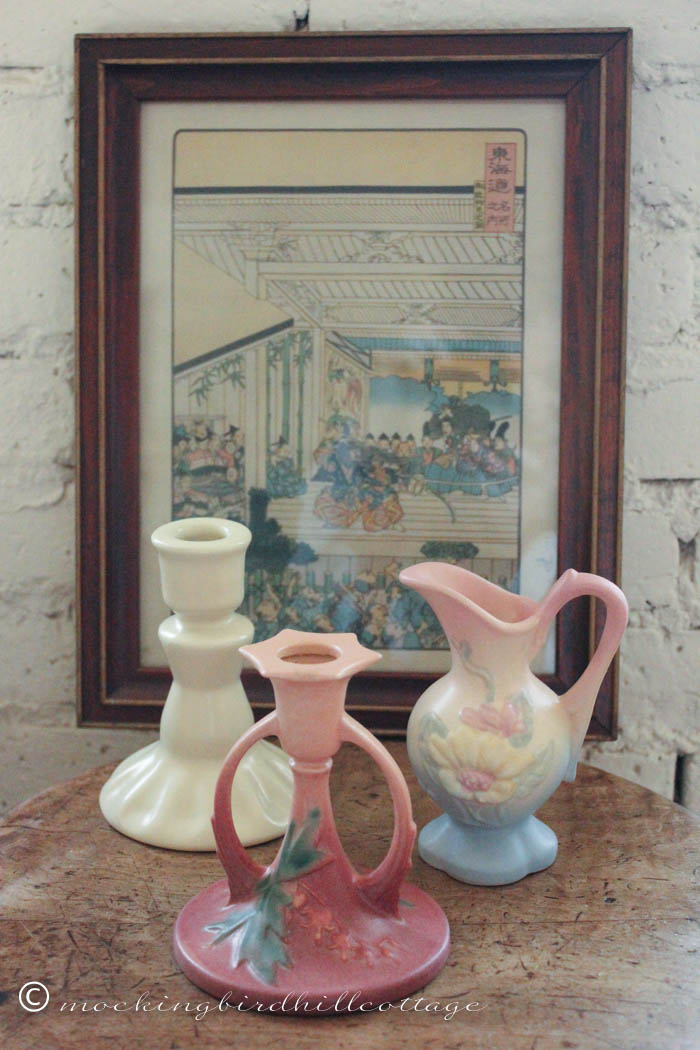 Oh my!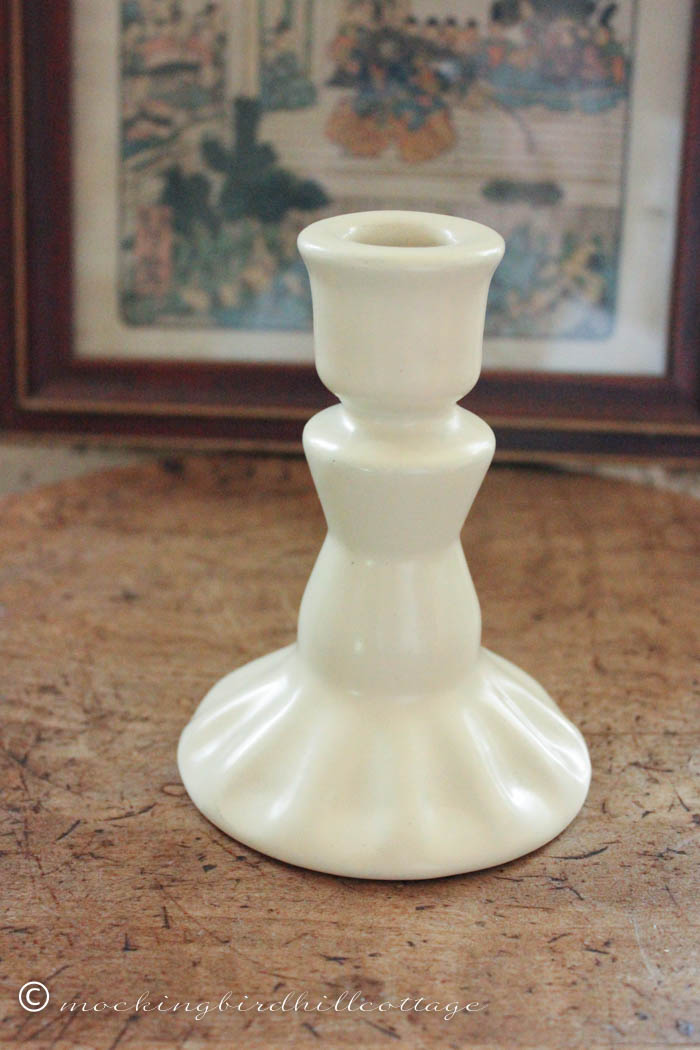 On the left is a piece of Catalina Island Pottery – a candlestick. This pottery was made on Catalina Island off the coast of California, sometime between 1927 and 1947. It's very collectible.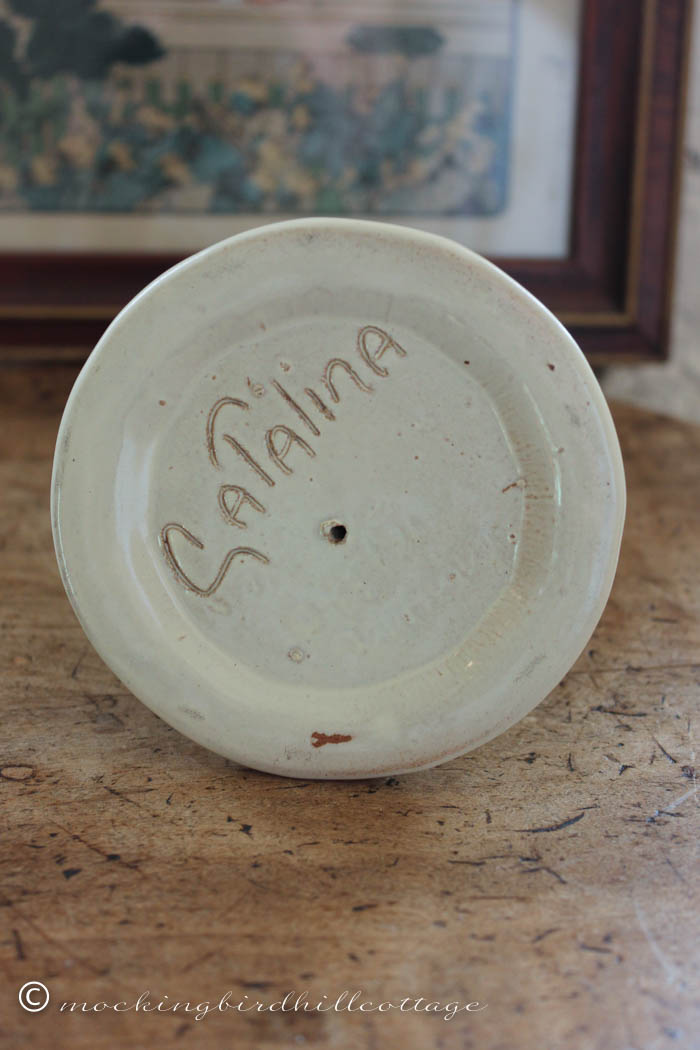 One of the marks – there are other, fainter marks on the bottom as well.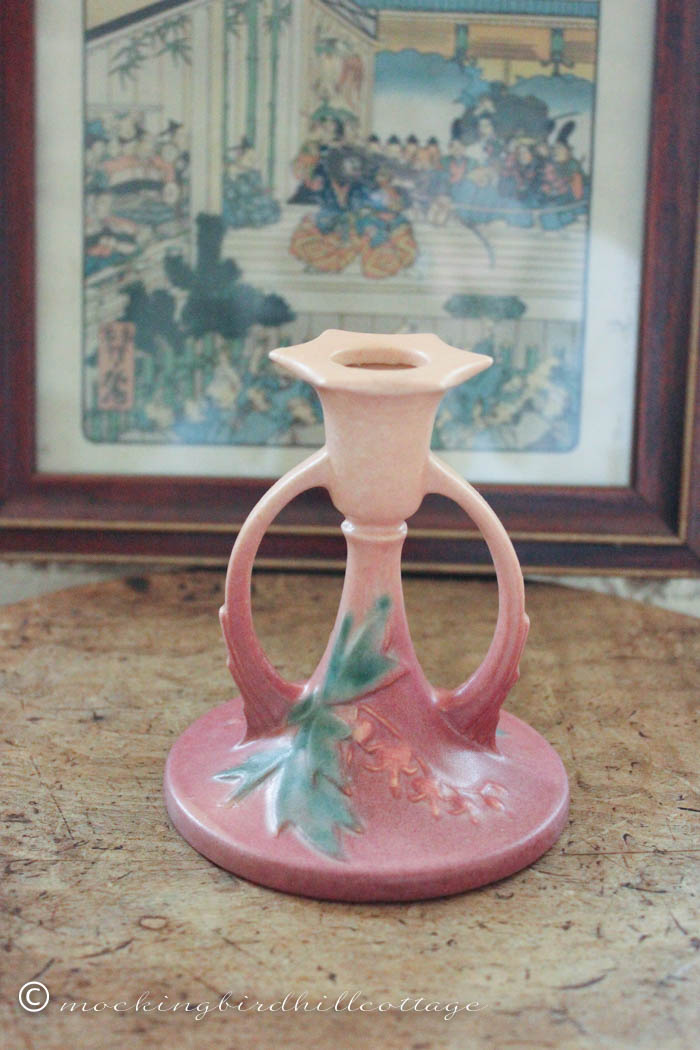 This is Roseville Pottery – a candleholder in the Bleeding Heart pattern. Sigh. It's beautiful.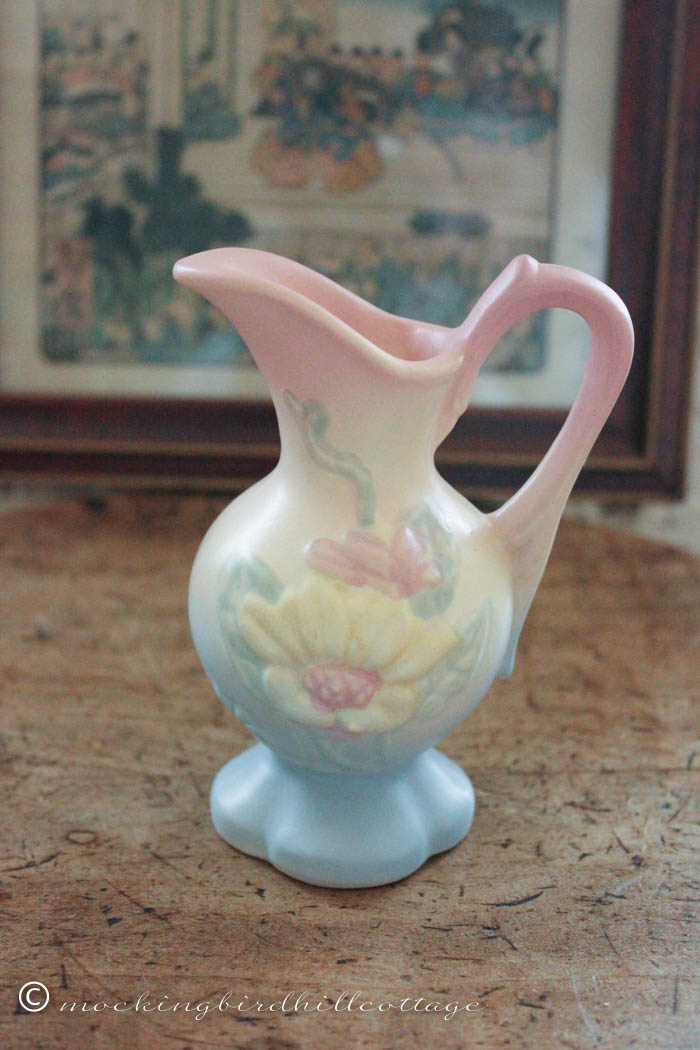 And this little pitcher is Hull Pottery. I have one other piece of Hull that is lovely, though it has a broken handle. Now, I've got two!
Thank you, dear Cathy! What a delight it was to open this package. As I told Cathy in my email, Don stood there and oohed and aahed right along with me. I will treasure these pieces and give them a good home.
From the sublime to the ridiculous: I seem to have a problem with receiving damaged items in the mail. First up was the broken glass on the Maxfield Parrish (the seller has sent me a check to cover the glass replacement, by the way.) Yesterday, I got a box in the mail containing a piece of Roseville that I won on eBay. This is what I found when I opened it: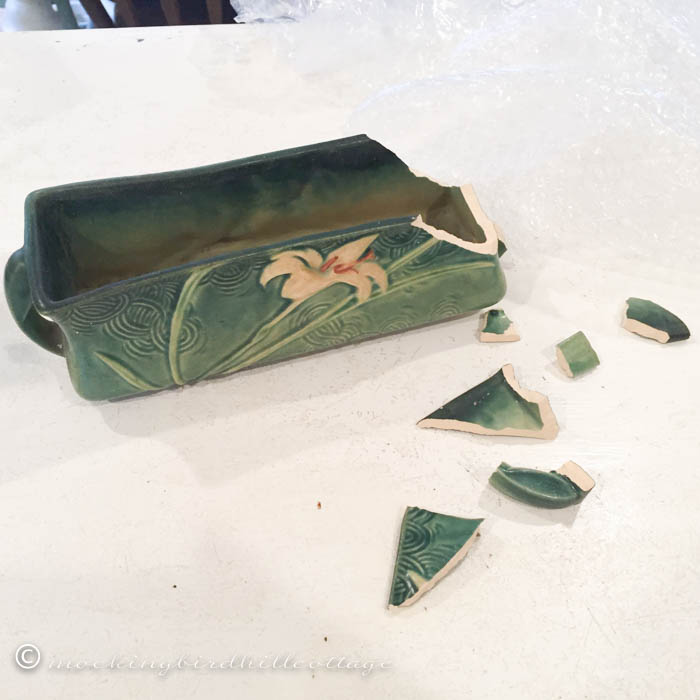 I'm not kidding. I wanted to cry. I immediately contacted the seller, of course. It had been packed in a box that I think was too small. It did have bubble wrap around it but there wasn't enough space in the box for any extra padding.It seems to me that there should be a lot of padding around fragile items. The seller contacted me and was clearly very sorry that it had happened and said the same thing the other seller said – that she never has problems with breakage. Well, now you do, and I seem to be the lucky recipient. I took photos and sent them to her so she could see the damage for herself. She is going to refund my money. So in both cases, the resolution has been a positive one.
Nevertheless….
So, I grabbed the glue I use for miniatures and I put it back together as best I could. It doesn't look all that good, certainly not at all good if you look closely, but if I put it in the back of the china cabinet it should be okay until the day I can find a replacement.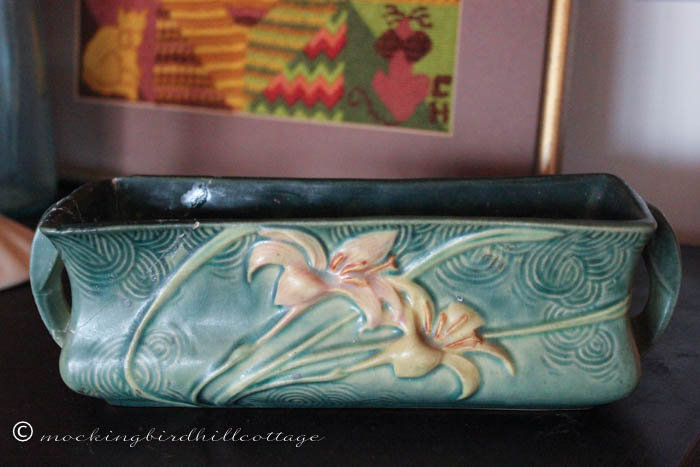 There are chips missing – especially near the handle – but this is the best I could do.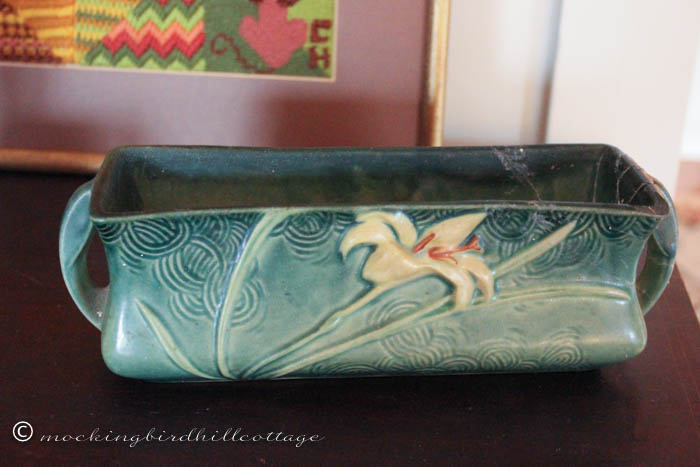 This shot really shows the patchwork of glued pieces. You can see why I loved this piece. It's the Zephyr Lily pattern in a blue/green and it's a planter/window box.
Hey, at least I was able to patch it back together, right?
Waaah.
The ankle is much better, though I was on it way too much yesterday because Don had to go into the city for an audition, so I was on Scout duty. Next week: IKEA! It doesn't take much to get me excited these days.
Happy Saturday.