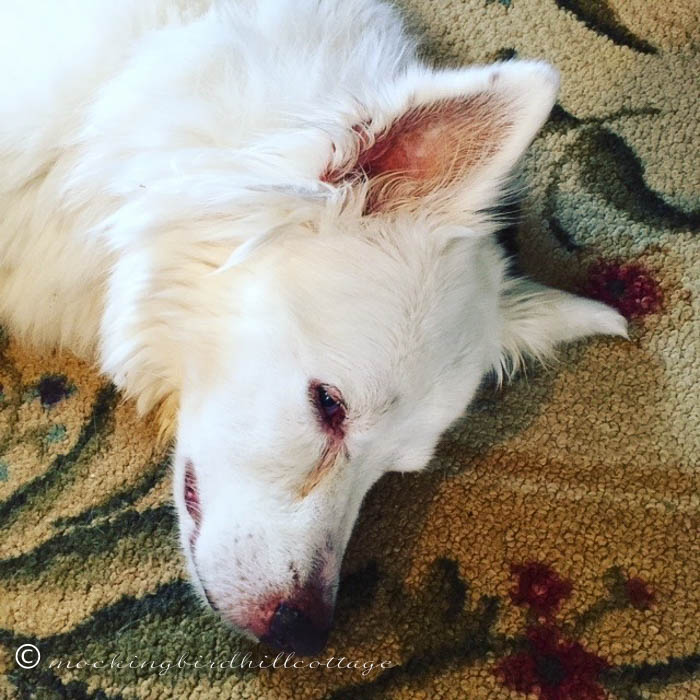 I took this photo with my iPhone and posted it to Instagram yesterday. My little girl, just about to fall  asleep. I really like it, so here it is for those of you who don't do Instagram.
She sleeps a lot nowadays. She has good days and bad days and is very much like Riley was in that her limbs are unsteady and she falls a lot. We support her when she's eating. We help her in and out of the house. She's declining, but she's still a strong minded girl who loves to eat and be near us, who on a good day will walk around the corral and sniff everything in her path, who loves to watch her dad cook dinner, and who can sometimes still clear the two steps from the den to the living room in one jump, so we will do what we did with Riley. We'll love her and hold her and tell her we're taking care of her and not to worry and that we'll watch over her. She is our priority, plain and simple.
She doesn't bark anymore. But interestingly, the other morning while we were still in bed, we heard her barking repeatedly for a minute or so. She was dreaming. That's when she barks. We welcome the sound.
Every day, we are worrying about her, watching her, gauging the state of her health. We're never far from her. She is our girl – our almost seventeen year old girl – and the fact that she is still with us is a miracle. So we treasure every moment with her.
She's been with us almost as long as we have been married. She's outlived her brothers. She's lived on the West Coast. She's lived on the East Coast. She's traveled across the country in a Honda CR-V. She's charmed absolutely everyone she has ever met. She is an angel.
You see, this is why I don't write about her these days – except briefly. I'm crying. It's always right below the surface of every moment. This knowledge that we will have to say goodbye in the not-so-distant future.
So let's move on to something frivolous. A new piece of Roseville arrived yesterday.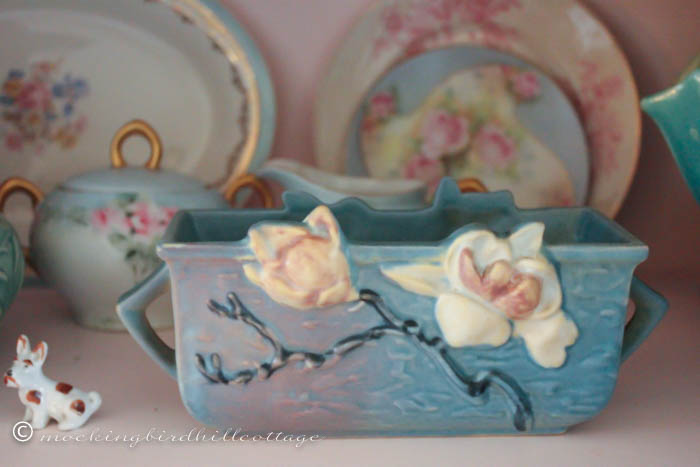 In the Magnolia pattern, a little window box. I fell in love with the color and the design. It's about 3½ inches tall and 8 inches wide. This is, I think, the front.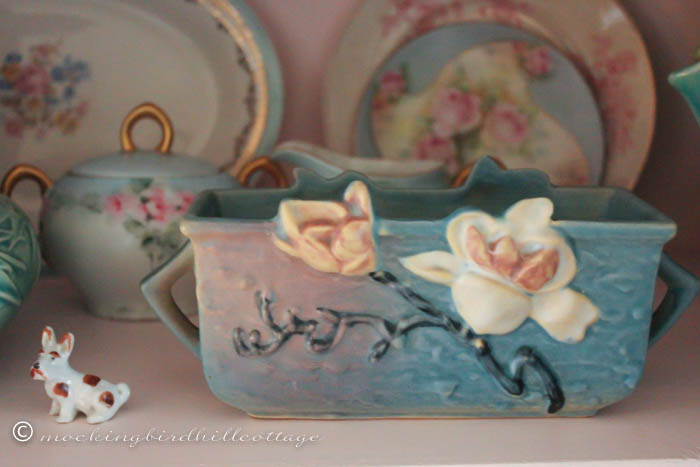 This is the back. But then again, maybe not….
Whatever way I'm looking at this piece, I love it. I had to gimp my way down to the mailbox yesterday to get it. Our postperson always toots her horn when she attaches a package to the mailbox, so I knew I had to get down there and get it.
Isn't it pretty? Can't you see it sitting on a windowsill in some home in the forties or fifties? Maybe planted with ivy or african violets or a succulent or two?
Yesterday's scarf sold overnight. I'm working on a few orders at the moment, but I do have one other skein in shades of green that I will offer in the shop as soon as I can get to it.
Happy Thursday.