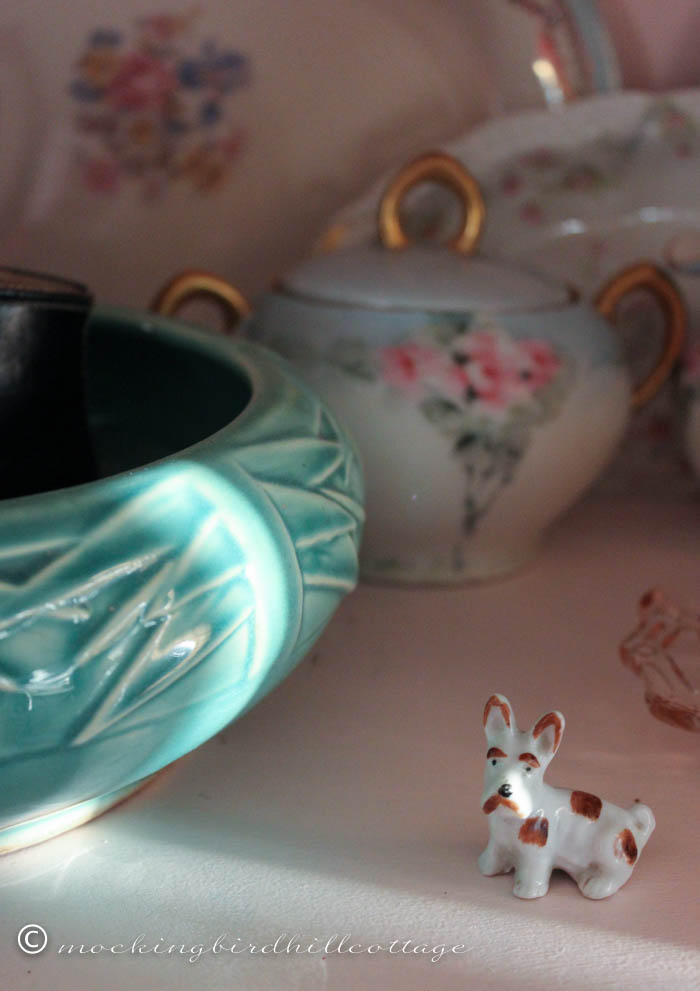 A late afternoon peek into the china cabinet in the den.
That teeny little dog belonged to my grandmother, my dad's mom. I never met her, as she died before I was born. Last year, my cousin Eileen sent it to me. My favorite aunt, her mom, had always had it on display and when she died, Eileen inherited it. Since I don't really have much from my dad's side of the family, this is a beautiful treasure I will always cherish.
Elsewhere in the photo: McCoy, my china pattern by Edwin Knowles way in the back, a piece of my great-grandmother's Havilland china and a hand painted sugar bowl from France.
Some of my Roseville. The edge of a framed picture of Riley and Scout in the back, along with a lovely piece of hand-painted china from France.
If my dreams could come true, I'd have a bigger house with lots of wall space for more cupboards filled with china and pottery. And room to hang a slew of Maxfield Parrish prints. And a fireplace. And a downstairs bedroom. And a mudroom – oh, how I long for a mudroom! Even if the only thing I could get out of the dream was a mudroom, I'd be happy.
It's a rainy day here and I find myself not  reading a lot of blogs because everything is about Christmas and Christmas home tours. This has nothing to do with the grief I'm feeling. No, I feel this way every year. Way too much Christmas, way too soon. We just finished Thanksgiving and, frankly, I need a little breathing space before catapulting into the Christmas season. When the line between holidays blurs, it reminds me of suburban sprawl, where a suburb morphs into another suburb which morphs into another suburb and no one can tell which is which.
Anyway, if you've been reading my blog for any length of time, you know my rule. No decorating until the second week of December. Even though we will be pulling back on the decorating this year, we will have the small white tree in the living room and we'll hang the lights out on the porch and we'll hang a wreath. But not until sometime next week.
I talk about this every year because I'm sure that some of us begin to decorate at about the same time our parents used to decorate. Mine never decorated early – always mid-month. And my dad's family, influenced by my grandmother's German roots, didn't put up their tree until Christmas Eve. We didn't do that, but Dad used to talk about putting up the tree and decorating and singing carols on Christmas Eve. I can see the appeal and I know many people who still do that.
The stores start selling all things Christmas earlier and earlier each year. Home Decor bloggers feel the pressure to have everything up and picture perfect by the day after Thanksgiving. Surely that must take some of the joy out of the season? Maybe it doesn't and if so, great. But here's my question: why do these posts have to be so early in the season? Is it due to competing tours? The pressure to be the first tour that's up and running? Or maybe simple scheduling requirements? I don't know.
Anyway, I can't look at any Christmas home tours on November 30th. Or even the first week of December. I'm in the no-decorating-this-early zone.
What are your thoughts? If you celebrate Christmas, when do you start to decorate? Do you jump in the day after Thanksgiving? Do you wait a bit? I'm curious. I know all of you have your traditions. Some of you might be decorating this very minute!
Happy Tuesday.