Today is the last day of our first week of rehearsal. Tomorrow is the day off, and then we're back at it on Tuesday. We finish up table work on Act Five, then Darko has another commitment, so I will do some one-on-one coaching. It will be a long day, but a good one.
I'm not going home this week. I knew this would be an intense week for me and driving  home would take a chunk of time that I don't want to give up on my only day off. I have to go grocery shopping tomorrow and run some errands, as well as just plain take it easy.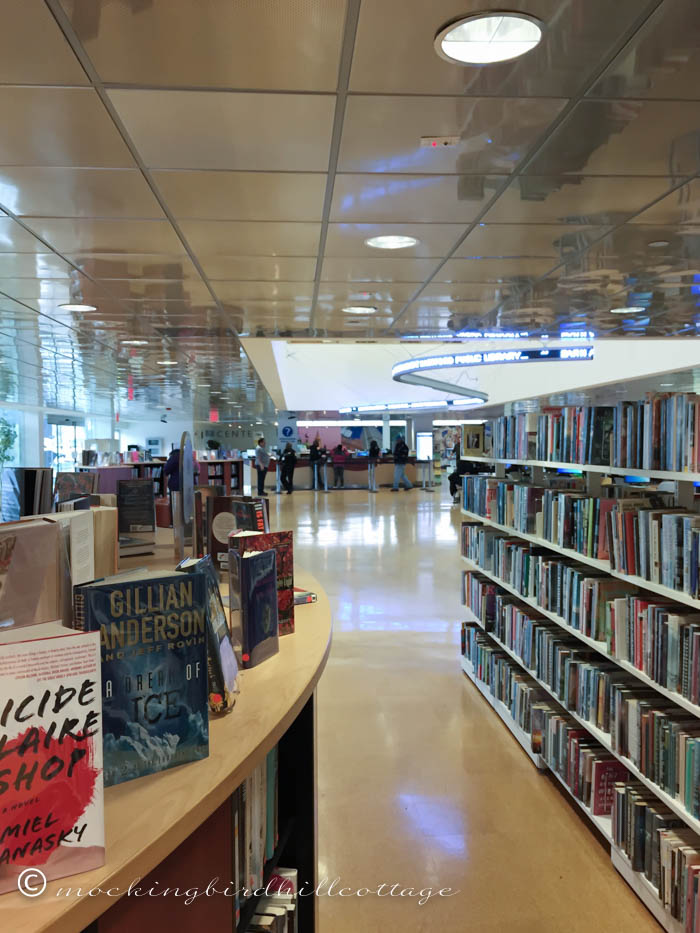 I made it to the library yesterday morning. After getting a new library card, I checked out the new releases, which are housed on a series of curving shelves just inside the front door.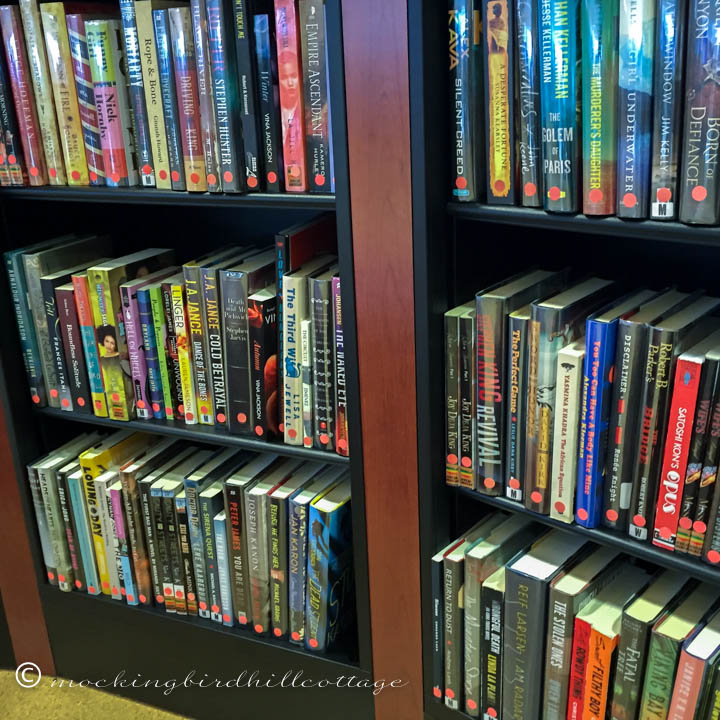 They have everything, including many books I've recently read as eGalleys. They've just been published and they're already on the shelves. It's a treasure trove for an avid reader. Careful to not let my reading eyes get too big for my stomach, as it were, I checked out four books.
Starting at the bottom:
• Home by Nightfall  – The newest Charles Finch. I've read most of the Charles Lenox series that takes place in London in the 1870's. There's one waiting to be read on my shelves at home, but I thought I'd grab this one and read it while I'm here. Wonderful series, by the way.
• The Fifth House of the Heart  by Ben Tripp – Ben lives in Los Angeles and is married to a former student of mine – both of them work in the entertainment industry. I've been reading about his latest book via Corinne's FB posts. It's not my usual genre, but it sounds fascinating, so I'm going to give it a read.
• In the Dark Places  by Peter Robinson – This is a mystery and an author I'm not familiar with but Louise Penny's blurb on the cover: "Thrilling – brilliantly plotted, beautifully paced" was all I needed. Part of the Inspector Banks series.
• Murder on the Champs de Mars  by Cara Black – I've read several books in this Aimee Leduc series. This is the most recent, which will screw up my determination to read them in the order they were written, but heck – I'm saving money by checking it out of the library. Right?
I have two weeks in which to read all of these. And I have to finish my current read. Hmmm.
Don and Scout are doing well. I miss them terribly – the hardest time is in the evening, I think. That's when I really feel it. But, we're used to it. We adjust. And I'll see them soon.
Happy Sunday.