Crap, it's cold out there!
Yesterday was frigid, with a wind that was relentless. It pounded on my car as I drove to do some shopping. It nearly knocked me off my feet as I tried to navigate the shopping cart and put the bags in the trunk of the car. As I said on IG, I thought I might turn into an icicle.
After I unloaded all the bags from the car, trooped across the parking lot, and brought them up to the apartment, I made myself French Toast for lunch.
Because I deserved it.
And it was good!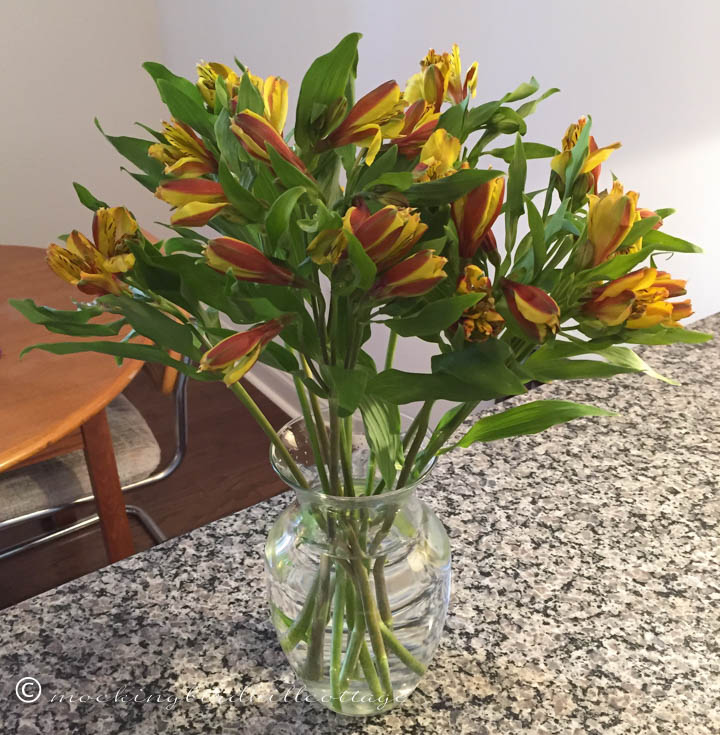 More unbelievably inexpensive flowers from Trader Joe's, in a vase I found in the cupboard over the refrigerator. Actors' apartments usually accumulate a number of vases, as they are often sent flowers for opening night and don't want or need to take the vase home with them. (I found another one, as well.)
From what I've read and/or heard directly from the employees, working for Trader Joe's is a good thing. Everyone always seems happy to be there and I think the benefits and pay are good enough to keep employees working there for a long time. Heck, if there was one nearer to my home, I'd apply. I also like that they hire workers of all ages.
I won't go into what I feel about Walmart, on the other hand, except to say I will not shop there.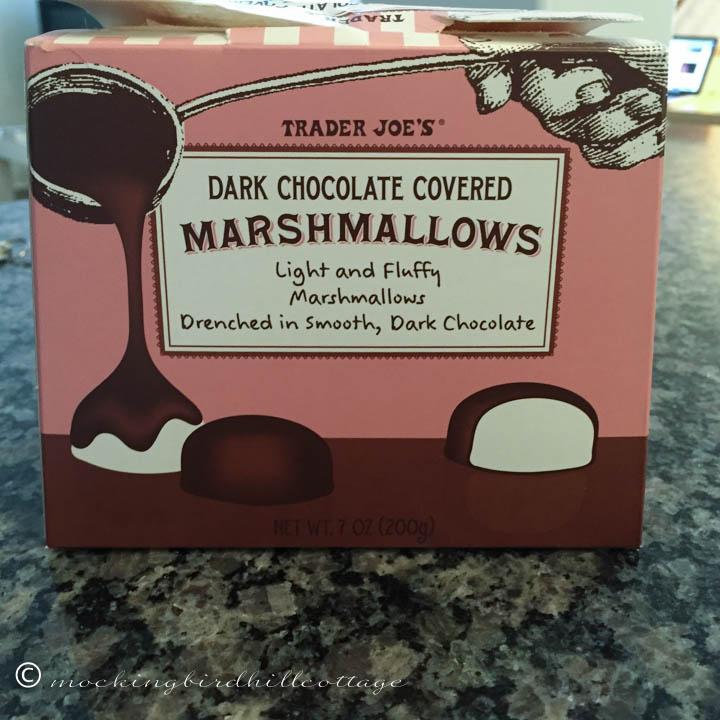 How did these get in my bag?
You have to love Trader Joe's packaging and graphics. How could I not bring these home with me?
I do have a complaint. TJ's sells basmati rice. They sell jasmine rice. They sell wild rice. They do not sell brown rice, except in re-heatable form, which is dreadful and tasteless and soggy. Neither, apparently, does Target. The Target I go to here is much larger than the one I frequent back home and it has an extensive grocery section. No brown rice. Jasmine rice? Yes. Basmati rice? Yes. White rice? Yes. NO BROWN RICE. (Except for Minute Rice and I don't want to go there.) I just want brown rice that I can cook for 45 minutes in a big old pot.
What the heck?
The Laundry Story: This apartment building has a washer and dryer on every floor. Every floor, that is, except for the one where my apartment is. We are given a laundry card when we arrive and there's a machine on the 7th floor where we can add money to the card in order to operate the machines.
I wanted to do laundry on Sunday night, but I only had singles and the machine takes only 5, 10, or 20 dollar bills.
So yesterday, I got some cash and after all the shopping, decided to do my laundry. I went up a floor and put a load in the washer. Then I went up two floors and put my other load in the washer there.
I figured I'd combine both loads in one dryer. Since the dryer on the floor above me wasn't working, I grabbed that load when it was finished and walked it up two floors to where the other load was just finishing. Both loads went in that dryer.
After the 60 minutes or so allotted to drying, I went up there to take the load out of the dryer.
It wasn't dry. (This has happened to me before when staying here.) I inserted the card (more money, of course) to get more drying time. The dryer stopped working. It took the money, but nothing happened. At this point, another tenant came in with a load to wash and she tried to get it to work, but couldn't.
I gathered everything up, went up two more floors to the ninth floor and stuck everything in that dryer. More money.
After sixty minutes, I went up there only to discover that one of my t-shirts had caught on something and the dryer door had opened and nothing had dried.
Insert many curses here. Many.
More money, as I fixed the t-shirt problem and re-inserted the card for another 60 minutes of drying.
What should have taken about 90 minutes, took three hours.
I did get a lot of exercise out of it.
Reward: Hot chocolate.
I was watching the local news last night and, much to my horror, the weather guy talked about a Nor'easter that might come in this weekend.
This weekend, as in the time I would like to go home for a visit.
I quickly grabbed my phone and checked out the weather app and what they are predicting isn't pretty: 5-8 inches of snow during the day Saturday, with another 5 inches later that night. And more the next day.
Maybe they're wrong? Maybe it will track further out to sea and we'll be fine?
All I know is that our previously mild winter has taken a turn for the worse. It's definitely January, my friends.
Sad, very sad, about the untimely death of Glenn Frey. Too young. I am a big Eagles fan and it's impossible to imagine them without him. What a talent he was!
Too many losses in January.
I have one-on-one coaching sessions this afternoon. It's still windy out there, in fact, there's a wind advisory throughout the day. I'll be bundled up as I make my way to the rehearsal studio.
Courtesy of Shelf Awareness, a quote from the late, great David Bowie on books and reading – on today's Just Let Me Finish This Page.
Happy Monday.