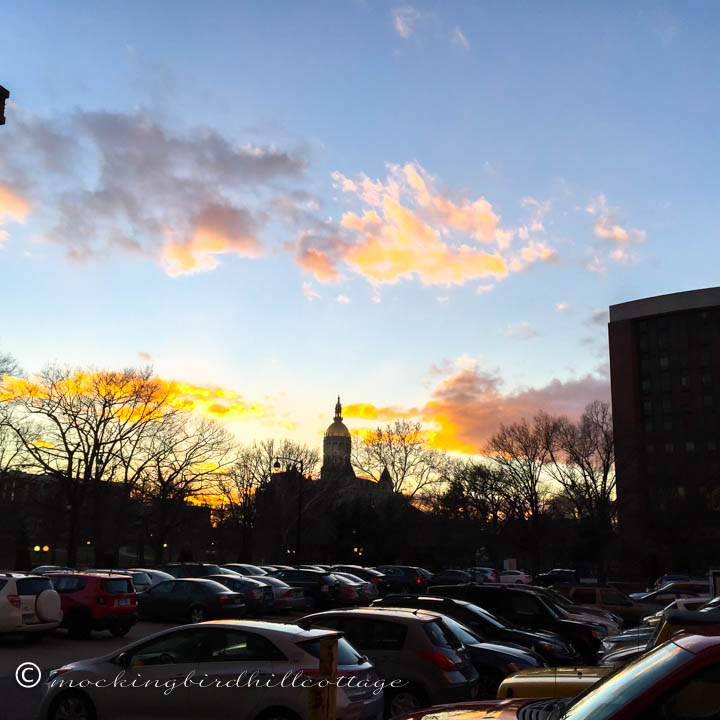 I took this photo the day I arrived in Hartford: Sunset Over the Capitol Building.
I haven't had a chance to walk through the park yet but at some point, I'll get more photos of the Capitol, which is gorgeous, and the rest of the park. I've been here in the winter, but only briefly, so it will be interesting to record the wintry landscape of the park.
All photos are being taken by my iPhone. I didn't bring my big girl camera with me.
This morning, before rehearsal, I'm going to visit the library. As most of you know, the Hartford Public Library – downtown branch – is one of my favorite places here in Hartford. I've been looking forward to getting over there and had planned that for my day off on Monday, until I was reminded that it's a national holiday. I had secretly hoped the library would be open anyway, but it will be closed.
I found myself (this is silly, I know) in a bit of a panic. What?? I couldn't spend a couple of hours there on Monday? Not knowing what my schedule will be like next week and/or when I would have the time to stop in again,  I decided to stop by the library on this rainy Saturday morning.
It's not as if I don't have enough reading material already. I've got at least 4 books lined up to read. It's just that there might be gems awaiting me there; new books that I might not know about, that I might not be able to buy, but could surely check out for a week or two. You understand, don't you?
I don't like it when my only day off is also a holiday.
Our table work has been very rewarding. We should be able to finish up that part of the process on Sunday. I imagine Darko will start staging it next week. And the fight choreographer, who is another old friend from my days at the Old Globe, will be arriving mid-week. It's all very exciting.
Did I mention I love Shakespeare? I'm so grateful that I have a home-away-from-home here at Hartford Stage. I love the theater and the staff and my colleagues.
Barbara, look what I brought with me from home: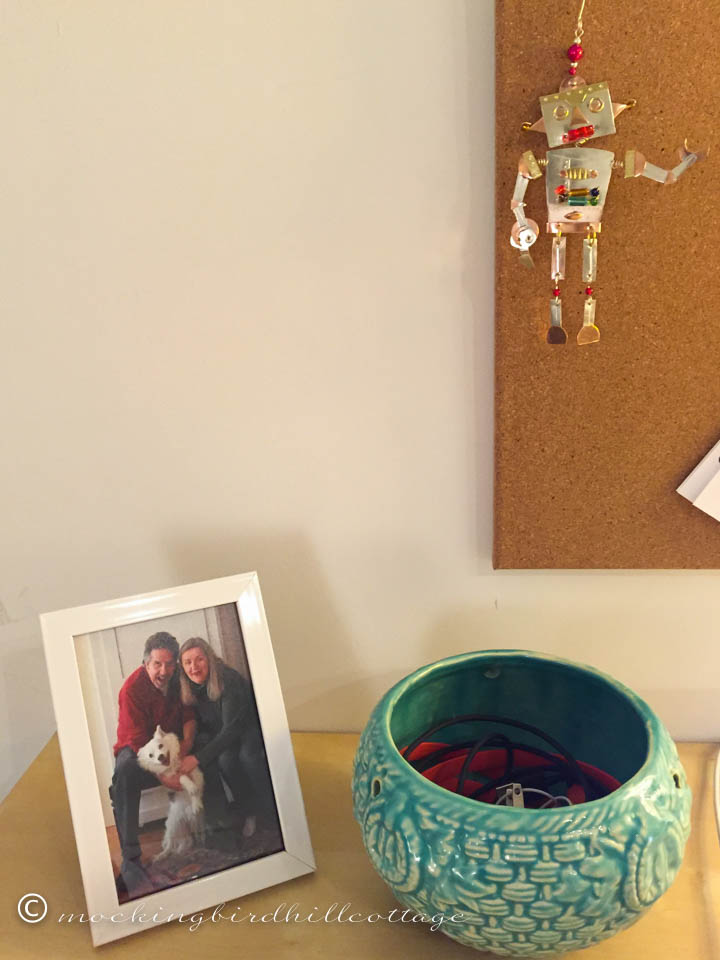 The robot you sent me has a temporary home in Hartford. When I was packing, Don said I should take him with me, so I did. He makes me smile. And he reminds me of Mr. Robot, which starts filming again in the spring. So far, it looks like Don will be in two episodes. Knock on wood. Thanks, Barbara!
Happy Saturday.