Good morning!
I slept in, which might account for my cheery tone. It rarely happens these days and I'm basking in the glow of over eight hours of sleep. As I sipped my second cup of coffee, edited photos, and checked my email, Don called – he also got a good night's sleep. Applause for the Hill-Sparks clan.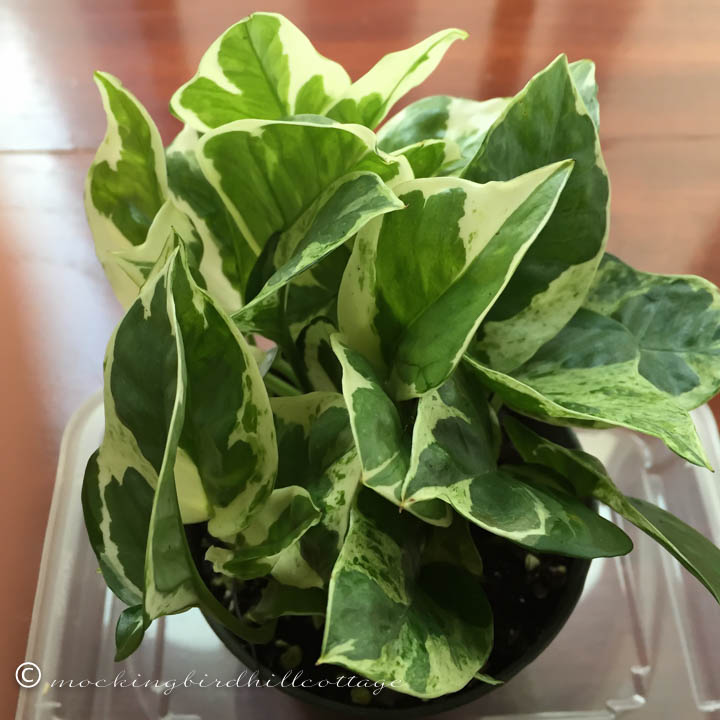 Here's one of the tiny little plants I bought at the supermarket. I used a take-out container lid that I found in one of the cupboards as a 'saucer.'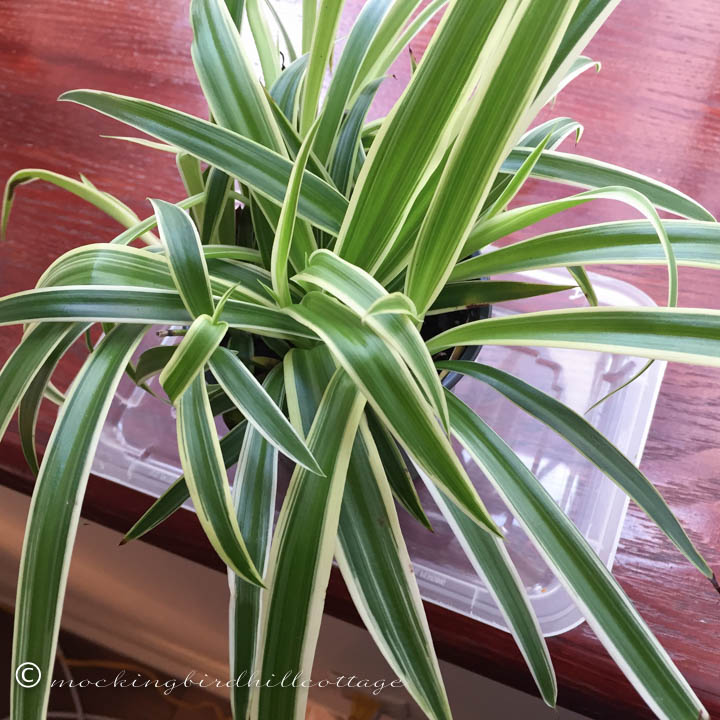 And here's the other one. These deep window sills were just crying out for something green. So now I have three vases full of flowers and two potted plants.
Don took Scout to the Vet yesterday. I thought it would be a good idea to check in with him about Scout. Sometimes we wonder if we're doing the right thing (even though in our hearts we know we are) and we just want an objective opinion. Don told him everything that's been going on and what we've been doing for her and about her falling and her bad hip. We're relieved to know her heart is strong. As he did when Riley was alive, the doctor told Don that we were dedicated and loving parents, that many people would have made the decision to euthanize their pet by this point. We can't imagine doing that, of course, certainly not because things become 'difficult', though we constantly assess and reassess Scout's situation. She still loves to eat, she sniffs around when she's outside, and when she has a good day, she's more than a little demanding.
It's not time yet. My mother was in a nursing home for three years and, although we wouldn't have wished that on her, the fact is she had a strong heart, she loved to eat, and for a lot of her time there, she was fairly cognizant. Though I think we can keep people alive too long when they're on life support  of some kind, Mom wasn't in that situation. It wasn't her time.
When it's Scout's time, we'll know. At the very least – the very most, actually – I pray that I will be given guidance when that decision needs to be made.
As if to reinforce that, Scout gave us her own message: she walked around the lawn outside the doctor's office, looking strong and in good shape – Don shot a little video of it for me.
So, it's hard to see her struggle, it's hard to see her sometimes in pain, but it's also a gift to have her with us and to know that we won't let her suffer. Never that.
By the way, the doctor told Don that Dame Scout is their oldest patient.
So we'll love her and watch her and help her and be there for her until the end.
Okay. I've decided that it's a good thing to get packages when you're away from home, even if they're things you've ordered for yourself. So far, I've received a couple of boxes from Amazon filled with reference books and a two Susan Hills.
And yesterday, I received this: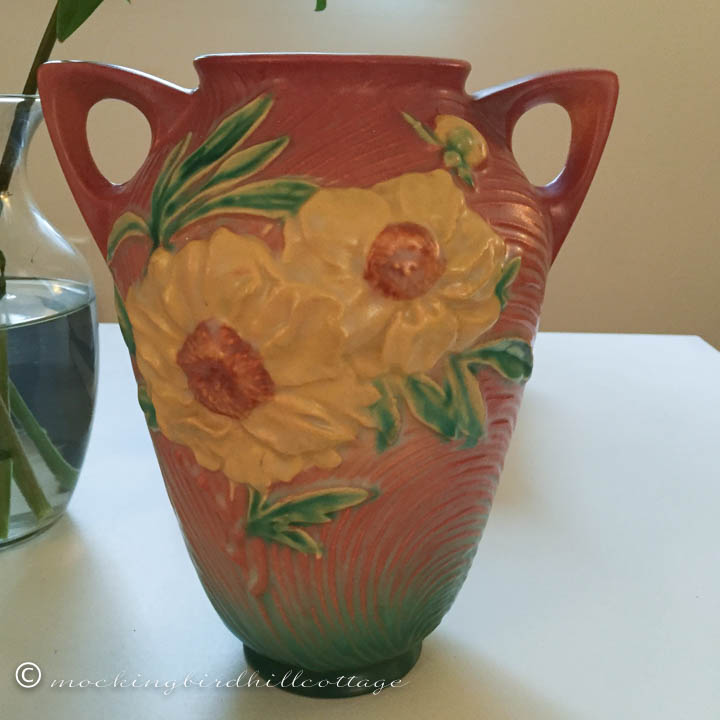 Roseville, of course. An eight inch high vase in the Peony pattern, which was made in the 1940s.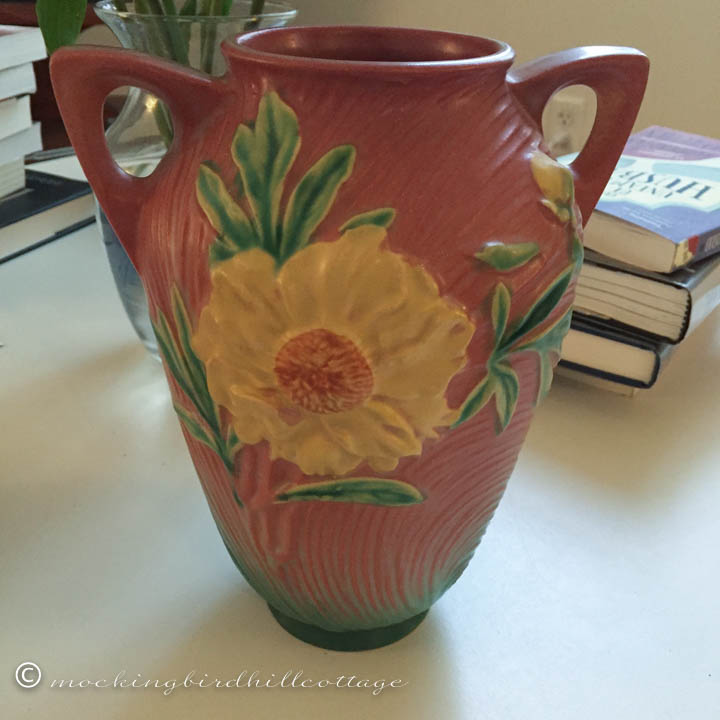 The other side.
It was packaged with care, wrapped in a lot of thick bubble wrap, nestled in packing peanuts. Take note, sellers: that is the way to pack a breakable.
It's in pristine condition. No chips, no cracks. Perfect.
I wasn't sure where to put it. It ended up here: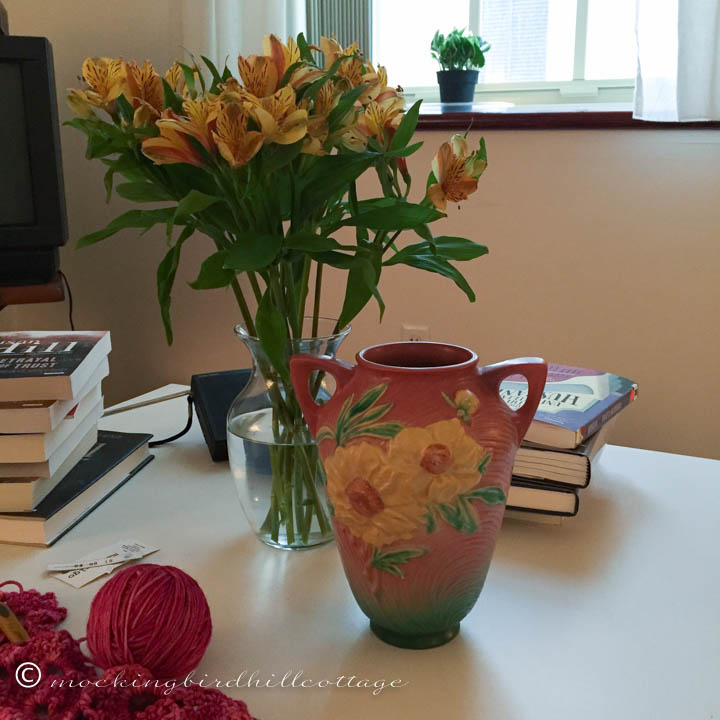 I think I am in love. I love all Roseville, but I really love the patterns that have a textured background, like this one.
I'm not called today. Darko is staging the second half of the play and there are no individual coaching sessions scheduled. I think I might visit the Wadsworth Athenaeum – the beautiful museum that is just a couple of blocks from the apartment building.
Happy Wednesday.