Okay. Yesterday, I slept in. Today I woke up at 4:30 am and could not get back to sleep.
What's wrong with this picture?
Welcome to my world, my friends. Welcome.
I didn't make it to the museum yesterday because I went off on a wild goose chase for something I wanted at Target. They didn't have it. Which led to calling other Targets, which led to looking online (via my iPhone) for the link which came up as 'No longer available.' Which put me in a tizzy as I questioned the Target employee on the phone as to why it had seemingly been dropped from the stocklist. (Nicely, of course.) Which led to me leaving Target with a bag full of paper towels and a scented candle and then stopping at Barnes & Noble and buying an issue of Where Women Create (which I never do) and upon reading it, immediately regretting shelling out the money for it. Lovely photos, for the most part, but for me, there was nothing of any real substance in the end. Or at least, not enough substance to warrant the over $15.00 price tag. Those magazines are pricey.
I came back to the apartment and tried one more time to find the mysteriously missing item I wanted at Target. Much to my surprise, it popped up as available. What the heck??  So I ordered it online for pickup at yet another Hartford area Target, which I will drive to today. (You'll find out more tomorrow.)
"Ummm….Claudia?" you're saying, "Aren't you supposed to be working on Romeo and Juliet?"
Yes. But they didn't need me yesterday and they don't need me today. But they will need me Friday, Saturday, and Sunday, which will be a relief. Being left to my own devices…well, the pitfalls of that situation are obvious.
I saw a loveseat at Target that would fit in the shared office space back at the cottage (where space is indeed at a premium) beautifully.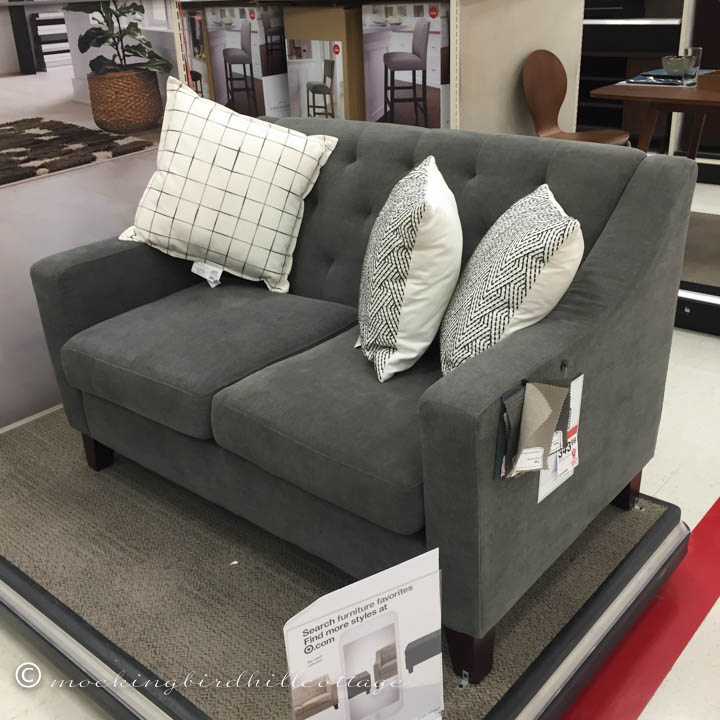 I sat in it and it's fairly firm. Better than squishy, I think.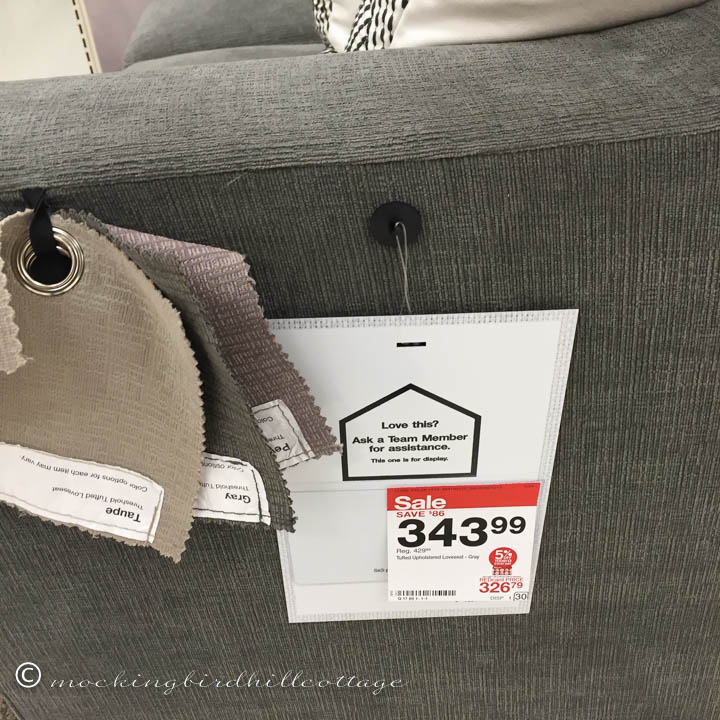 The price isn't bad. Target…I write about you a lot. Wouldn't this make a great gift for a blogger? I'd write about it and take pictures of it and show it off in my new shared office space. My husband could sit on it and play his guitar. I could sit on it and read. We would really like it. We'd add some colorful throw pillows and it would look fabulous!
In fact, Target, I'll be talking about you again tomorrow when I blog about that mystery item that I'm picking up today. See what I mean? How about it?
I don't think this shameless pleading will work.
New post on Just Let Me Finish This Page: What Are You Reading?
Happy Thursday.