Yes. "Mission Jeans" accomplished. I bought two pair(s) of Gloria Vanderbilt 'Amanda' jeans and they fit really well. Don gave them an enthusiastic thumbs up. Thank you all! (To be honest, I didn't even think of trying them on initially because I remember when GW jeans had that darned swan stitched on the back pocket and I wanted none of that. But they don't now! Huzzah!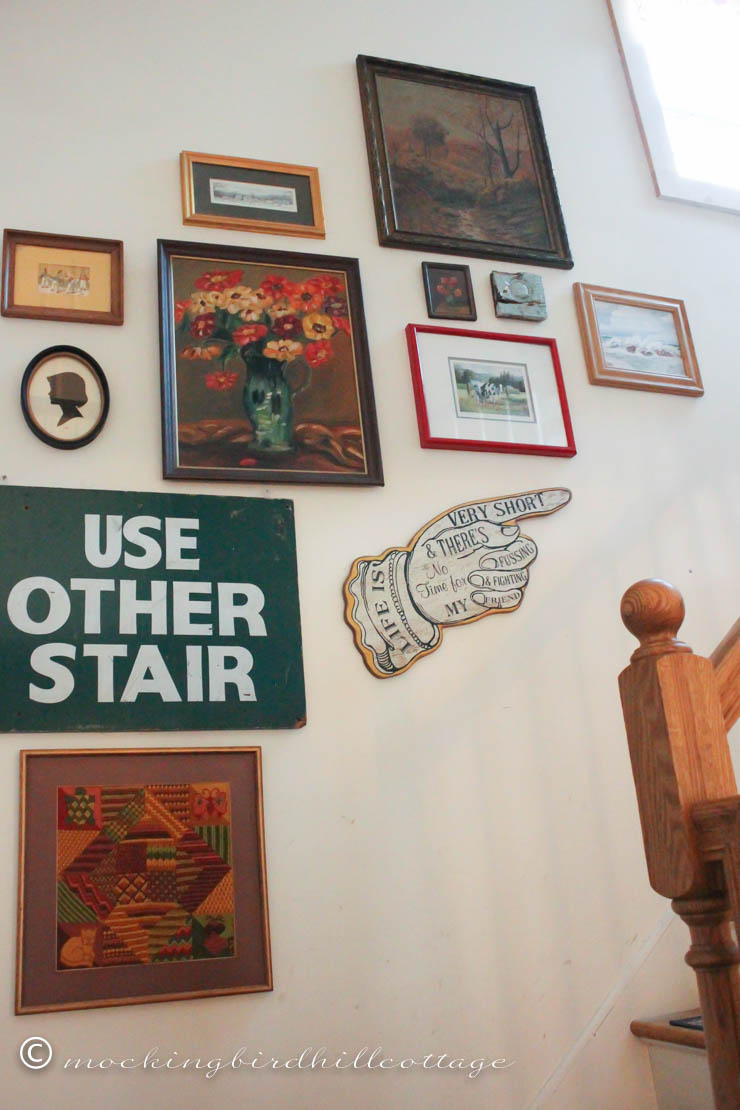 This is what we played with yesterday. Amidst all my preparations, laundry, lists to check off, we somehow decided it was time to hang things on the staircase wall. (Yes, there are scuff marks on the wall that I have to go at with the magic eraser. Another day, my friends, another day.)
I am not calling it a gallery wall. Maybe the 'Some of our favorite art pieces wall?' or "The staircase wall lined with favorite things?" Or 'Lots of things we like hanging on the wall?" We're just lucky we finally realized that we could use this big expanse of wall and have some fun with it.
We didn't do any of the things decorators tell us to do. We didn't make a big mockup of what we were going to hang and plot it out on craft paper. We didn't measure anything, either. We simply started with the Use Other Stairs sign, which was already there, and added the "Life is Very Short" hand with the pointing finger. We knew we wanted the finger to point up the stairs. That's all we knew. Once that was in place, we just hung things where we wanted them. Of course, we tried to vary size, shape, and color to make it visually interesting.
I don't care that the frames are different colors. In fact, I like it. I don't care if things get a bit crooked from time to time – I'm sure that every time we come down the stairs – or go up the stairs – we'll be tweaking something. We want it to look happy and fun and eclectic and whimsical. (Sort of like the rest of the cottage. Sort of like we are – I think.) We want it to make a statement about us and our home. It's a work in progress. As we find new pieces, we'll add them. For now…this is what we like.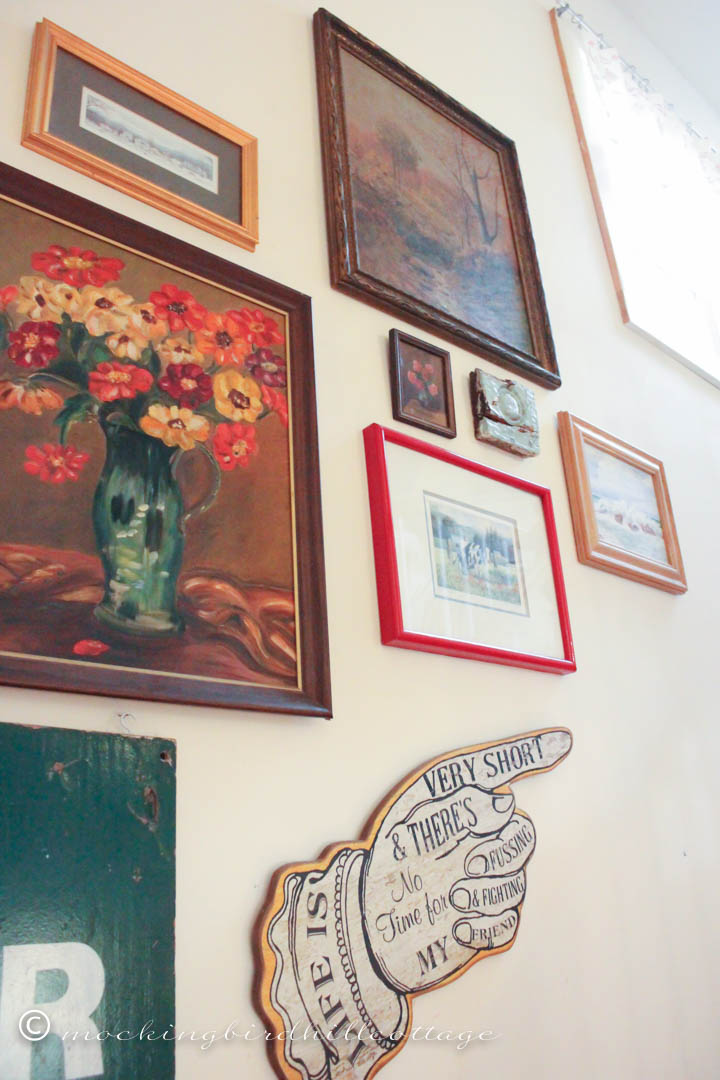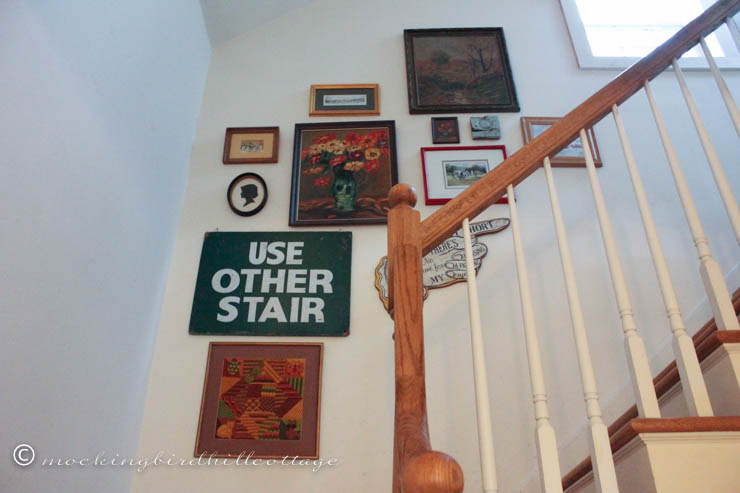 On the bottom: a needlepoint sampler I made for my mom. Above that, our infamous Use Other Stair  sign that we found in an antique shop. Above that, a silhouette my parents had done of me. I was 24 at the time. How do I know? My dad wrote it on the back, which brings tears to my eyes every time I read it. The print above it with the gold matting is of several little boys getting into trouble playing with a hose. We bought it in San Diego. To the right of those two pieces is an oil painting by my Great Aunt Ruth. Above that is a watercolor of Main Street in Stockbridge, Massachusetts, including the studio of Norman Rockwell. Next to that is an oil painting we found when we were living in San Diego. I'm sure that if we took it to Antique Roadshow, they'd say "This could benefit from a good cleaning." Below that are two small pieces; a flower print and an architectural salvage piece. Below them is a print by a local artist of a cow – it has a red frame. Next to them is an oil painting of the sea by my dad.
And of course, the hand.
Not the best pictures, as these were taken very late in the day. And it's so hard to get a shot of the entire wall from any angle! I'll take something better on a bright sunny day…but that will have to wait, as I'm taking off for Hartford this morning.
I'm writing this on Sunday night because Monday morning will be very busy and I want to get on the road by 11:00. See you on the other side.
Happy Monday.