As to the mystery item….where did we leave off?
Ah yes. I ordered it online and drove to another Target location to pick it up. But first, some back story. Last week, when I was back home, I read a post on a favorite blog, Call of the Small, about a child's dollhouse she had picked up at Target. Call of the Small is one of several miniaturists who love the midcentury modern look in miniatures and dollhouses, and it's hard to find dollhouses that have that look because most of them are more traditional in design.
This particular dollhouse was $49, and it was part of a line called Our Generation, the Lori 6″ dollhouse – Loft to Love. The 6″ notation refers to the doll size. Dolls for dollhouses are not something I am into. But the house itself looked to me like a great roombox (which just got auto corrected to rhumba!) and a fun way to play with the midcentury modern look – a look I'm not at all interested in for my real home, but one I've really come to love in miniatures.
I was going to stop at our local Target on my way back to Hartford, but I didn't. Thus began my Hartford-area search. And now I have it.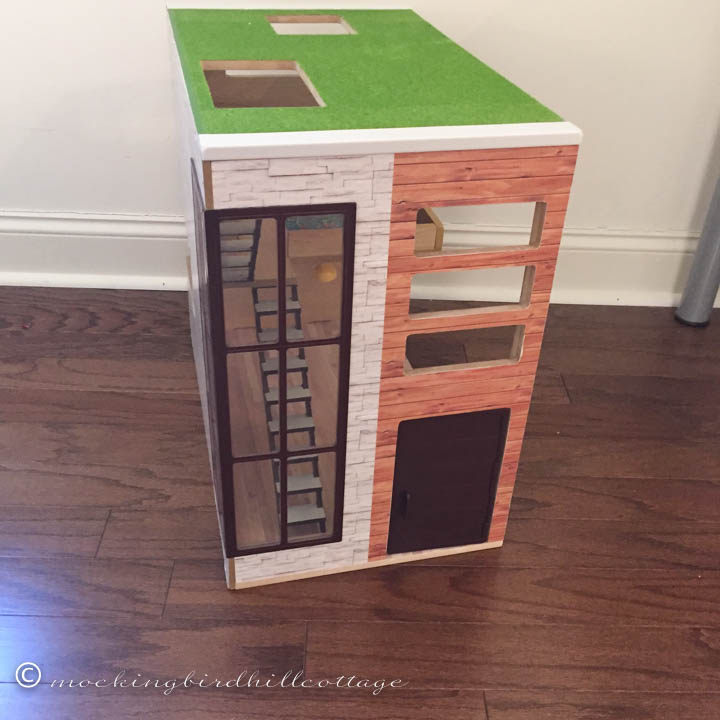 Here's a glimpse of the outside. The door is plastic and huge (probably for the dolls) but it can work. Green felt top for a roof garden.
Here's the inside: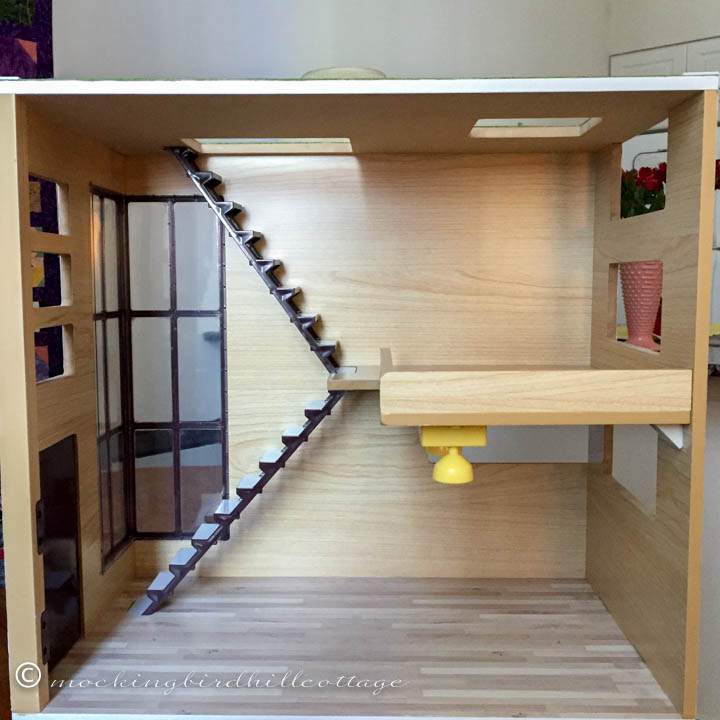 You can see the loft and a battery operated yellow light, which I'll probably remove at some point. I'm in love with the tall windows. Since this was designed as a kid's toy, plastic furniture sets are available for the rooms, though there were none available at the Target store I went to. It comes with a kitchen.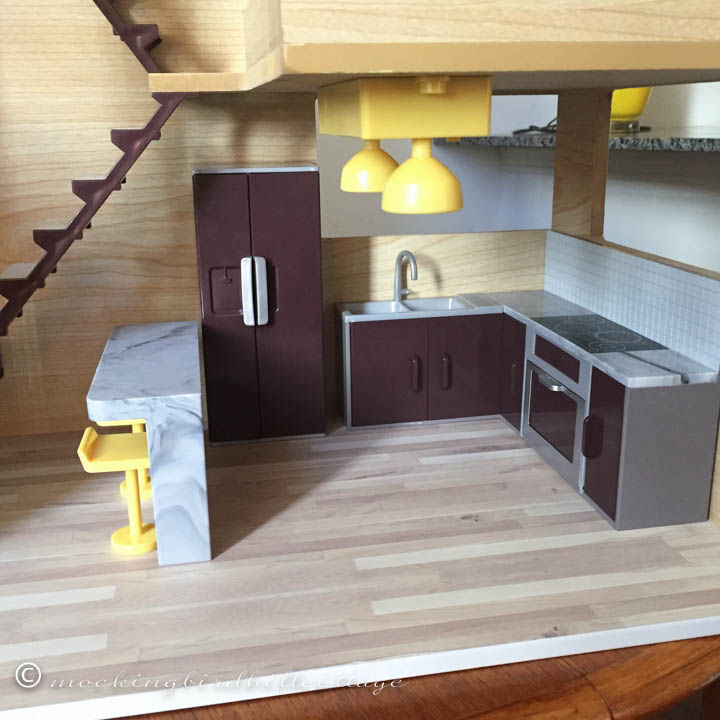 It's okay, but it's plastic. It takes up too much of the main space. And it's a little bigger than 1:12 – maybe 1:10? I'm not sure. I think I'll be 'redesigning' the kitchen.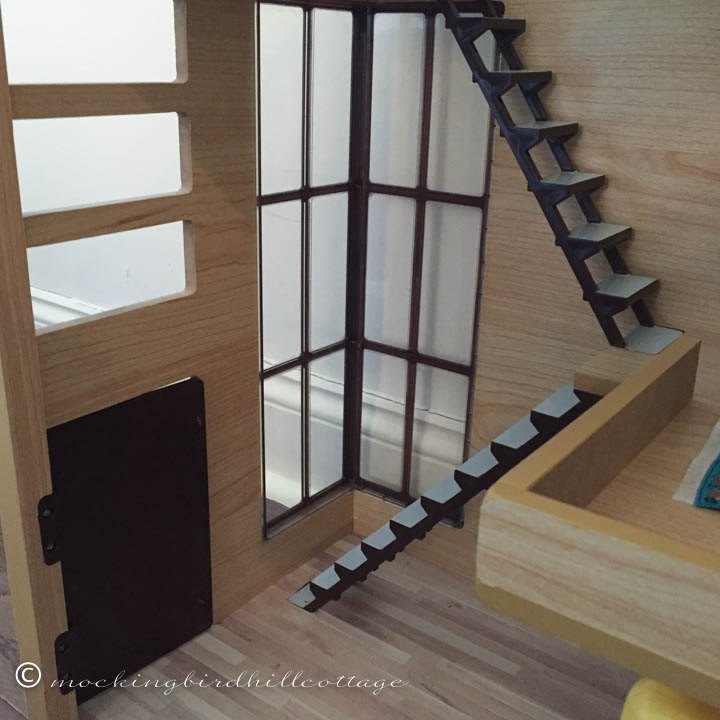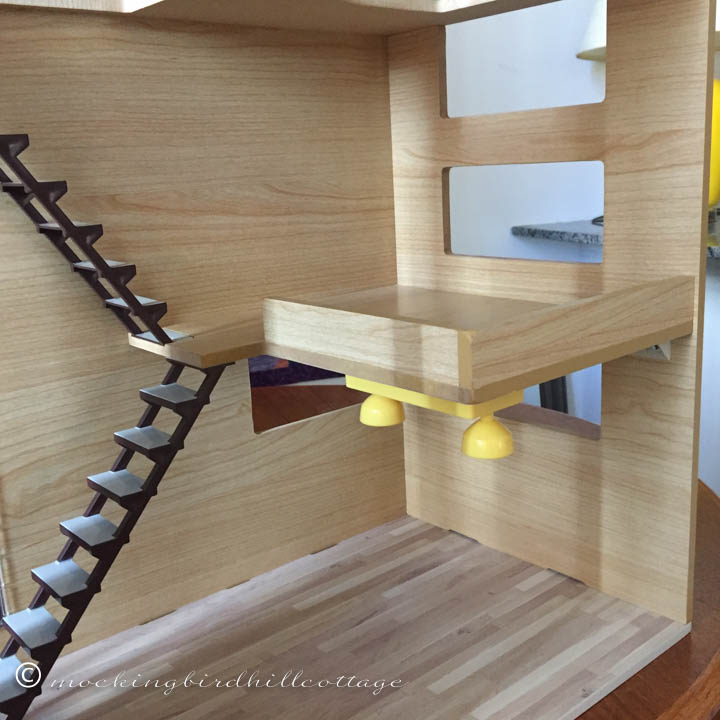 I think it's really cool.
I brought a couple of pieces back with me, just to play a bit. But not enough to truly play, darn it!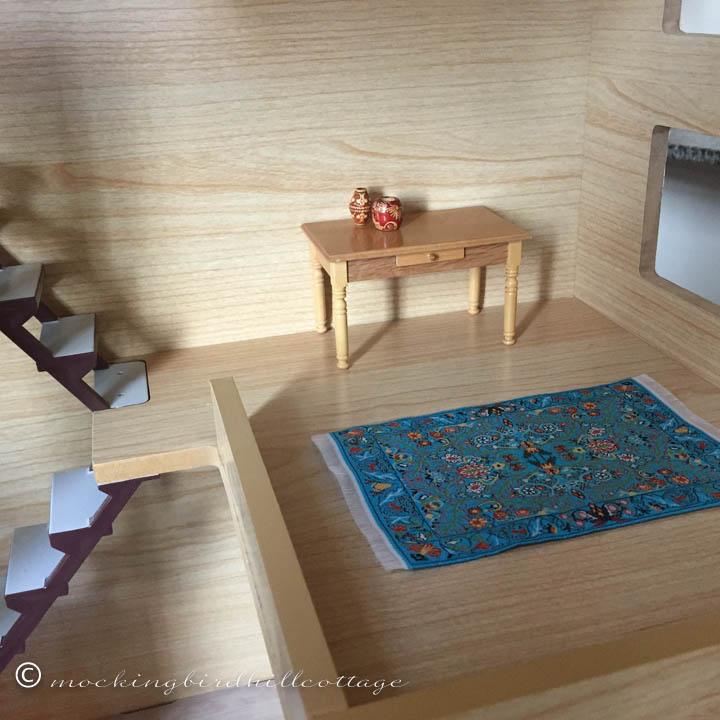 Such a neat space and so full of possibilities. After all, though I have midcentury modern in the Top Secret Project, it is for Don. So I can't really play with it after it's finished. I have to be a good girl and leave it alone.
Reader Bridget solved the mystery and I was shocked and delighted that she did! Good for you, Bridget. I left one clue in yesterday's comments and replies: miniatures. That, coupled with the fact that I was looking for the item at Target, was apparently enough for Bridget. Bravo!
It's available online here, if you're at all interested. Target: once again I am referring readers to your site.
Ahem. Hint: Loveseat.
The Target I went to yesterday had about three of these left. I think they're quickly going out of stock because the one I visited the other day had none on the shelves. And none of the Targets had the accessories, but since I wasn't interested in them, it was fine. In other words, they're pretty picked over, due, I'm sure, to it being post-Christmas.
So I have added a little dollhouse to the temporary digs. I wish there was a miniatures shop nearby but there isn't. Sigh.
And I do have to work. Right?
Happy Friday.