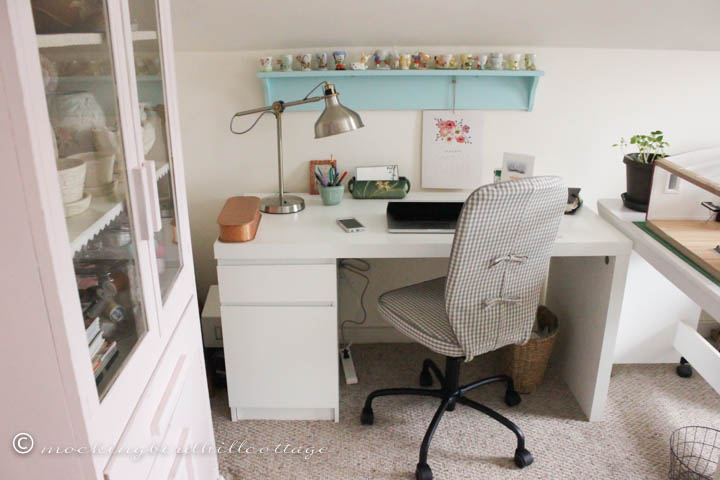 What the heck?
I just got this space set up and now I have to leave it! That doesn't seem fair.
I really love my little office space, which is bright and inspiring and just what I envisioned. I wish I could wiggle my nose and transport it to Hartford. There are desks in the apartments – IKEA desks, by the way – but the top is made of glass.  I will do my best to create a nice little workspace there, complete, I think, with a few pieces of pottery that will function as containers for cords, charging equipment, and pencils and pens.
I have much to do before I go. Today, thanks to your suggestions, Don and I will venture forth on a mission to find a pair of jeans. I don't have a lot of time to look, nor do I want to order anything online without trying it on first, but we'll check out Gloria Vanderbilt at Kohl's. Bless my husband. He went along with me a few months back when I was searching for jeans. And now he's offered to do it again.
It's raining very, very hard here today. I can hear the sump pump going on in the basement. A thoroughly yucky day and not one I would normally venture out in if given a choice, but we have to.
Blogkeeping: I get a lot of requests asking me to recommend books to read. I just wanted to mention for those of you who are newer readers of this blog that both blogs – this one and Just Let Me Finish This Page – show my current read and the book I've just finished on the sidebar.
Also, the navigation bar on Just Let Me Finish This Page has a section called 2014-2016 Reads, with sub headings according to year. If you hover over the heading, the sub headings will show themselves. 2014 and 2015 have a list of all the books I read in that particular year and the month in which I read them. I don't speed read and have no desire to – that would take all the pleasure from reading – but I read 73 books in 2015. If you're ever looking for titles, for something to look for at the library, these lists might help.
Also, both blogs have a heading in the navigation bar titled Book Reviews. There you will find a list of the book reviews, complete with a link to that review. The list on this blog is the most complete, as it references reviews on both blogs – though not every review. I've been doing this for about 7 years and I've reviewed well over 100 books. But there's a hefty list – about 98 titles – on Mockingbird Hill Cottage. Just Let Me Finish This Page's list is limited to the reviews – about 40 – done on that blog.
Hope this is helpful.
Happy Sunday.