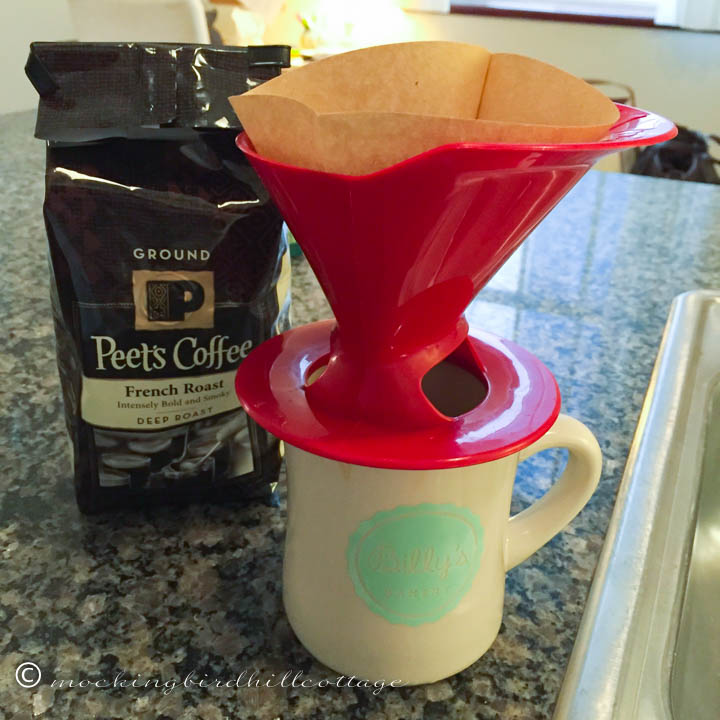 Lord, I love my morning coffee!
This morning is one of those mornings where it tastes like the best cup of coffee I've ever had. I'm savoring it. On my second cup now: Peet's French Roast, pour-over method, which is now the only way I make my coffee. The apartment has a Keurig, a very nice one, but this is my preferred method.
The mug is from Billy's Bakery in NYC. I had to bring it with me.
Alan Rickman's death has really thrown me for a loop. I can't get him out of my mind. Too young, of course, at 69 – much too young. He was one of my favorite actors and not because of any Harry Potter movies. I've never seen one. I have, however, seen him onstage, many years ago at the Edinburgh Festival, and he was, as you would expect, compelling and amazing and mesmerizing. He had talent galore and a charisma that was undeniable. I felt that charisma that evening. I loved his work in Truly, Madly, Deeply  (one of my favorite movies) and in Sense and Sensibility  and a host of other films. His performances were never boring, always impeccable, always riveting.
He had a voice that this vocal coach found endlessly fascinating. He shouldn't be gone. He should still be with us.
Another great stage actor – Brian Bedford – also passed away a few days ago. He was one of the best. I was fortunate enough to see him onstage in Stratford, Ontario in the seventies – with Maggie Smith – and I still remember his performance. And hers. They are imbedded in my memory; magical, powerful, delightful, something I could only dream of doing as a young actress  – I could go on and on with the adjectives. I watched him onstage in a couple of different productions. In Twelfth Night, he played Malvolio and at one point, when aroused in the middle of the night, he entered carrying a teddy bear. Oh, what a fine actor he was.
Such enormous losses for the Theater. Such talent, humanity,kindness and compassion gone in a flash.
Too much loss.
Meredith and I were talking yesterday about how our father's death has affected us much more deeply than we had imagined it would. We miss him so much. And we're very sad that her little boy, Little Buddy or, as I call him, Little Z, only had a brief time with his grandfather. My father adored him. He found him delightful and fascinating and loved nothing more than cuddling and reading to him. I think it's fair to say that Little Z was the light of my dad's life.
I had a message on Facebook yesterday from a guy I grew up with – we went to the same church. He wanted me to know that the Pastor of our church died on January 10th. Pastor Rolik was such a strong and powerful part of my young life; a gentle, compassionate and truly kind man. He was my mom's age – she would have been 88. Such sad news to hear and, of course, my immediate reaction was that I needed to tell Mom. And Dad.
And I can't.
The condo is now officially on the market. When it was listed, Meredith sent me the link.
Seeing it empty with nothing left from the many years my parents lived there was depressing. And very sad.
I guess this has ended up being a post about loss and grief and sadness.
On a happier note, rehearsals are going well. I truly love table work. I'm always eager to start again the next day. And isn't that wonderful?
The apartment is great. (I really do like these apartments.) I'm reading a lot when I first get up and again in the evening, after I finish my dinner. Yes, I miss Don and Scout, but I'm having a lovely time here. This always happens, you know. I dread leaving home but once I get settled, I adjust quickly and really enjoy my time in Hartford.
Happy Friday.