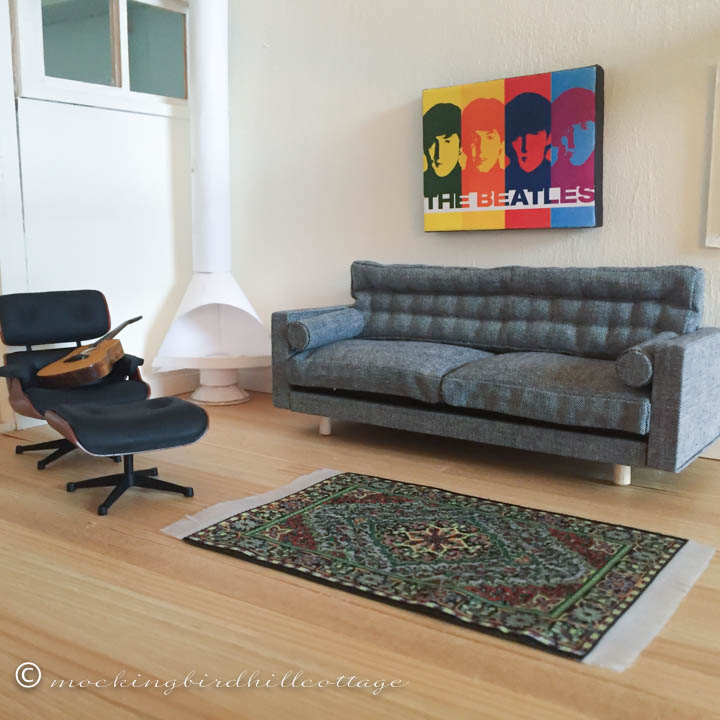 Just playing. I don't think I'll have any time to work on this before I have to leave. Gosh, I love that sofa. I'm so glad I ordered it. Now to get one for my real-life den…
The fireplace needs painting. But since it needs spray-painting that will have to wait for warmer weather.
I managed to put off my research yesterday. I was feeling a little out of it, so I figured today would be a better day to begin. The brain needs to be sharp, you know. And that wasn't the case yesterday.
I did, however, make French Toast for my husband. And it was yummy.
I slapped some paint on the bulletin board. It's not perfect, but I don't care. I hung it in the corner because I didn't want it interfering with the clean view in front of the desk: white desk, aqua mantel shelf, egg cups. Nothing hanging on either side of the mantel.
I'd rather have it off to the side, where it's not in my direct sightline.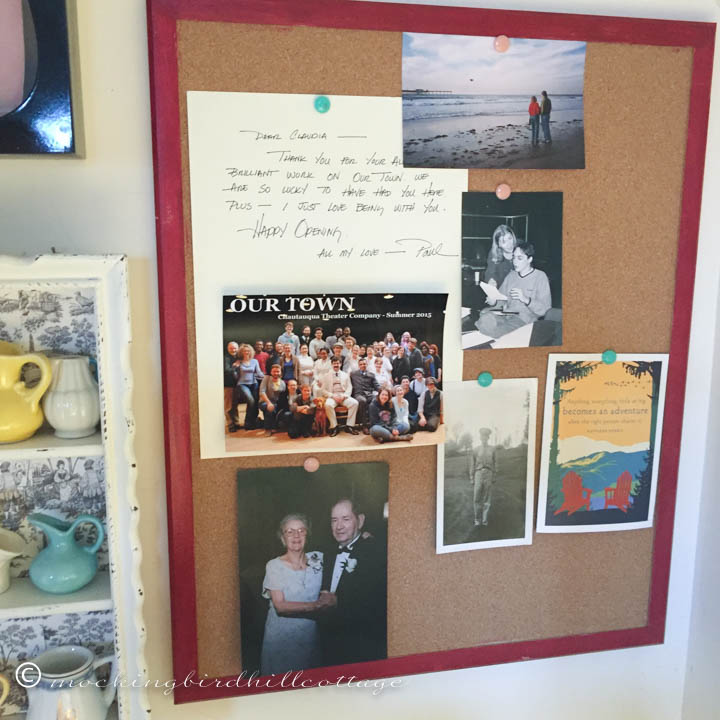 Bulletin/Pin boards evolve over time, I think. They take on a life of their own as we add things from current projects, reminders, snapshots, ticket stubs…whatever. So this is very basic right now; things that have meaning for me, photos I like to see as I'm sitting at the desk.
I found that photo of my parents when I was in Florida. It's from my niece's wedding. They look beautiful and happy. That photo of my dad in uniform came inside a letter he sent me this year. Love the photo of the cast, crew and creative team from Our Town  at Chautauqua this past summer. Such a lovely memory and a wonderful production. There's Don and me at the beach in California many years ago. You might recognize the student I'm working with in that other photo. (We're both a lot older now.) And there's a card from Don that I especially love – all about life being an adventure – I wrote a post about it a while back.
That red is the same red I used on the Top Secret Project – might as well use what I have on hand, right?
It's very cold out, but hey – the sun is shining! That makes such a difference! And I can hear the wind chimes right outside my window.
Happy Sunday.