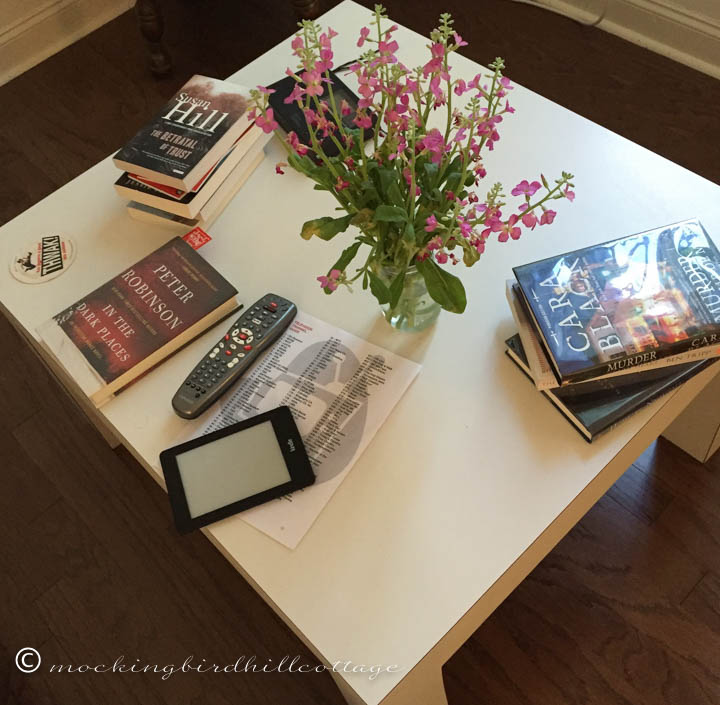 Can you tell a reader lives here? This coffee table is the perfect size for stacks of books, a vase of flowers, remotes, a Kindle, and a radio.
Those flowers are no more, but they lasted about a week and had a lovely scent. They've been replaced by this bouquet of alstromeria: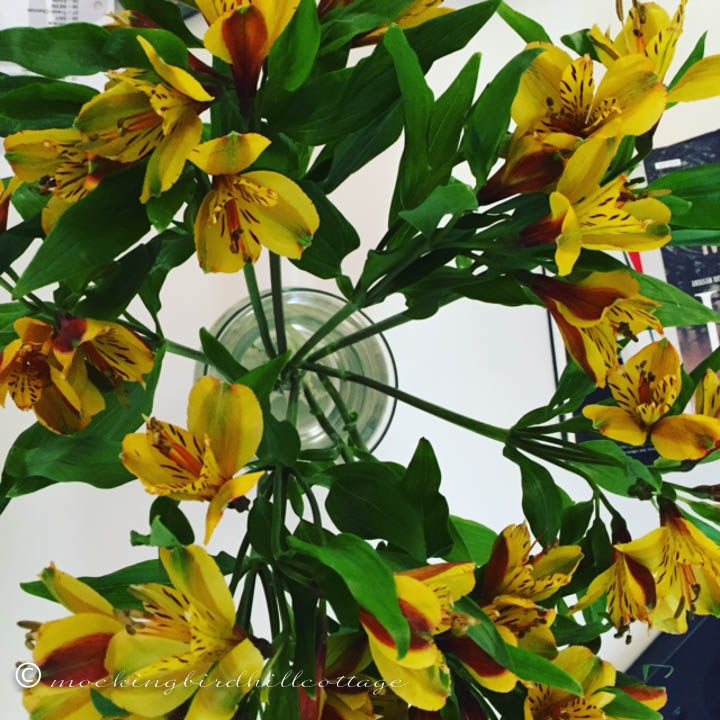 I was in my friend Charlie's apartment yesterday. Charlie is one of the finest actors I know; I worked with him several times at the Old Globe. He's playing Friar Laurence. We walked home together from rehearsal and he wanted to introduce me to his cat, Joe. Joe is a gorgeous black cat with green eyes that Charlie rescued. What an affectionate boy he is, too. I stroked his head, even though I'm not supposed to as I'm allergic, but I couldn't help it, he was so sweet.
Anyway, I noticed that Charlie also had a vase full of flowers on his windowsill. See? Actors know. Flowers make a difference. I also find what individual actors and staff do to make their temporary digs their own fascinating. In the case of Charlie and the rest of the cast, they'll be here twice as long as I will, so it's even more important for them to make things homey. A thrift store afghan covered the sofa, where we found Joe happily nestled into a corner. Maps functioning as art were hanging on the wall. Candles (another must) were on the counter. Charlie had moved the desk and the dining table to new positions that worked for him. The ottoman/coffee table had been moved against the wall and Joe's heated bed was positioned on top. It was very, very cozy. It's such a wonderful peek into the person living there. Theater actors, especially, are adept at making something temporary cozy. Charlie and another actress in the company, my dear friend Kandis, went to thrift stores when they first arrived to find little touches that cost next to nothing, but make their digs more like home. (I told Charlie I want to go along next time they go thrifting!)
Having lived in so many apartments and very, very small ones at that, moving every year when I was in grad school, moving twice while I lived in Boston, twice while I was in San Diego, twice since we've been out on the East Coast, as well as 10 week, 5 week and six month long jobs out of town, I am also an experienced 'adapter.' I can transform a room in no time. I'm not bragging, truly. It's a skill you have  to learn if your environment is important to you and if you need to feel 'at home' quickly. I've mastered it. Charlie has mastered it. Most likely, every actor I know has mastered it in his/her own way, even if what is done is minimal. It's still what makes that person happy while on the road.
A friend of mine used to do national tours of Broadway musicals and she had a list of things that she had to have : a throw or a large scarf, scented candles, framed photos of loved ones, music. She would insist on having her hotel room changed if she didn't like it. She would demand – nicely – what she needed. You have to do that if you're trying to live as normal a life as possible while living out of a suitcase.
It's so important to be able to come home after a long day of rehearsal or after a performance and feel like you're in your safe and cozy place. You're home.
Seeing all of Charlie's touches made me think I should hang my quilt. I just might do that today.
I'm almost finished with In the Dark Places  by Peter Robinson. He's a very good writer, but the book has been slow going for me. The pace itself is slow, a little too slow for my taste, but mostly it's been slow going because much of the storyline has to do with slaughterhouses/abbatoirs and descriptions of that, to me, absolutely horrific process.  As a vegetarian, you can imagine my reaction. I've had to skip over huge paragraphs because I simply couldn't stomach them. One of the characters is also a vegetarian and her reactions to it all are much like mine. Frankly, I think anyone would have trouble with what goes on there, meat eater or vegetarian.
I'm making myself finish it. It's a good book, but even taking the slaughterhouses out of the equation, I'm not so entranced that I want to read the whole series. Good writing, good plotting, but it isn't grabbing me.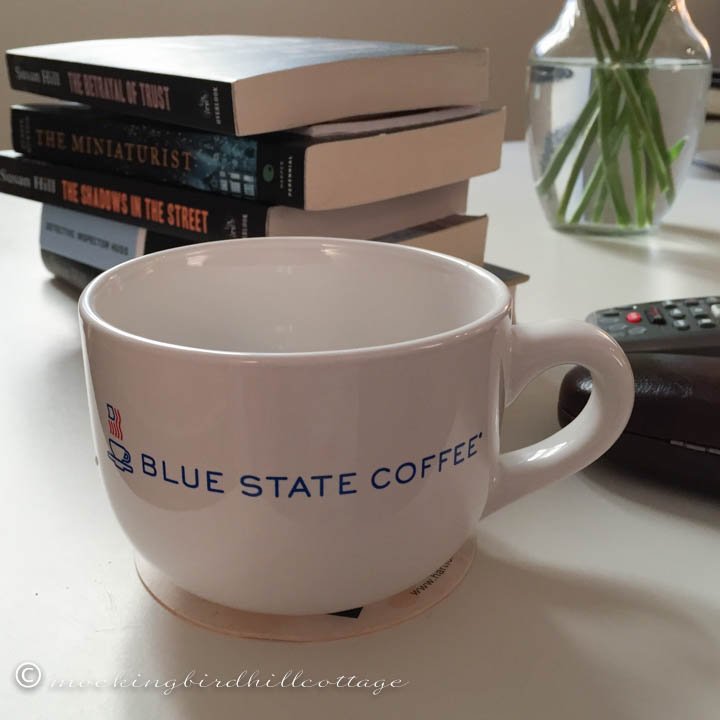 My cup from Blue State Coffee – I think it's meant to be a latte cup, but I used it for my hot chocolate yesterday. It's perfect.
More one-on-one coaching today, which I find very satisfying. I get to know the individual actors and we get to explore the text together.
Weather report: We might only get a 3 or 4 inches…or if the track changes by as little as 50 miles, we'll get walloped. The jury is still out.
Happy Thursday.