This morning, the server was down for a while, so I'm posting a bit later than normal. And yesterday, the email version of my post didn't go out, despite my best efforts to rectify the situation. PIA. A notation we used to use with difficult clients when I worked at an animal hospital. In case you're wondering what I mean, you may fill the blank: Pain in the _____.
Anyway, I'm thinking of using another service for emails, which would cost me a modest amount of money each month. But I don't really have time to deal with it at the moment. I will soon – unless Feedburner suddenly starts actually doing what it's supposed to again. I'm not holding my breath.
I hung the quilt yesterday and I'm really happy I did.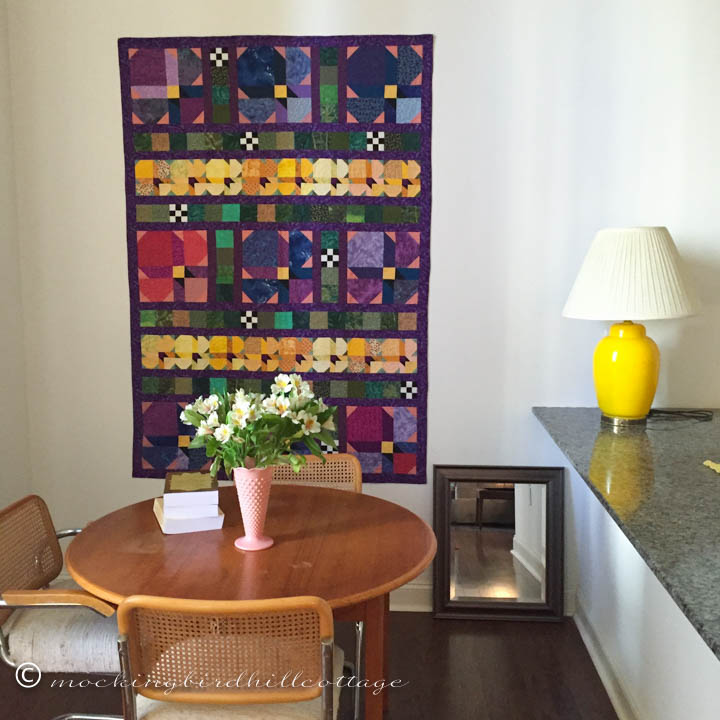 Doesn't it look striking there on the wall? I love the way the yellow in the quilt is picked up by the yellow lamp – which is something I had already visualized before I hung the quilt.
I made this quilt when we were still living in San Diego, so it's at least 15 years old, but it's more likely about 17 years old. I've made a lot of quilts over the years (always hand quilted by yours truly, by the way) and this just might be my favorite.
Note to Don: we need lots of money so we can build an addition on the house so I have lots of wall space so that I can hang this quilt somewhere. Get on it, please.
For now, it comes along with me when I stay in Hartford. What a nice companion!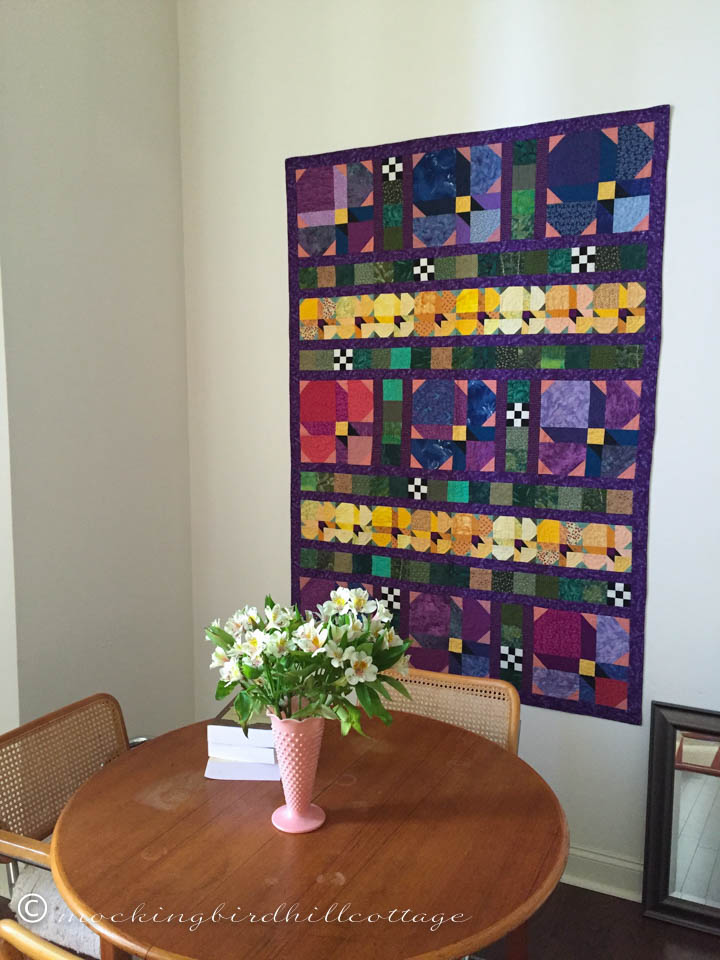 Those are pansies, of course, a flower I'm particularly fond of.
I finished the Peter Robinson book and am about to start the newest Cara Black. I'm keeping an eye on the weather report because our local guys are still hedging their bets. Most likely, we'll escape the brunt of the storm. But, if the path varies in the slightest – now they're saying as little as 25 miles – then we'll get a LOT of snow.
Since I'm planning on heading home late in the day on Sunday, I would appreciate the storm heading out to sea, thank you very much.
Seriously, though, to those of you in the path of the storm – please take care. We are all sending prayers and positive thoughts your way. I'm thinking especially of Washington, D.C. and Virginia and Maryland. Stay inside. Don't do anything foolish. Stay safe.
Happy Friday.