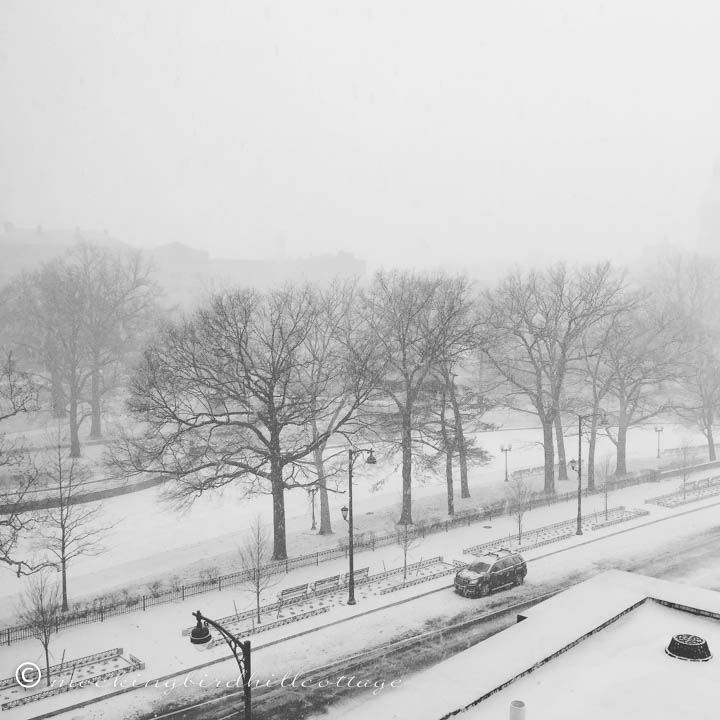 What a strange storm this was. So many areas of the East have been hit with huge amounts of snow. Others have very little accumulation. As it was, the snow didn't start falling here until mid-to-late afternoon, much later than predicted. I was able to get to the library and back with no snow except for the occasional flake. The museum, where I planned on spending a few hours, had to decided to close, surely thinking the snow would start falling much earlier than it did.
By the time it started to come down heavily, it had become very windy. Instead of partaking, I stayed inside.
Don had stocked up on food and supplies. He also ran to buy some coffee yesterday morning, after having woken up in the middle of the night with the realization that he had none on hand. He waited all day for the snow to start falling.
No snow. Not one bit. The cottage remains snow-free.
I, having found out late in the day that I didn't have to be at rehearsal today, realized I could have driven home yesterday. But really, who knew? I expected that the snow would start any minute, as did Don. And I sure didn't want to be caught in a snowstorm while driving home. Better safe than sorry.
Mother Nature is only so predictable, right? She likes to keep us guessing.
So I spent a cozy day in the apartment and sat out the storm. We had about 4 or 5 inches of snow here, not all that much. I watched figure skating on the tube, I crocheted. (New scarf in the shop, by the way.) I read. I ate.  I talked to Don on the phone.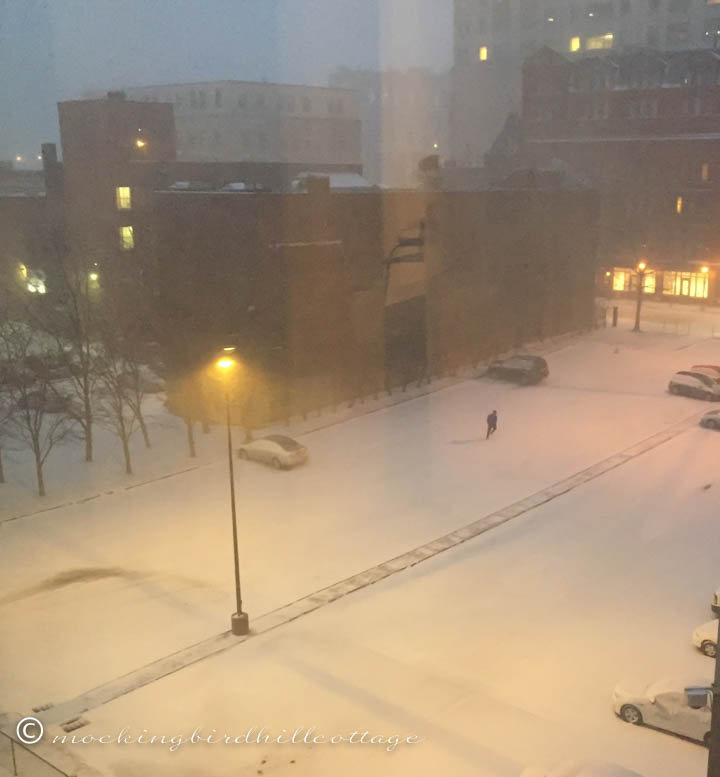 Taken from the apartment window. I do love the sight of snow falling in the glow of city lights. And I sure like not having to shovel!
So. Today, I'm headed home. I'm not sure when. I'm going to wait until the sun has a been out a while and the roads are clearer than they are at the moment. I'll come back Monday or Tuesday, depending on what the rehearsal call for Tuesday is. I don't like coming back at the last minute.
I'm going to do my best to relieve Don of his Scout Duties while I'm there. He needs a bit of a break.
I hope those of you who were caught in the worst of this storm take it easy – don't overdo. It's Sunday. Relax and shovel a bit at a time. Have hot chocolate. Watch a movie.
Happy Sunday.