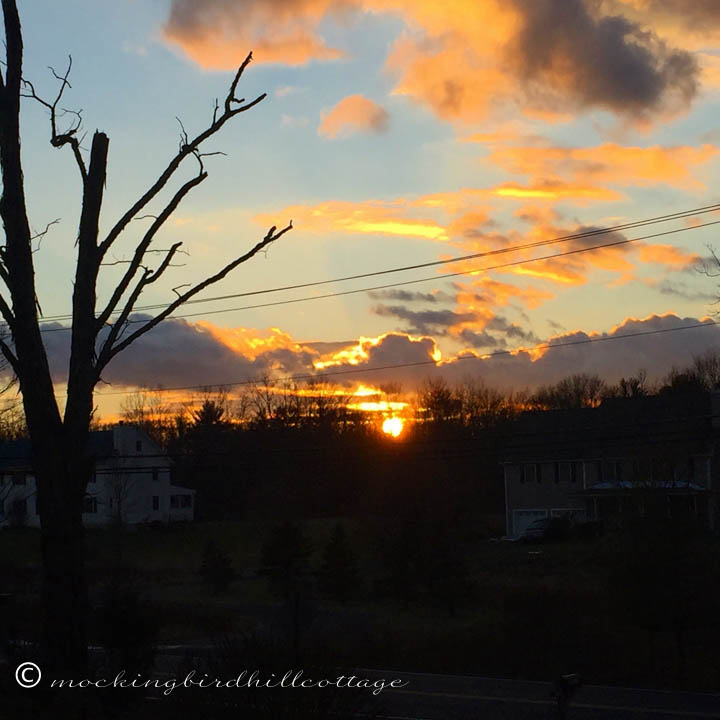 I know there was a sunset photo on yesterday's post, but I couldn't help myself.
This happened last night. 'Spectacular' comes to mind.
And all I have to do is open the kitchen door and pop my head outside. Snap.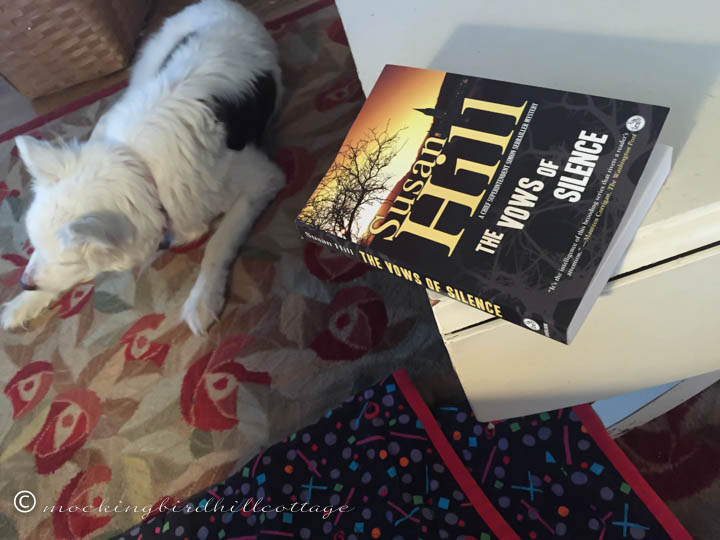 I'm in the middle of my 4th mystery by Susan Hill. (I've ordered the next two and am crossing my fingers they arrive by the time I have to leave for Hartford.) Note the interesting mix of patterns here. The rug, in red, green and gray and the quilt that Scoutie uses when she's in the 'tunnel' – red, black, green, blue, orange.
No one has ever accused me of not liking a mix of patterns.
That girl you see in the picture? Stay tuned…she has a big birthday coming up on Monday.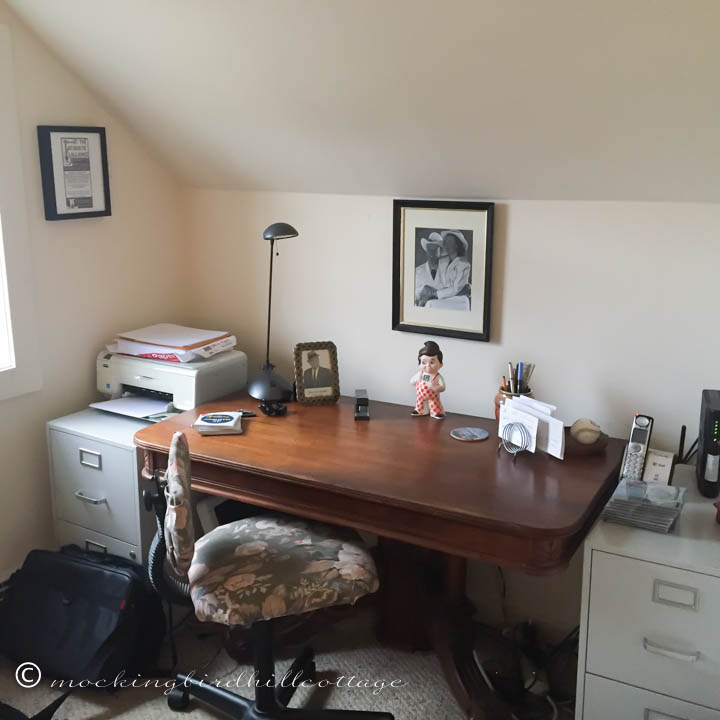 The other side of our shared space. That desk is actually half of a dining room table. I bought it when I first moved to San Diego. The style is Renaissance Revival and I love it. It's been our desk for years. It's flanked by our necessary, but not very attractive, file cabinets, the copier, the modem and router and our phone.
Big Boy was found at a yard sale. It's Don's, but we both have memories of dining at that establishment. In his neck of the woods it was Bob's Big Boy. In mine, it was just Big Boy. The gorgeous old black and white photo of Roy Rogers and Dale Evans was a find from Heidi's shop and I grabbed it for Don. (Don met Roy Rogers once and got his autograph…which he eventually lost.) The desk chair is an old one from IKEA that I hastily recovered because it was black and covered in Scout's dog hair. Don't look too closely.
The wall between the windows is still in progress. Right now we have an old bedside table there holding a lamp. We'd like to hang a great print on the wall and find a vintage love seat.
I spent several hours yesterday going through old files and shredding bills by hand. For some inexplicable reason, our fairly new shredder is not working. More hand-shredding today, along with the beginning of my work on Romeo and Juliet.
Can I just say that I don't want to go away to Hartford in the winter time? Or be away from Scoutie when she's so frail? (Or Don, but he will be fine.) I've now worked in Hartford for several weeks at a time at least 6 or 7 times. I've seen everything there is to see. I have absolutely no idea what I am going to blog about. None.
Obviously I'm grateful for the work and I love working with Darko. But, man! I do not want to go.
Happy Saturday (Yes, I've finally figured out what day it is. Yesterday, I thought it was Saturday all day long.)