Rain, torrential rain, thunder, and lightning which seemed to go on for hours – we were part of that same devastating storm that has wreaked so much havoc. Fortunately, we are soggy – very soggy – but safe. I'm thinking of all those who were in harm's way. This one was and is dangerous.
I've done something to my lower back and I'm hobbling around the house. I don't know how it happened, but it just seems to get worse, so I'm sitting here in my blogging chair with a heating pad. Yesterday, I hung around upstairs in the office for quite some time and my desk chair, though charming, doesn't offer the best back support for this kind of problem. In other words, it made it worse, though I didn't realize it until too late in the game.
Crap.
I think I stayed upstairs because the downstairs reminds me too much of Scout and I was alone all day, missing her companionship. I didn't break down until Don came in the door – then I lost it. But I got through the day. Small victories.
I browsed online, looked at the Top Secret Project, noodled around and then I actually did  something. I decided the color inside my pink cabinet left something to be desired. No, I didn't start painting, though that may happen in the future. I grabbed some scrapbook paper that I had on hand.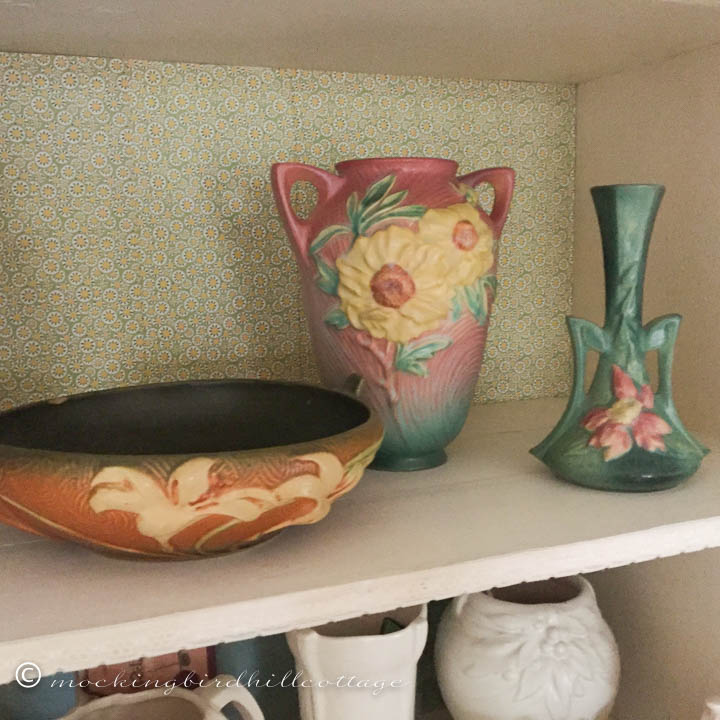 And I pieced it together (I only had a few sheets) to create a backdrop for the Roseville Pottery.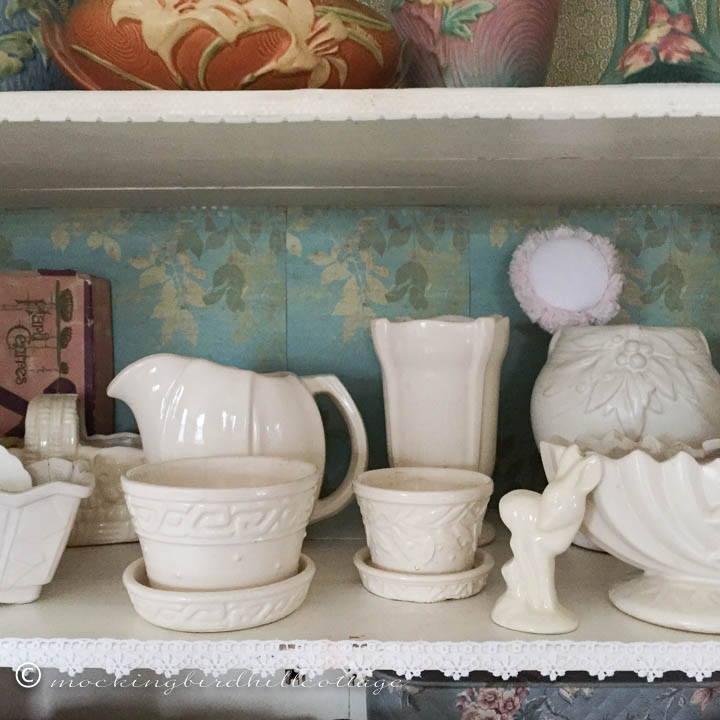 And the McCoy Pottery.
It's clearly pieced together and you can see the seams, but I don't much care about that. This is for me. Now that I have the idea, if I see some wrapping paper that I like I may replace this with something seamless, but for now, I'm happy.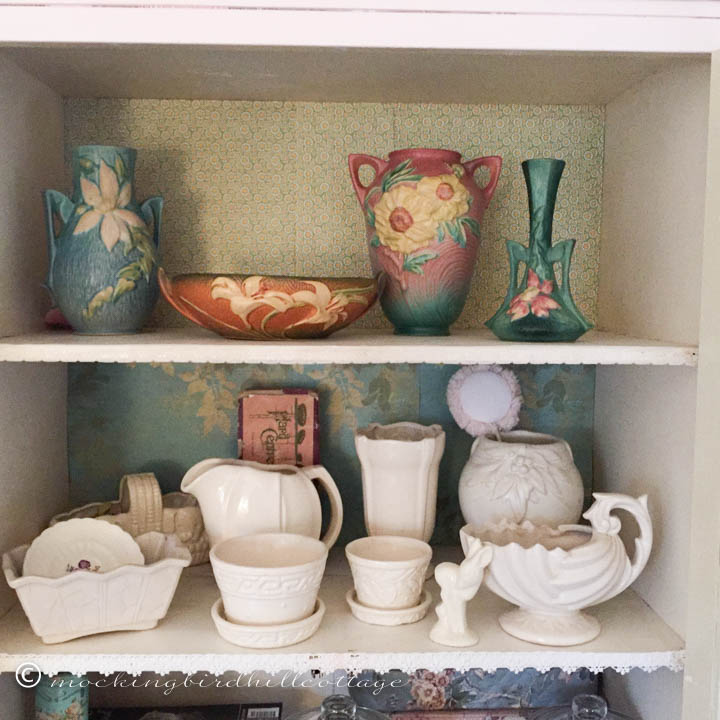 That pink candy box contains letters written to my grandmother from her younger sister, Rhoda. Rhoda died at the age of 15 during the flu epidemic of 1918. My grandmother's sister, Maggie, also died. I can't imagine how devastating that must have been. I've read many of the letters. Rhoda was full of life, charming and delightful. My grandmother never got over losing her sisters.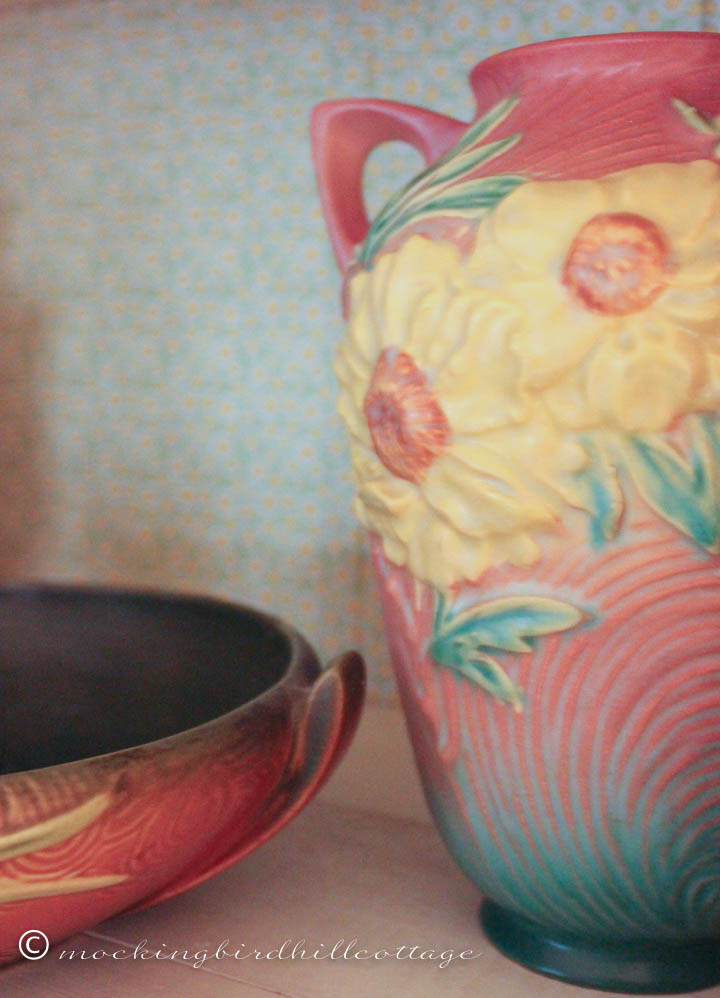 I think the pattern and color really help to frame the pottery – the paper functions as a backdrop.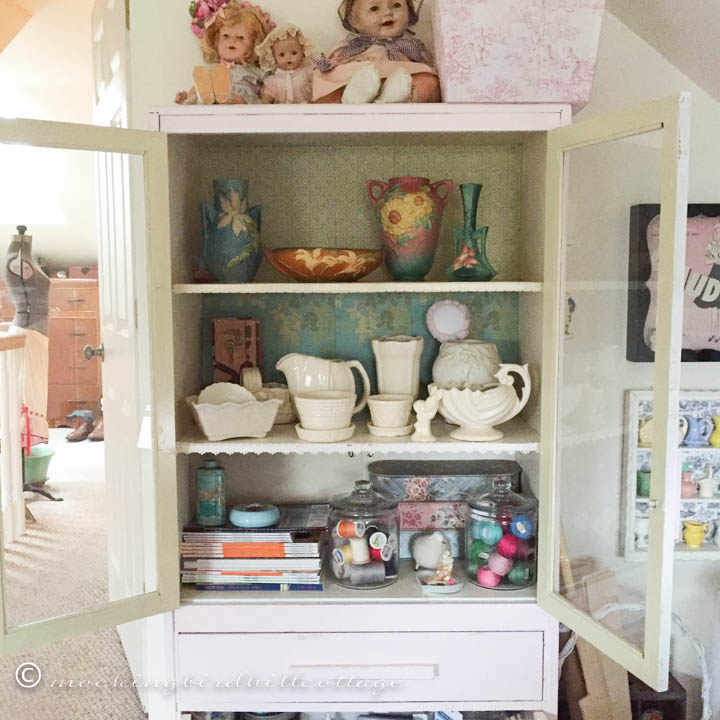 The bottom shelf has yet to be sorted through and arranged. I have to clean out the craft/crap closet first. And I don't have any more scrapbook paper. So don't look at that shelf, ignore it. Cast your eyes upward.
That's better.
Doing something was nice. It was simple, but I made a little change that makes me happy.
Hold on a minute: there's more McCoy on that second shelf than there is Roseville on the top shelf.
Hmmm. That is a problem that needs to be addressed ASAP.
Happy Thursday.