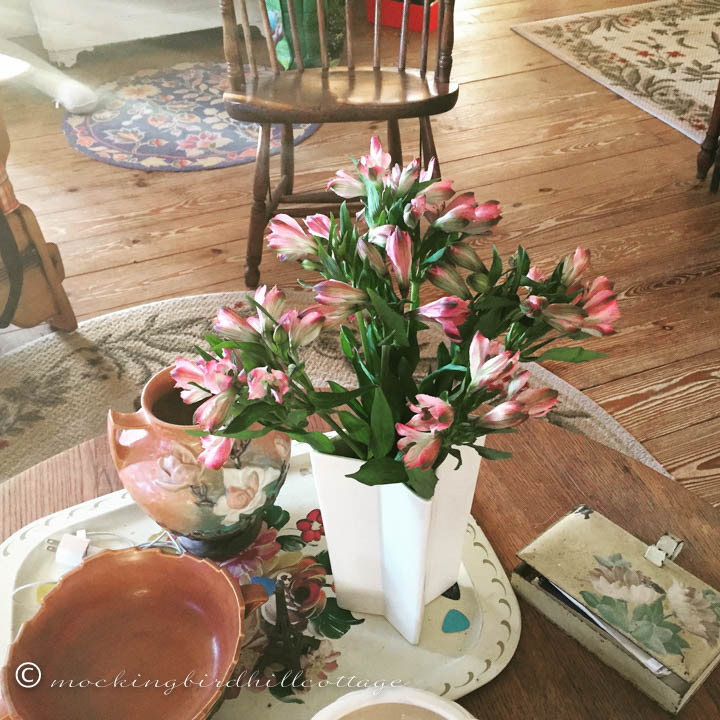 Home. Masses of packing yesterday morning. Masses of unpacking yesterday afternoon. Thank goodness, Don was in Hartford, too – he took a load of things home in his car. I stayed a  bit longer to pack up my car and do some last minute cleaning in the apartment.
We had a lovely time together in Hartford. On Friday, we stopped at Blue State Coffee for some coffee for Don and hot chocolate for me. We spent a couple of hours at the Wadsworth Atheneum. Don loved it there, as I knew he would. We wandered back to the apartment and donned our opening night duds. We had dinner at Salute, an Italian restaurant with great food and service, and then went to the theater. The show was wonderful. I, of course, have seen it a lot, and watching Don watching it was a huge treat. The Opening Night Party took place right after the show. Don got to meet everyone, though he already knew Darko and Kandis (our friend who plays the Nurse.)
A long, but wonderful, day.
I'm proud of my work on Romeo and Juliet. And it's awfully rewarding to see that work show in the growth of the actors onstage. To see it pay off. It's also very rewarding to hear them express their appreciation and thanks. It makes it all worth it.
I know I love seeing Don with his colleagues when I get to see him onstage. I love seeing him through their eyes, watching him interact with them, seeing the respect and admiration they feel for him. He feels the same way about me, and he was definitely the proud husband on Friday night.
He gets it.
Now, we're back home…recovering.
And of course, being back home is bittersweet for me. Everywhere I go, I see emptiness where Scout should be. This morning I automatically started to look for her water dish to make sure it had enough water in it. I looked for her when I came downstairs this morning. I looked for her when I unlocked the door yesterday afternoon. I'm experiencing what Don has already experienced over the past two weeks, a cottage without our girl.
There is a quiet in the house that is filled with her absence. We've lived here for ten years and she has always been here with us. I broke down last night and cried. I miss her so much and I still can't believe she's gone. I would give anything to have her back. To be her mom again.
Her ashes are waiting for us at the animal hospital. We're not quite ready for that experience yet. When we're ready, we'll go together and bring them home.
Oh, Scoutie, you are missed by your mom and dad. You are missed.
Happy Sunday.