Making me smile on this Sunday morning: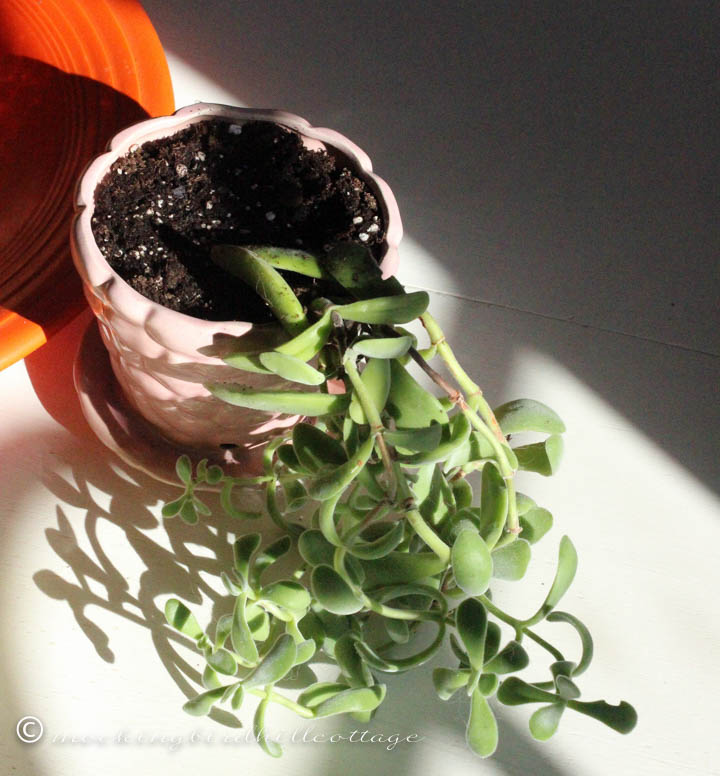 This repotted succulent. It was in Riley's Dish Garden but it needed more soil support than it was getting there. I also smile when I see the sunlight creating highlight and shadow.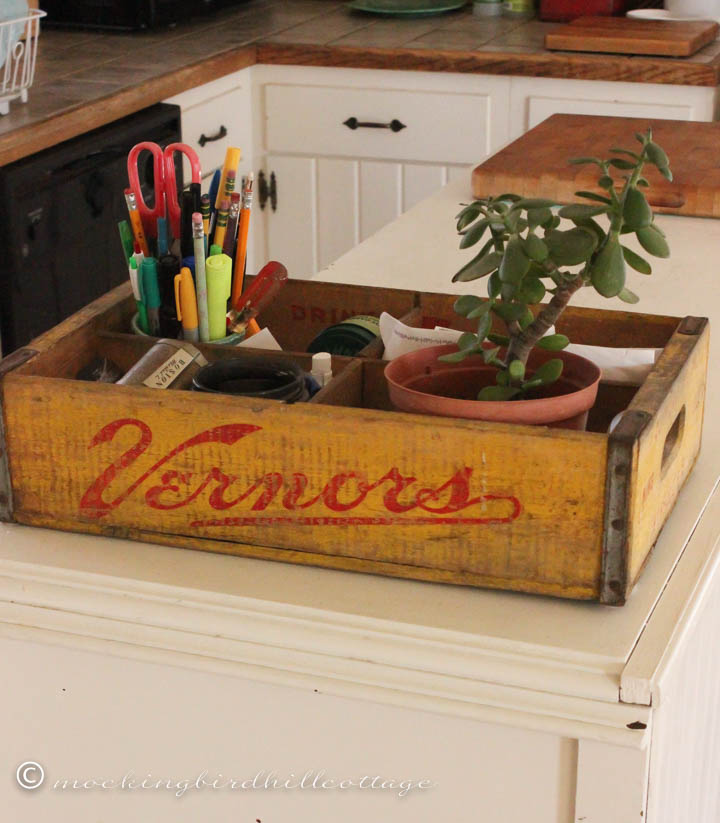 More succulents – this one a jade plant that Don brought home for me one day – in my favorite Vernor's Crate. Oh, for a glass of Vernor's Ginger Ale!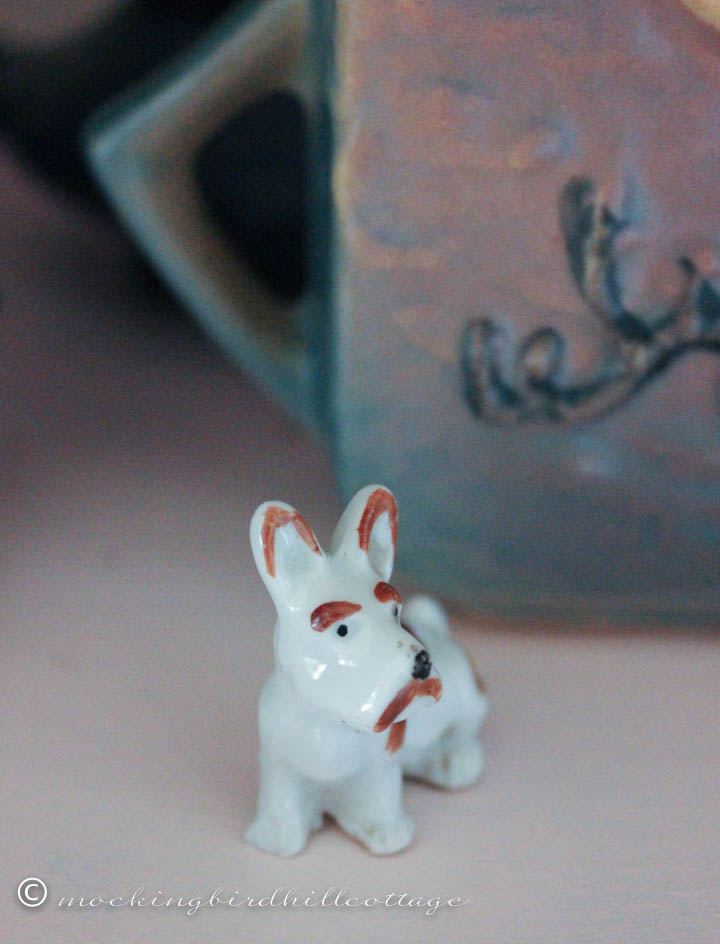 This little doggie makes me smile. It belonged to my paternal grandmother. I never knew her, so this little piece of hers (courtesy of my cousin, Eileen) that she held and loved and that my Aunt Lettie also held and loved makes me happy.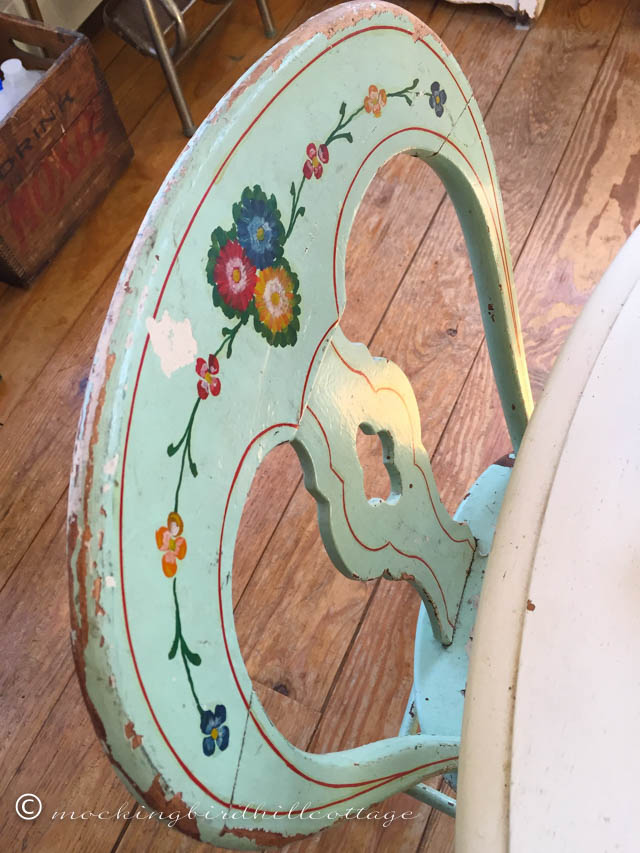 This hand-painted chair, weathered and worn. It's like something out of Hansel and Gretel.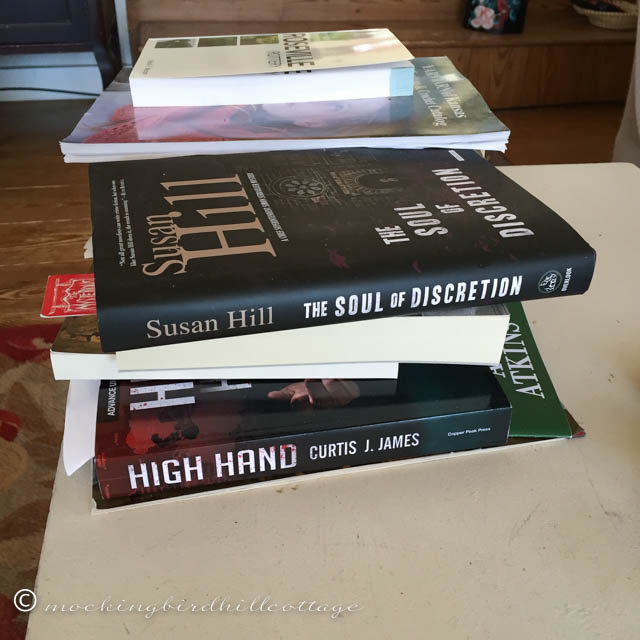 Stacks of books in progress or waiting to be read.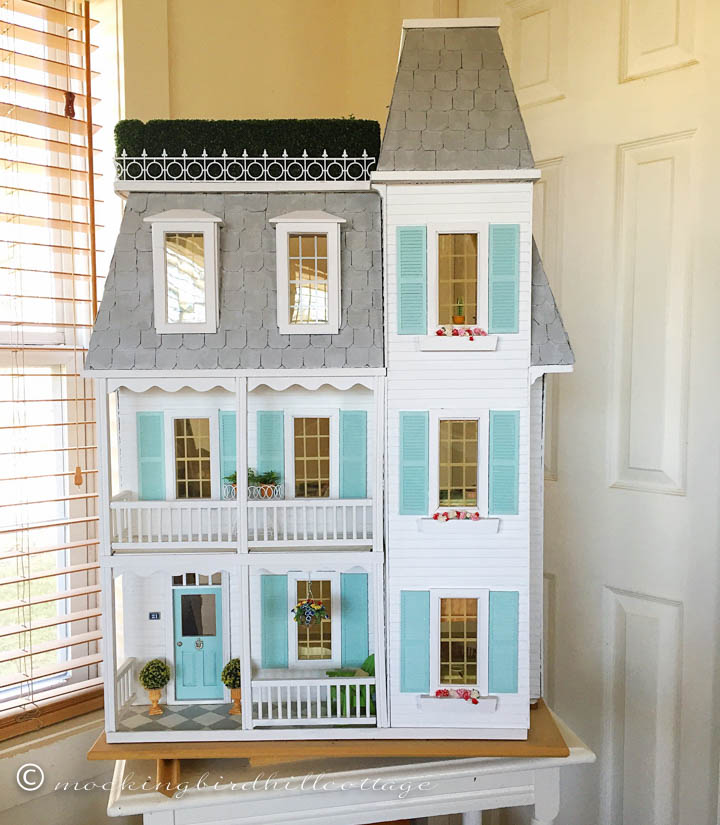 What's not to love here? I called it my 'labor of love' on Instagram and it was. And is. It always  makes me smile.
Thank you for the lovely comments on my post yesterday. I love design and have always loved decorating the many nests in which I have lived over the years, whether a tiny, tiny studio apartment, a dorm room, a 3 room apartment or a house. (We're talking varying degrees of 'small' here.) I firmly believe that no one should tell you how to decorate your home or what you should display or not display. Decorate from your heart.
I know the world is all about trends and I'm always curious about them, but I never fall into that trap unless I see an item that will enhance my home, trend or not. And that happens rarely. Ultimately, I don't care what's on trend. I only care about what resonates with me. And with Don.
That's my problem with many of the looks I see online. Boho, for example, is big. I admire certain elements, but I never particularly cared for macramé when it first emerged in the 60s and 70s and I don't now. Lots of plants? Yes, but I've been doing that since I decorated my childhood room with potted plants. I like Joanna and Chip Gaines, they're wonderfully talented, but everything they do has the same look: shiplap, galvanized elements, open shelving in the kitchen, etc. Nothing wrong with having a style that is your brand. (I actually really like shiplap.) But when I see it everywhere, my eyes glaze over. Same thing with all the framed sayings in that certain curlycue font that I see everywhere. I can see the appeal, but they're everywhere.
Oh gosh, you know what I mean. I don't want to be like everybody else. I want to be me. If there's one thing that growing older brings, it's the awareness that we can be who we are. We don't have to do what everyone else is doing. We don't have to use the same decorating elements because someone determined that was cool and 'in.'  Really? I'm going to rely on someone else's judgement as to what my home should look like? No thank you.
The design blogs/websites that I'm drawn to are the ones that feature quirky, individual style. I'm not drawn to sites that have the same white kitchens with shiplap walls and open shelving and industrial elements and look like they could be anyone's kitchen. Give me funky. Give me something that says "Wow! Only that one person could live here – it's so evocative of that person's style and personality." Gosh, I love homes like that. Homes where I can walk in the real or virtual door and 'know' that person immediately. Or at least, to be realistic, have a good idea of his/her passions, interests, and loves. That's what I'm drawn to.
At those times in my youth when I said, "Everyone is doing it" to my mother, she responded (as many mothers do) "If everyone was jumping off the Ambassador Bridge (I'm from Detroit) would you do it, too?" Mom, you'll be very happy to know that I took that to heart. I shy away from things that everyone is doing, or watching, or decorating with.
I saw a story on the news last night about Van Gogh's bedroom and an exhibition in Chicago which has all three paintings of that bedroom on display. When I look at that bedroom, I am absolutely convinced that only Van Gogh could have lived and slept there. No one else. It's his style. It speaks of him and his love of color and his artistic sensibility and his heart.
We should all decorate that way. From the heart.
Happy Sunday.