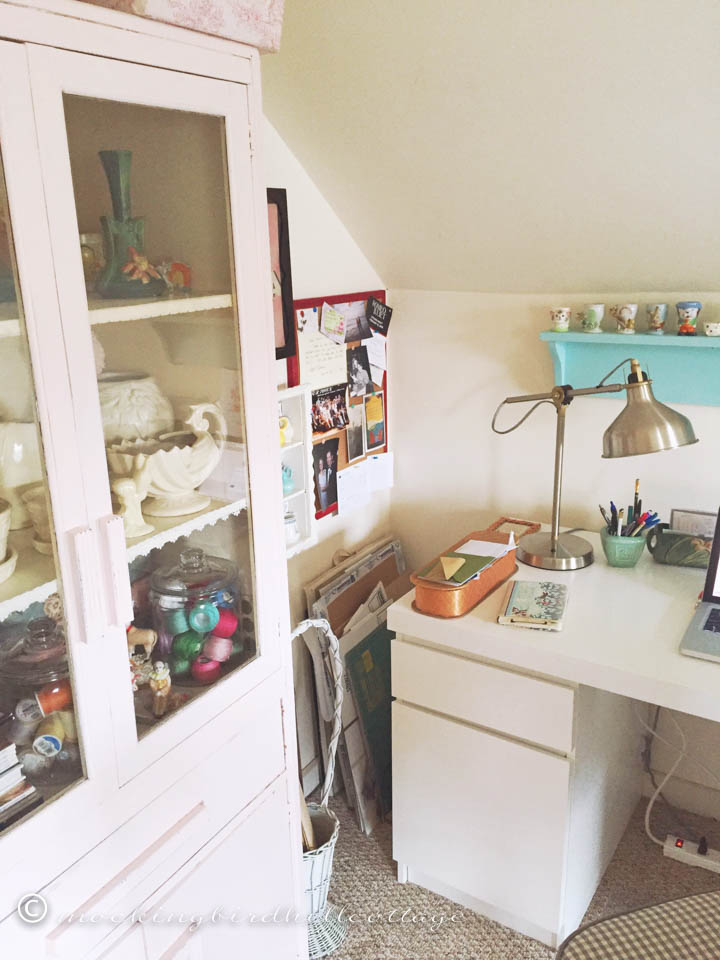 I've missed my little office and I've spent a fair amount of time there since I arrived back at the cottage – not really doing  anything except browsing on the computer.
I haven't started back in on the Top Secret Project yet. I'm just not motivated. I haven't finished sorting and cleaning out my files. Just not motivated. I haven't started cleaning out the craft/crap closet that's just behind me when I sit in my chair. Just not motivated.
You get the picture. Right now, I'm overwhelmed by an empty house. An empty, much-too-quiet house that is, as Don so aptly described it, filled with absence. I see and feel Scout's absence everywhere I turn. We don't know what to do with ourselves. We wander. We try to read. We talk and talk about our girl. We cry. We hold hands. Every single thing that happens during the course of the day triggers a memory of Scout. She was such a magic girl. She was our daughter.
That's where I am at the moment and where Don is, too. He's had a bit more time to get used to an empty house. I'm just beginning to experience it. Yesterday, Don took off for a while on an errand and I took a shower and after making the bed, I came downstairs to Empty. I was alone in the cottage for the first time in the ten years we've lived here. Completely alone. It made me catch my breath. And I understood how hard it must have been for Don in those days right after Scout's passing; Scout gone, me back in Hartford, Don completely alone.
I understood. I understand.
Here's the deal: since this blog centers on my thoughts on any given day, I will be sharing these thoughts about grief and Scout and my father and my mother and loss with you when it feels appropriate. If I don't, I will be denying the honesty that fuels this blog. You've been so gracious, so understanding, and for that I thank you. So many of you have commented over the course of the last couple of weeks and every comment has meant the world to me. Some have not, for whatever reason – I understand. If sharing my thoughts about Scout makes anyone impatient or bored, I make no apologies. It's real. It's about as deep as it gets. Hopefully, in some small way, this sharing will help others who are facing the loss of a loved one.
I lost three of the dearest beings in the world to me in less than two years. Coping with that, trying to make my way through it, honoring the grieving process and not feeling the need to follow anyone else's timetable as to when a person should be 'over' a loss – that is what I plan to do.
Okay.
On to another subject. Another piece of Roseville arrived in the mail yesterday.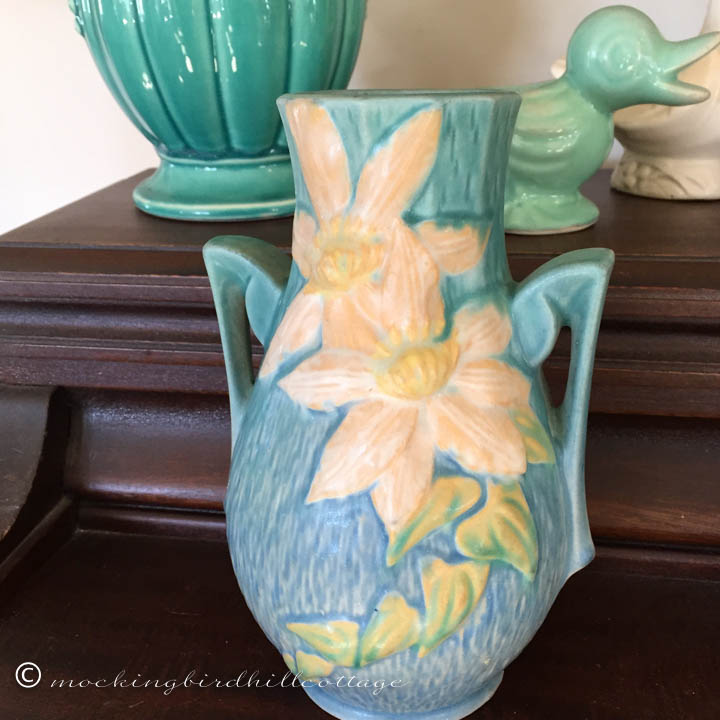 Coincidentally, another piece in the Clematis pattern. (It just worked out that way.) This is an eight inch high vase in blue.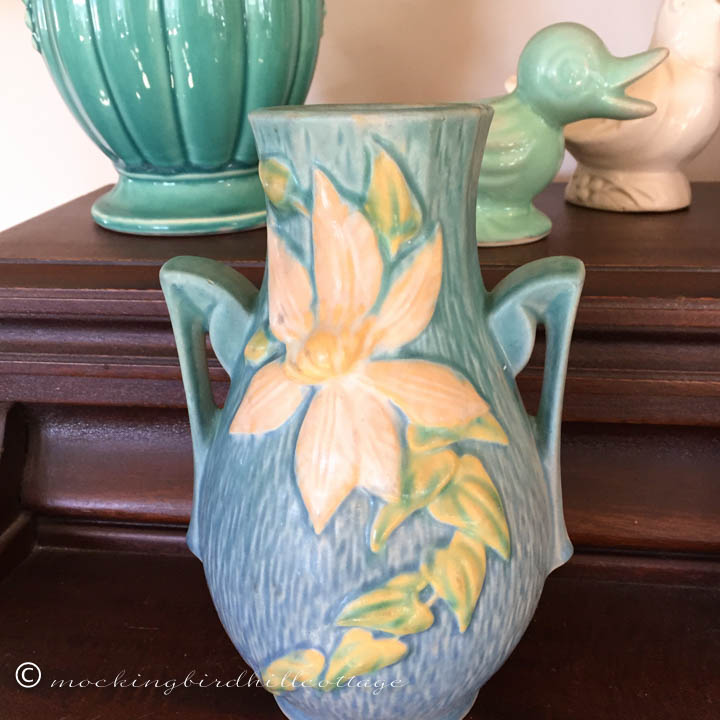 The other side. It was a pretty good deal, not a steal, but a good price. It has a small chip on the bottom edge, but it's barely noticeable.
I have several Roseville reference books, which I use for the photos and patterns and to learn more about the pottery line.  They were published several years ago and the prices listed are not realistic for today's market. They're based on that time I refer to when I could only dream of buying a piece of this pottery. I found a little paperback online yesterday (looks self-published) that is actually an updated 2016 list of prices. Bare bones, no pictures, just the item number and a price. I think it was $9.00. I ordered it and I'm hoping it will give me a better idea of an acceptable price range. A lot of sellers on eBay are listing pieces at those long ago price points and, thankfully, it seems that no one is taking the bait.
Happy Tuesday.