Oh Spring, you are wonderful. However, the havoc you wreak on my allergies is not  wonderful. I'm not a happy camper.
This is the time of year in the Northeast when every gardener checks the garden beds once or twice a day to see what is emerging after the long winter. I am no different; I walk outside and peek under leaves, each new green shoot duly noted in the unofficial garden notebook that is floating around in my head.
It's only March 31st – too early for this gardener to remove all the leaves that are currently covering each bed. Especially since I saw, to my horror, that we might get 3 inches of snow on Monday/Tuesday.
What? Ever hopeful, I am trusting that the forecast will change.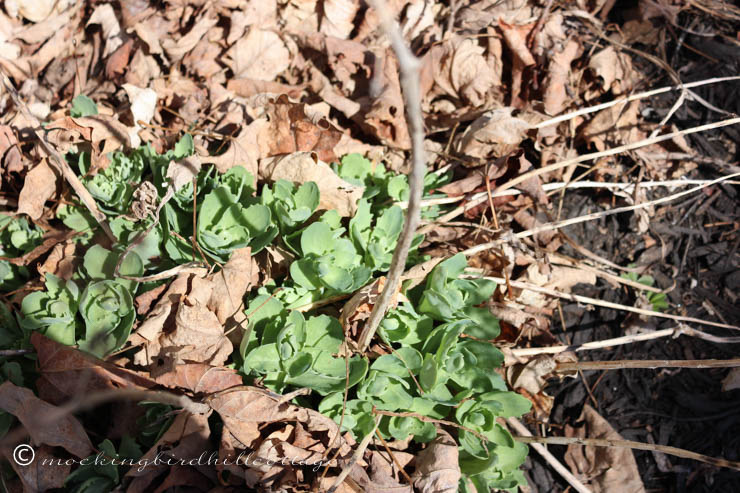 Trustworthy Sedum Autumn Joy, planted here before we took up residence.
Leaves are emerging on all the rose bushes. Last year at this time, there was nothing, which led me to worry that the brutal winter had killed them off. Do you remember that the tulip and hyacinth never really appeared last spring? Well, the hyacinth leaves  appeared – with absolutely no flowers. This year, I see one tulip leaf already emerging from the ground, as well as healthy looking hyacinth leaves.
Thank goodness for the relatively sane winter we just went through. Oh – did you know that Don never used the snow blower this year? Not once.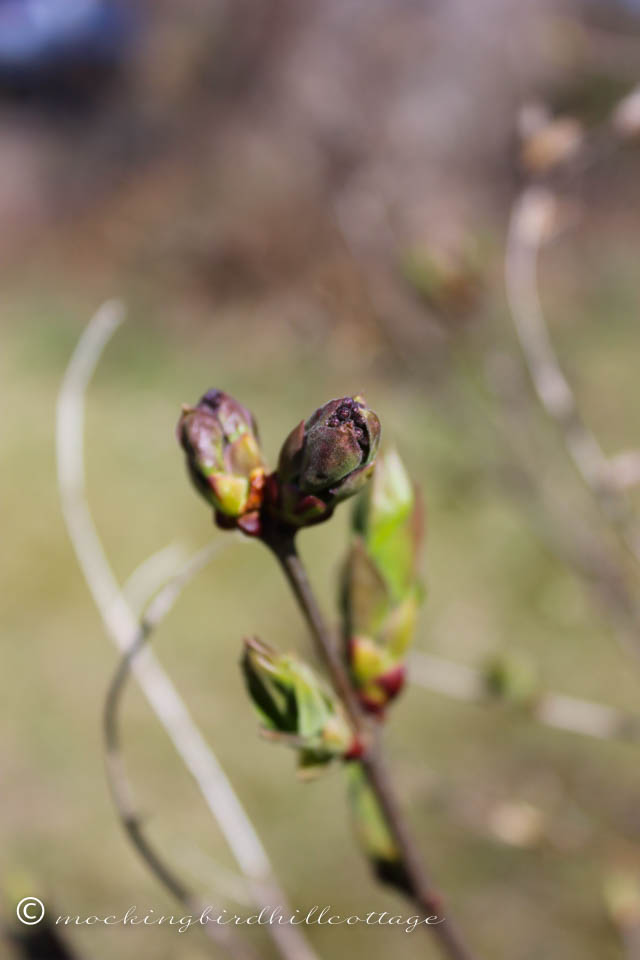 Lilac check-in: I see baby flowers!
The truth is, I am longing to get out there and do some massive garden clean-up. I have to stop and remind myself that it is too darned early. There are certainly other areas of the yard that need some work and I think I'll start in on that when I'm taking a break from research for Anastasia and taking care of Don, who has something wrong with his ankle. We ended up going to our local urgent care yesterday to get X-rays. No break. It's all rather strange – the doctor said it's either a sprain or a skin infection. Since Don doesn't remember doing anything to the ankle, we're wondering whether it's the latter. He is now on antibiotics, is wearing a splint and has crutches.
What's with the Hill/Sparks clan and their ankles?
Needless to say, it's been my turn to wait on Don and take care of him. Meals aren't nearly as exciting as they are when Don is cooking. But he's getting fed, I promise.
The whole thing is very frustrating and a bit mysterious and we are – officially – over the whole ankle thing.
Don't forget to leave a comment on yesterday's book review if you're interested in a chance to win a copy of the book. You have until tomorrow evening.
Happy Thursday.