It was so warm yesterday that I was able to run errands in jeans and a t-shirt. Oh, joy! It's sunny today. You know there's nothing I love more than seeing the sun pour through the many windows of the cottage. It's good for my soul.
I've been coloring.
Frankly, I can't remember whether I loved coloring or not when I was a child. I remember doing it, and like everyone else, I loved a new box of crayons, preferably the Crayola box of 64 crayons with the built-in sharpener. I suppose I liked coloring as much as the next kid. Unlike most kids, I didn't particularly care for cartoons. I still don't!
When we were down in Florida, Mere gave an adult coloring book and colored pencils to Don. She had originally purchased it for her husband – I was with her, so it must have been in August – but he had no interest in it. Don took a stab at it, coloring while sitting out on the lanai near the pool.
I thought I had absolutely no interest in coloring, but I succumbed the other day at Barnes & Noble. After looking at many adult coloring books (I wish they'd find a different term; it sounds vaguely smutty!) I chose Johanna Basford's Enchanted Forest. The drawings are incredibly detailed and perfect for a nature lover like me.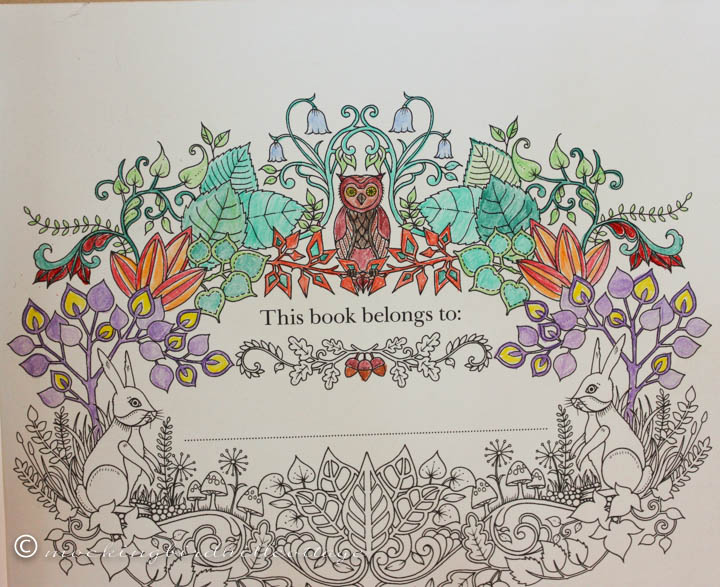 This is what I've done so far. Yesterday morning found both Don and me coloring – he, in his chair in the living room, me, in my chair in the den. I did a bit more around dinner time.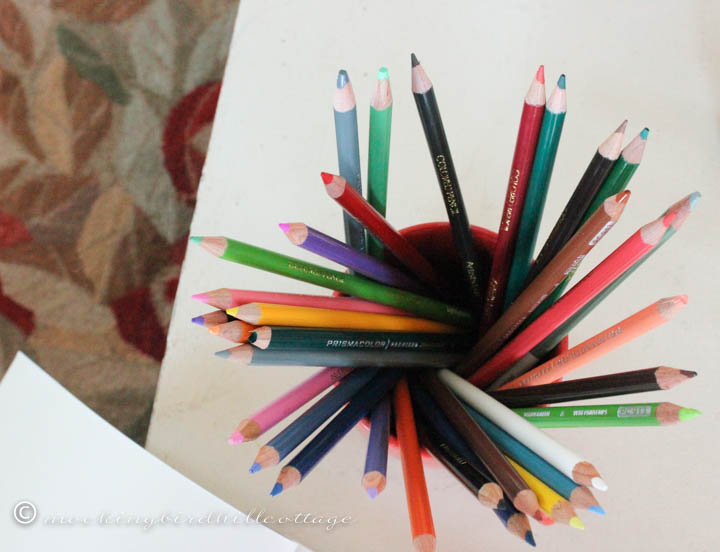 I didn't feel that I had enough variety in the colors available, especially in the shades of green, so I went to our local art supply store and purchased a few more colored pencils. They're made by Prismacolor.
Don has his own set of pencils, though we're not averse to raiding each other's stash.
It's a meditative thing to do. I put it in my own personal category of things that help me relax: reading, doing a crossword puzzle, crocheting, working on miniatures, and now this – coloring.
I know that many of you have been doing this for a while. Do you have a favorite coloring book? (I stayed away from the ones that have thick black outlines, but that's just my personal preference.) The best sharpener? If you have one, please share!
I hope you're having a lovely weekend.
Happy Saturday.