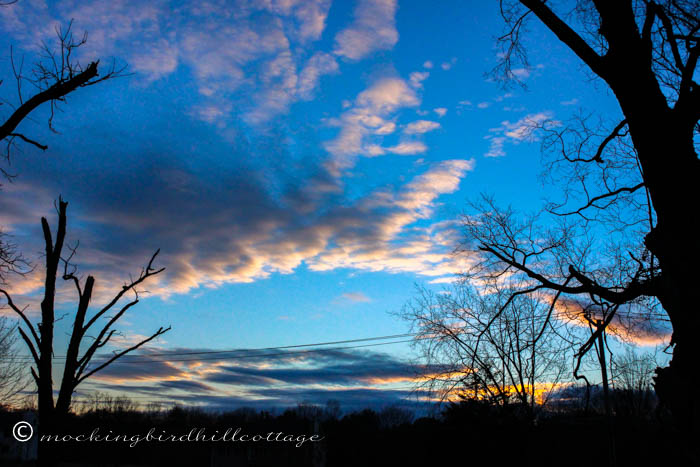 Beautiful sunsets make me smile. This one graced us with its brief presence last night.
I told Meredith we were planning to leave on Tuesday. Hopefully, that's still the case, but I tweaked my back (which was SO much better) yesterday and I'm hurting again. In fact, I had to get up during the night and come downstairs to the den where I used some Tiger Balm, turned on the heating pad, and proceeded to sleep sitting up for the rest of the night.
It amazes me that I actually pulled that off.
May I take a moment to say how frustrated I am with this whole thing? Just think of all the curse words you can and you have a pretty good idea of what I've been saying.
I actually like the smell of Tiger Balm, but I'm getting tired of both it and my heating pad. But ever grateful for them because they've really helped. (I always run these things by Mer, since she's a therapist and my brother-in-law is a chiropractor. They know their stuff.)
Anyway, I'm going to be positive. I'm determined to get on the road sooner rather than later.
I briefly wrote about the passing of Pat Conroy yesterday. I truly loved his rich and beautiful writing style. He was an artist with words. One of my favorite blogs has a tribute to him today, which includes a short video of Conroy speaking to a group of his readers. What an amazing man he was. It's here at Jungle Red Writers.
I need to read some Conroy ASAP.
I've been meaning to share two of my favorite Instagram accounts with you; both of them have to do with animals.
Black Jaguar White Tiger – Run by an incredible man who rescues animals, including lions and tigers. He is based in Mexico and the work he is doing is of the utmost importance. He posts lots of videos of these incredible creatures – the latest is of a baby tiger drinking milk from a bottle. Oh, heavens. Beautiful. The Black Jaguar White Tiger Foundation does essential work for the protection of our wildlife.
Pumpkin the Raccoon – a Bahamian raccoon that was rescued by a family and now lives indoors with his dog buddies, Toffee and Oreo. I love this feed.
I find Instagram intriguing. Most of us post brief descriptions of our photos, but then there are those who treat it like a blog, with long descriptive passages. Some of those IGers have blogs as well and they've, for whatever reason, turned predominately to IG. Others have never had blogs, so IG seems to be their version of a blog. Since Instagram is meant to be something you can scroll through rather quickly, I tend to avoid paragraphs of writing. I'll look at the photo and continue on my way. Maybe because I also read blogs, I don't have too much patience with lots of words in this particular form of social media. But I am equally sure that a lot of people tend to spend most of their social media time on Instagram, so they have no problem with that.
It's free. It's fairly quick. Maybe that's the attraction in this time of short-attention spans. A blog post takes time to craft. IG is much faster. Though yours truly, not especially a whiz with a phone keyboard, finds it takes time enough with lots of curses along the way as I retype words, correct auto-correct and insert the dreaded hashtags.
By the way, whenever the heck we leave for Florida, I may not post everyday but I will do my best to post to IG as we make our way South. So follow along on my IG account.
New post on Just Let Me Finish This Page: Gone But Not Forgotten: Harper Lee and Pat Conroy.
Happy Sunday.