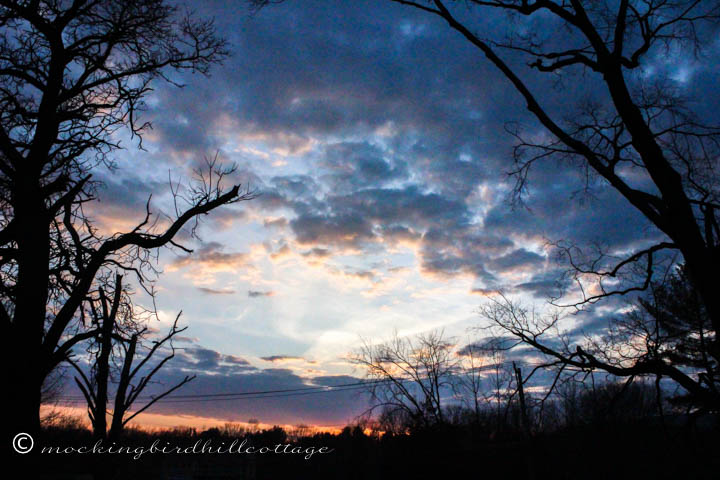 • Another glorious sunset. Our house faces west, so as I sit in my chair or go about my business in the living room, this is what I see.
• Trip plans: We're heading out tomorrow morning. Cannot wait. I'm currently plotting a route down to Florida that avoids the hell that is the Washington D.C. area and, instead, takes us through some beautiful country – courtesy of my Facebook friends. As I looked at the map today, I got those anticipatory butterflies that I get when I am about to explore and see something new.
When I was on the road more, especially when I worked for a theatrical touring company, I loved to explore whatever city I was in. I'm always up for getting out, walking around, exploring, and learning new things. Dallas; Cedar Falls, Iowa; Owensboro, KY; Gainesville, FL; Ft.Lauderdale, FL; Birmingham, AL; Charleston, SC – just a few of the places I was able to explore when I was on the road for a few days here and a few days there. Often, I had to pick up a car rental and drive many miles from the airport to the theater and I'd explore along the way.
Don loves car trips. It will be fun.
• Yesterday. This arrived….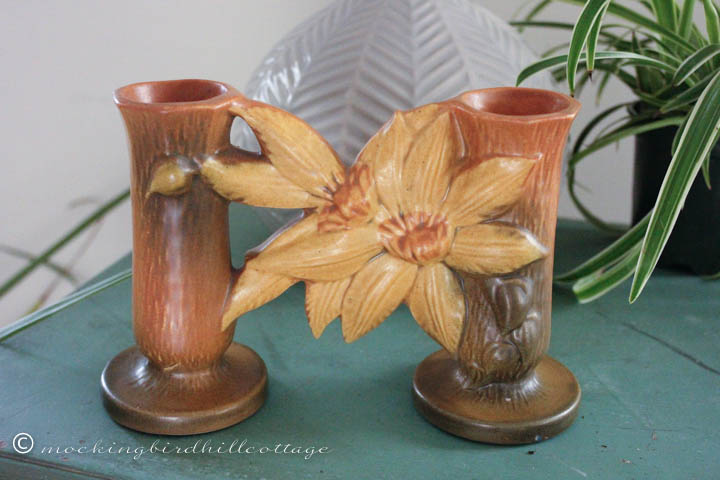 I know. I succumbed again.
It's a double bud vase in the Clematis pattern. Need I say that it was a great score on eBay? It was.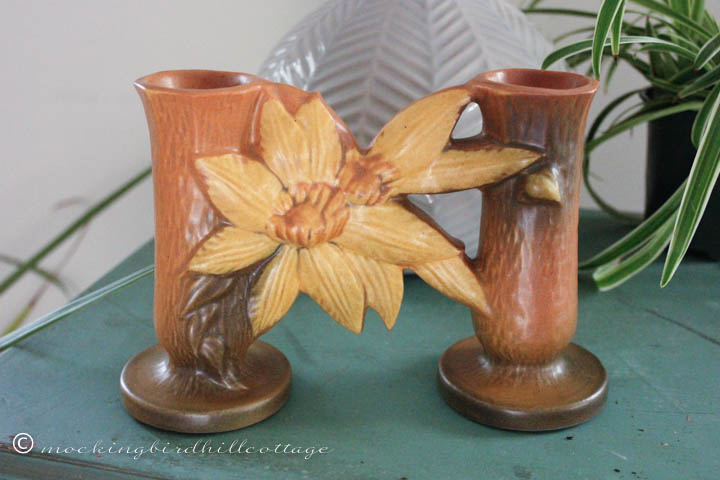 The other side. Isn't it beautiful? Several Roseville patterns have their own version of this double bud vase. As crazy about Roseville as I am, I can see collecting all of them.
Stop me.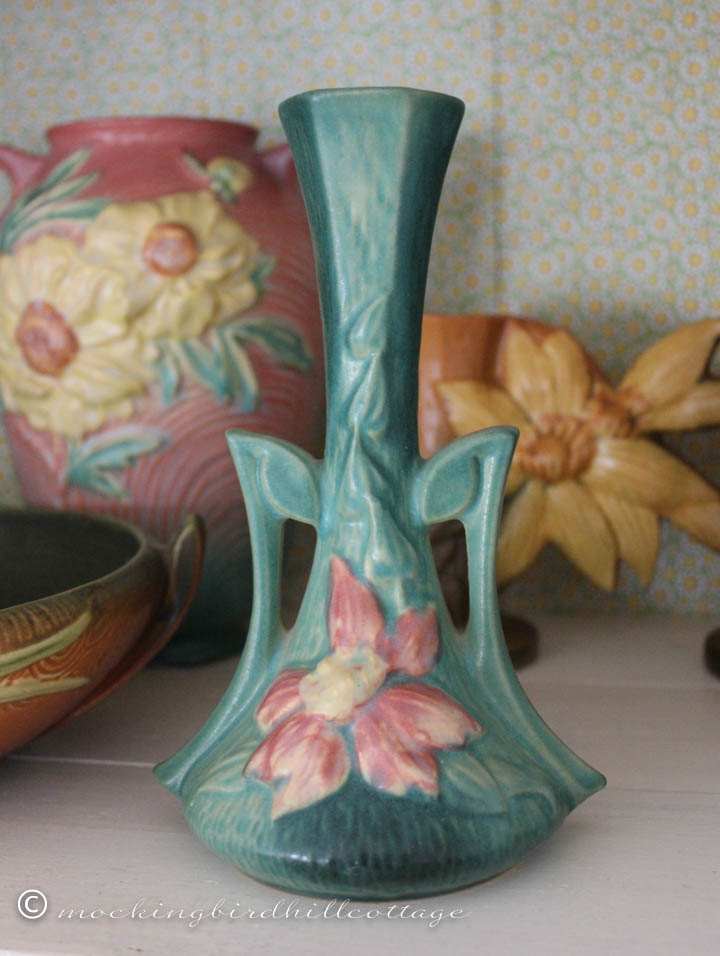 There it is on the shelf; though I've since changed it out with the basket that Barbara sent to me. The double bud vase is now in the china cabinet in the den. I can see it from my blogging chair.
I may change that. We'll see.
Can one have too much vintage pottery? My short answer: No.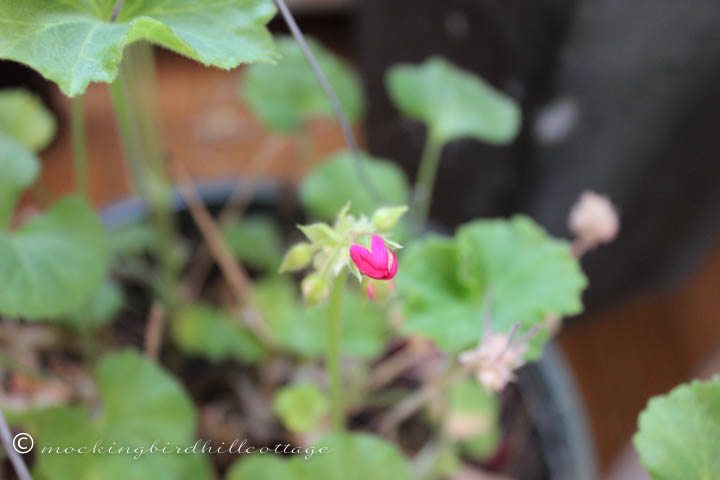 • My over-wintering geranium is blooming again! This little experiment was a complete success. I've been watering all the plants so they'll be nice and moist while we're gone. Even the succulents got a dash of water.
• Blogging Etiquette Question: Am I the only one who gets irritated when I see posts from bloggers where lots of photos are taken directly from a post on another site/blog? It seems wrong to me. Yes, they usually link back to the original source, but if they're basically taking all the photos from the original post, who is going to click the link? (And often the name of the original blog is hidden – you have to click through to find out who it was.)
It seems a bit like cheating. The blogger gets a post out of it without doing any of the work. Not quite fair, I think. Though perhaps the photos get a wider audience? Still, it doesn't sit right. Far better, in my humble opinion, to say something like, "You should see this wonderful home or apartment or miniature or whatever that I saw elsewhere – here's the link." And then the original poster gets the hits, which is the way it should be.
Just wondering. It's been bugging me a lot lately.
Lots to do today.
Happy Tuesday.