• I feel like I have to take a shower (several of them) after listening to the despicable rhetoric spewing from the mouths of those who consider themselves qualified for the job of President of the United States. We watched some of the Super Tuesday coverage last night – our first mistake – and by the end of the evening I wanted to scrub my every inch of my body and my mind. As someone on my Facebook feed said: a Silkwood  shower.
We literally had to breathe deeply several times before we could calm down enough to sleep. I have lots to say on this subject but I do my best to stay away from the political on this blog. But if you are curious as to how I feel on any given day, and that is  what this blog is about, then my current state of disbelief, shock, sadness and disgust says it all.
And P. T. Barnum was right. There is  a sucker born every minute. (Though there's some question as to the correct attribution of that quote.)
I'll stop there. I have a fantasy of writing a full-out post on this subject. Several. But chances are, I won't, because this isn't a political blog. (I actually did start one several years ago, but I didn't keep it up.)
• He's been framed.
You can see the reflection of my flannel pajamas in the glass. Roseville to the left. Light bulb (why?) behind the frame.
• My back is finally starting to feel better. I'm being very careful, but I have to get moving and get some things done before we leave for Florida. An oil change. Errands. Stuff around the house.
And I'm sick of sitting in my chair.
• That guy in the photo made me coffee this morning. It always tastes better when he makes it. It's a fact. And if I make something for Don, he thinks it's much tastier than his version of the same thing.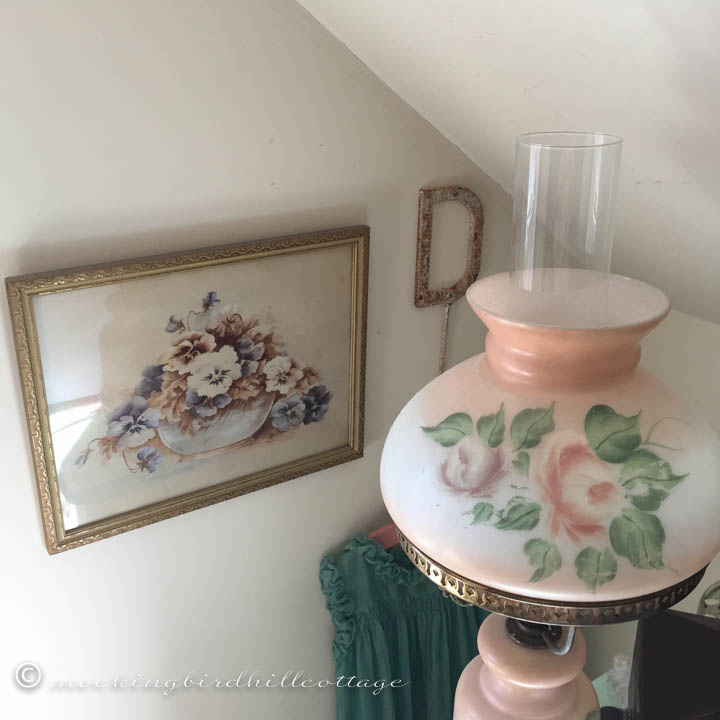 • I just stuck this photo in here because I like it. This is the other side of that same dresser which holds the framed photo of Don. Pansy watercolor in the vintage frame: found on a coaching job in Owensboro, Kentucky. Blue dress: worn by my mother when she was a little girl. Hand painted glass lamp: from my grandmother.
• It's windy here today. We've had so  much wind lately. I find it unsettling. It makes me edgy.
• We've been on the receiving end of a couple of videos from Little Z, in which he tells us he can't wait for our visit. And we spoke to him on the phone last night. He's very funny, that little munchkin. Meredith is trying with all her might to toilet train him and he wanted to know if Don wore Big Boy Underpants. And if so, were they Mickey Mouse Big Boy Underpants?
That's something I'd like to see.
We can't wait to see him.
Happy Wednesday.