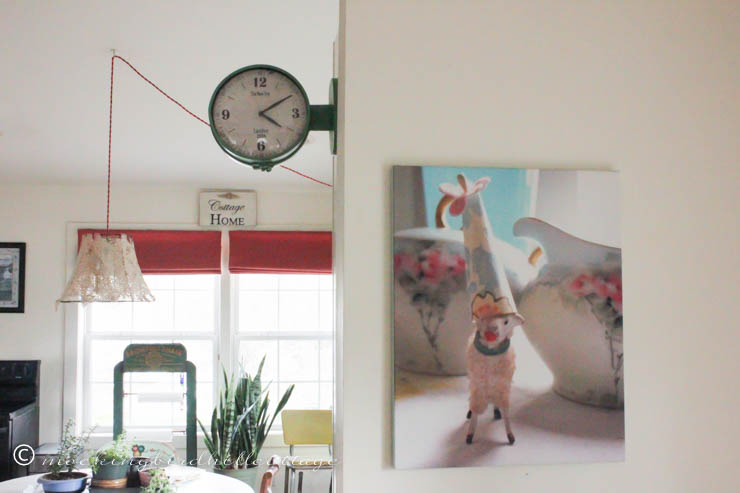 Late afternoon picture-taking in order to have something to post today. Do other bloggers do that? Frantically walk around the house, looking for some photo that will 'do?' I left it late, which created a too dark picture, which I then tried to brighten – there's too much 'noise' in this one. But I like the canvas of The Lamb With The Party Hat on the wall. Logically, since this is the symbol of the blog, it should be hanging in my office, but Don likes it here. He thinks it adds a touch of whimsy to the living room.
I got a late afternoon call from the stage manager of Anastasia, asking if I could come in earlier to have lunch with Darko and also if I could stay overnight to be there for tomorrow's rehearsal as well. Of course. So I'm off to Hartford to work for two days. Then on Monday, I have to go into NYC for the day to work on another project.
That's why I'm rather hurriedly writing this post. I have to get ready and get on the road. Hopefully, I'll be able to write a quick post tomorrow, but if I can't, you'll know why.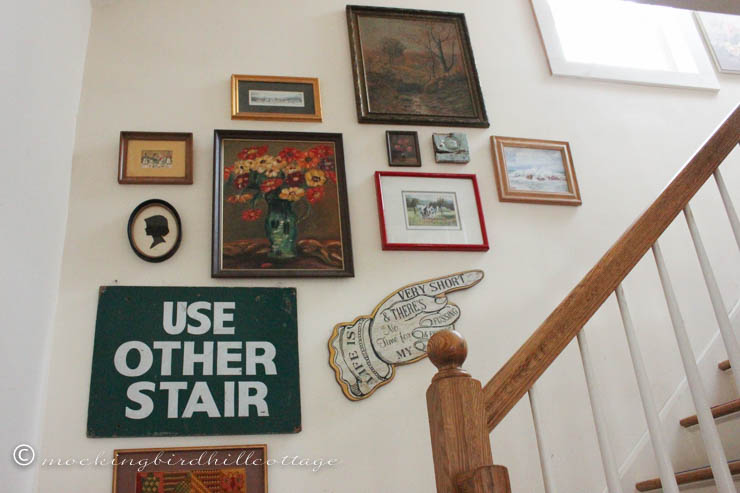 I officially gave up on Beach Music  by Pat Conroy last night after yet another stab at reading it in bed. As I was trying to go to sleep, I finally came to the realization that this particular Conroy was just not doing it for me. I feel guilty, somehow, because I am such a big fan of his writing and I love the way he tells a story.
But this one? I didn't like the characters much, though I tried very hard to feel something for them. The fact is that after 200 pages, I still wasn't on board. That's a long time to hang in there, especially when the book is over 700 pages long.
So I put it back on the shelf this morning.
My time to read has been limited lately. And reading is so important to me that when I do get a chance to open a book, I want it to be one that captures my imagination and takes me, happily, to another place. I'll grab another book, as well as my Kindle, for the trip to Hartford. I have plenty of books in my TBR pile!
Happy Thursday.